Plastic Industry Prospective:
The global plastic market size was worth around USD 598.76 billion in 2022 and is predicted to grow to around USD 827.12 billion by 2030 with a compound annual growth rate (CAGR) of roughly 4.12% between 2023 and 2030.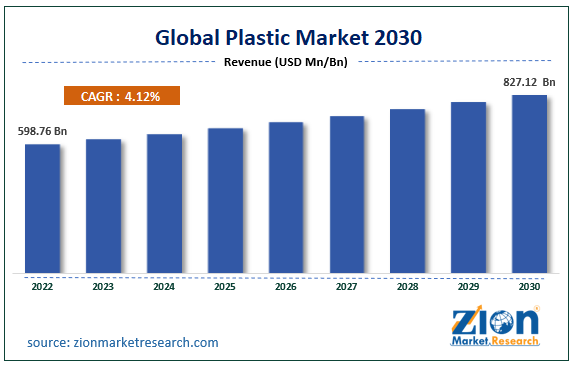 Request Free Sample
The report analyzes the global plastic market drivers, restraints/challenges, and the effect they have on the demands during the projection period. In addition, the report explores emerging opportunities in the plastic industry.
Plastic Market: Overview
Plastic is synthetically manufactured and is made from polymers. They are a long chain of molecules. Plastic is manufactured through a process called polymerization. In this process, small units known as monomers are chemically bonded together to form repeating, larger chains. Plastic is one of the most popular and widely-used synthetic products in the modern age. It has versatile applications and is practically used in some form or another across all existing industries. There are different types of plastic existing in the commercial market with each variant showcasing specific characteristics and properties. Some of the most commonly used plastics are polyethylene which is used in plastic bags and bottles, polypropylene which is used in the manufacturing of food containers and automotive parts, and polyvinyl chloride which has applications in vinyl flooring or pipes. However, plastic has now become a worrying product for the environment and agencies are aggressively lobbying against the use of plastic in certain end-user verticals.
Key Insights:
As per the analysis shared by our research analyst, the global plastic market is estimated to grow annually at a CAGR of around 4.12% over the forecast period (2023-2030)
In terms of revenue, the global plastic market size was valued at around USD 598.76 billion in 2022 and is projected to reach USD 827.12 billion, by 2030.
The plastic market is projected to grow at a significant rate due to the high dependency on plastic products
Based on product segmentation, Polyethylene (PE) was predicted to show maximum market share in the year 2022
Based on end-user segmentation, packaging was the leading user in 2022
On the basis of region, Asia-Pacific was the leading revenue generator in 2022
Plastic Market: Growth Drivers
High dependency to drive market growth
The global plastic market is projected to grow owing to the high dependency on plastic across end-user verticals. Plastic is one of the few synthetically created products that are extremely versatile. Over the years since its introduction, plastic has managed to find applications across industries, and in the modern age, it is practically a significant part of all activities ranging from everyday consumer use to large-scale industrial applications. The world economy relies heavily on plastic for the production of items such as packaging products, automotive parts, medical devices, electronics, construction, and consumer goods to name the top end-user verticals. Furthermore, plastic production is a highly cost-effective process when compared to other materials that could act as substitutes. Since plastic can be produced in high volumes and with greater efficiency, the production expense automatically gets lowered. The affordability of plastics is what makes them more lucrative to manufacturers.
Plastic Market: Restraints
Growing resistance against the use of plastic to restrict market expansion
Plastic is known to be one of the largest environmental pollutants. The majority of plastic variants used in industries are non-biodegradable. They tend to harm the ecosystem beyond repair. Some forms of plastic may take between 20 to 500 years to completely decompose. As per estimates by Our World in Data, more than 5 trillion plastic particles exist in the global surface water. Such factors have led to multiple environmental agencies launching programs to curb the use of harmful plastic in specific industries and this could greatly impact global plastic market growth during the forecast period.
Plastic Market: Opportunities
Research & development to provide growth opportunities
One of the primary reasons that could lead to the survival of the plastic industry is the ongoing research & development toward the development of sustainable and eco-friendly plastics. This is especially witnessed in the increasing investments toward bio-based plastic solutions that are manufactured from renewable sources such as plants. Furthermore, the production and consumption of plastics that can naturally break down could also generate better growth avenues. In addition to this, rising interest in activities that allow plastic recycling and reuse is expected to benefit not only the environment but also companies operating in the industry.
Plastic Market: Challenges
Poor recycling infrastructure to challenge the market expansion
Despite the existence of a considerable theoretical understanding of the benefits of plastic recycling and reuse, there is a significant lack of practical application of this concept. This is not only applicable to developing or underdeveloped nations but also to world leaders. Many countries do not have proper recycling systems and plans in place and some countries lag in the implementation of recycling protocols. This is one of the major challenges faced by the companies in the sector which could impede global sales volume.
Plastic Market: Segmentation
The global plastic market is segmented based on product, end-user, application, and region.
Based on product, the global market segments are polyvinyl chloride (PVC), polyethylene (PE), acrylonitrile butadiene styrene (ABS), polyethylene terephthalate (PET), polypropylene (PP), polybutylene terephthalate (PBT), polyurethane (PU), polyamide (PA), epoxy polymers, polyphenylene oxide (PPO), polyphenylsulfone (PPSU), polyamide (PA), polycarbonate (PC), polyether ether ketone (PEEK), and others. In 2022, the plastic industry growth was led by the polyethylene (PE) segment. It dominated over 25.29% of the market share. Several factors contribute to its higher application. For instance, it is extremely versatile and is produced in several forms such as high-density polyethylene (HDPE) and low-density polyethylene (LDPE). This makes it highly valuable in growing sectors including packaging, construction, automotive, agriculture, and household products. Moreover, PE produced lightweight products resulting in reduced shipping costs and ease of handling. PE is chemical resistant and thus can be used to store acids, chemicals, and other bases.
Based on end-user, the global market segments are medical devices, packaging, agriculture, construction, utility, furniture & bedding, electrical & electronics, consumer goods, and others.
Based on the manufacturing process, the global plastic industry segments are casting, blow molding, compression molding, calendering, thermoforming, roto molding, extrusion, and others. Injection molding was the largest application in 2022 and held control over 43.39% of the market share. In this process, molten plastic material is injected into a mold cavity. It is then allowed to cool and solidify. The resultant product is then ejected from the cavity. It is used to produce a wide range of plastic products. Some advantages of the process include high efficiency and production rates along with the ability to achieve precise and complex part design. Moreover, it is highly cost-effective, especially in high-volume production.
Recent Developments:
In December 2022, NOVA Chemicals, owned by Abu-Dhabi-based Mubadala Investment Co. with production facilities in Louisiana and Canada, announced that it had successfully completed the mechanical expansion of polyethylene and cracking capacity in the Sarnia region of Ontario. The site construction was under process for several years and involved more than 7000 human resources
In November 2022, Shell Chemical Appalachia LLC announced the commencement of operations at the Pennsylvania Chemical Project, Shell Polymers Monaca. The facility is claimed as the first major PE manufacturing site in the Northeastern area of the US and has a capacity of 1.6 million tonnes per year
In September 2021, PetroChina Liaoyang Petrochemical launched a new HDPE production site with a capacity of 400 KTPA. The company is the largest oil & gas producer in Asia
Plastic Market: Report Scope
Report Attributes
Report Details
Report Name
Plastic Market Research Report
Market Size in 2022
USD 598.76 Billion
Market Forecast in 2030
USD 827.12 Billion
Growth Rate
CAGR of 4.12%
Number of Pages
224
Key Companies Covered
ExxonMobil Chemical, Dow Chemical Company, LyondellBasell Industries, SABIC (Saudi Basic Industries Corporation), BASF SE, DuPont, Eastman Chemical Company, Covestro AG, TotalEnergies, Arkema SA, Braskem SA, Formosa Plastics Corporation, Mitsubishi Chemical Corporation, LG Chem, Toray Industries Inc., Sinopec Group, Chevron Phillips Chemical Company LLC, INEOS Group Holdings S.A., Reliance Industries Limited, Borealis AG, Sumitomo Chemical Co. Ltd., Solvay S.A., Evonik Industries AG, PTT Global Chemical Public Company Limited, and MOL Group.
Segments Covered
By Product, By End-User, By Manufacturing Process, and By Region
Regions Covered
North America, Europe, Asia Pacific (APAC), Latin America, Middle East, and Africa (MEA)
Base Year
2022
Historical Year
2017 to 2021
Forecast Year
2023 - 2030
Customization Scope
Avail customized purchase options to meet your exact research needs. Request For Customization
Plastic Market: Regional Analysis
Asia-Pacific to be led by China
The global plastic market is expected to be dominated by Asia-Pacific during the forecast period. In 2022, it had a hold over 45% of the global market share. This is primarily due to the increasing use of plastic across end-user verticals including automotive, construction, packaging, electronics, and consumer goods industries. Furthermore, China is projected to lead with the highest regional industry share as the country is working on amping up its plastic production capacity by building large-scale facilities. Moreover, the country has also witnessed higher demand in plastic-applications sectors. The presence of a strong and robust chemical industry works in the favor of Asian countries since they strengthen the vision of becoming the world's largest supplier of plastic and derived products. The rising rate of population, rampant urbanization, increasing commercialization, and surging industrial applications are the main reasons for higher regional growth.
Plastic Market: Competitive Analysis
The global plastic market is led by players like:
ExxonMobil Chemical
Dow Chemical Company
LyondellBasell Industries
SABIC (Saudi Basic Industries Corporation)
BASF SE
DuPont
Eastman Chemical Company
Covestro AG
TotalEnergies
Arkema SA
Braskem SA
Formosa Plastics Corporation
Mitsubishi Chemical Corporation
LG Chem
Toray Industries Inc.
Sinopec Group
Chevron Phillips Chemical Company LLC
INEOS Group Holdings S.A.
Reliance Industries Limited
Borealis AG
Sumitomo Chemical Co. Ltd.
Solvay S.A.
Evonik Industries AG
PTT Global Chemical Public Company Limited
MOL Group
The global plastic market is segmented as follows:
By Product
Polyvinyl chloride (PVC)
Polyethylene (PE)
Acrylonitrile Butadiene Styrene (ABS)
Polyethylene Terephthalate (PET)
Polypropylene (PP)
Polybutylene terephthalate (PBT)
Polyurethane (PU)
Polyamide (PA)
Epoxy Polymers
Polyphenylene Oxide (PPO)
Polyphenylsulfone (PPSU)
Polyamide (PA)
Polycarbonate (PC)
Polyether Ether Ketone (PEEK)
Others
By End-User
Medical Devices
Packaging
Agriculture
Construction
Utility
Furniture & Bedding
Electrical & Electronics
Consumer Goods
Others
By Manufacturing Process
Casting
Blow Molding
Compression Molding
Calendering
Thermoforming
Roto Molding
Extrusion
Others
By Region
North America
Europe

France
The UK
Spain
Germany
Italy
Rest of Europe

Asia Pacific

China
Japan
India
South Korea
Southeast Asia
Rest of Asia Pacific

Latin America

Brazil
Mexico
Rest of Latin America

Middle East & Africa

GCC
South Africa
Rest of Middle East & Africa