Industry Prospective:
The global plastic crates market size was worth around USD 9 Billion in 2022 and is predicted to grow to around USD 41.9 Billion by 2030 with a compound annual growth rate (CAGR) of roughly 21.21% between 2023 and 2030. The plastic crates market report analyzes the global plastic crates market drivers, restraints/challenges, and the effect they have on the demands during the projection period. In addition, the report explores emerging opportunities in the plastic crates industry.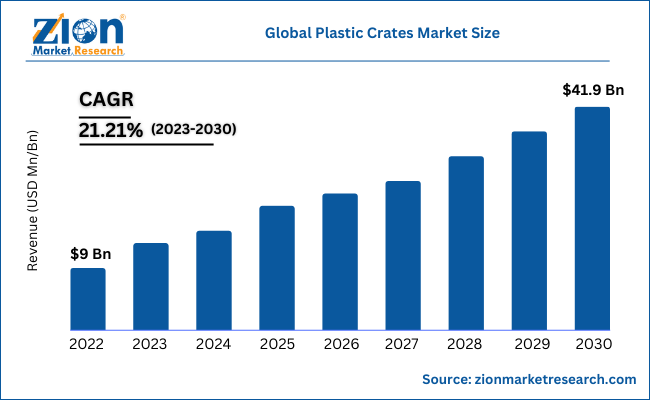 Request Free Sample
Plastic Crates Market: Overview
The plastic crates industry is responsible for the production and sale of plastic crates that are widely used for storing, transporting, and handling a variety of products. These plastics are typically made of high-density polyethylene, polypropylene, and polyvinyl chloride. The main advantage of using plastic crates is in terms of high resistance to damage along with higher durability and strength. Plastic crates have applications in various industries, such as food and beverage, agriculture, pharmaceuticals, logistics, and retail, among many others. The demand in the industry is growing since plastic crates are being preferred over traditional wooden crates due to ease of cleaning, stackability, and lightweight.
Key Insights:
As per the analysis shared by our research analyst, the global plastic crates market is estimated to grow annually at a CAGR of around 21.21% over the forecast period (2023-2030)
In terms of revenue, the global plastic crates market size was valued at around USD 9 billion in 2022 and is projected to reach USD 41.9 billion, by 2030.
The plastic crates market is projected to grow at a significant rate due to the growing demand for efficient transportation
Based on type segmentation, polypropylene (PP) was predicted to show maximum market share in the year 2022
Based on application segmentation, food & beverages was the leading cause in 2022
On the basis of region, Asia-Pacific was the leading revenue generator in 2022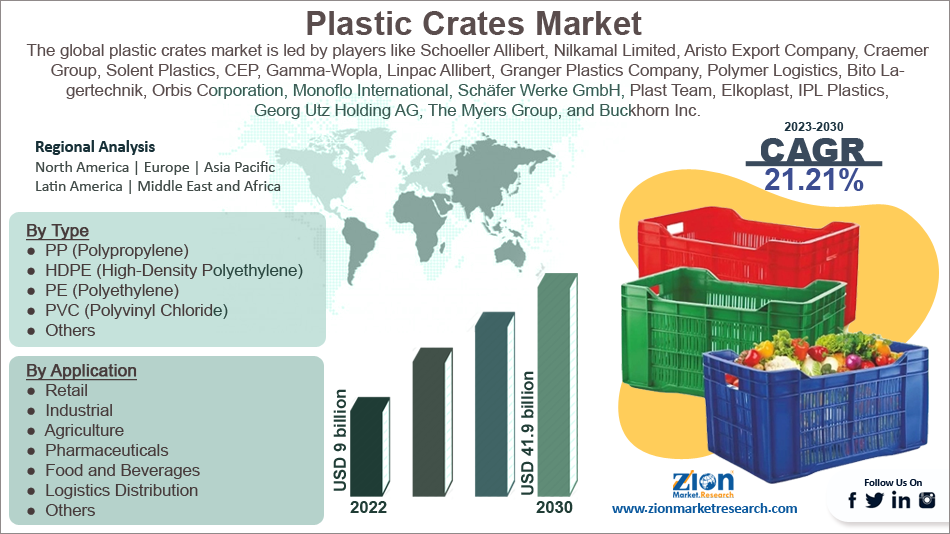 Request Free Sample
Plastic Crates Market: Growth Drivers
Growing demand for efficient transportation solutions to propel market growth
The global plastic crates market is expected to register a high CAGR owing to the increasing demand for efficient transportation solutions. Furthermore, stakeholders are getting extremely cautious with maintaining the hygiene factors of the items being transported. Plastic crates are widely used in sectors like agriculture, food and beverage, pharmaceuticals, and some of the major industries that put high emphasis on the safety of the products during storage and transportation.
For instance, in the agricultural sector, the crates are used from the harvesting process until the final packing and distribution of vegetables, fruits, and other agricultural products. In the harvesting process, the items are used for the transportation of freshly harvested produce from the field to the processing plant or packing house. In this application, the main functionality of the crates is defined by the ease with which they can be stacked and unstacked from the leading trucks during transportation. In the step that involves final packing and distribution, the items are packed into plastic crates and distributed to other buyers or sellers.
Plastic Crates Market: Restraints
Growing environmental concerns to restrict market growth
The world is currently grappling with the impact of the overuse of plastic across sectors. This is one of the major concerns for the global plastic crate industry as manufacturers have to ensure that their business operations do not have a significant impact on the environment. However, this is difficult to achieve in this industry since plastic, at its core, is a non-biodegradable product. Hence industry players need to invest in advanced technologies to manufacture reusable plastic crates if they intend to survive in the long run. Furthermore, as the awareness surrounding sustainable packaging solutions rises, the industry players may register a huge shift in consumers to more eco-friendly solutions.
Plastic Crates Market: Opportunities
Growing adoption of automation and smart technologies to provide growth opportunities
With the growing investment toward advanced technologies and integration of plastic crates with new systems, the plastic crates industry players can expect a higher expansion rate. For instance, one smart plastic crate that is equipped with tracking ids and sensors that are capable of providing real-time information on the condition and location of goods is a prime example of how technology-furnished units can improve the entire supply chain process. In addition to this, the continuous research & development undertaken by competing firms to outshine one another can create expansion opportunities in the following years.
Plastic Crates Market: Challenges
Competition from alternative solutions to challenge market growth
The plastic crates industry is expected to come across growth challenges owing to the rising competition from alternative solutions present in the commercial market. For instance, even though there are several benefits associated with plastic crates, traditional wooden crates also have various benefits. Furthermore, similar products with more eco-friendly sources like cardboard and biodegradable plastics may register a higher influx of consumers.
Plastic Crates Market: Segmentation
The global plastic crates market is segmented based on type, application, and region,
Based on type, the global market segments are PP (polypropylene), HDPE (high-density polyethylene), PE (polyethylene), PVC (polyvinyl chloride), and others. In 2022, the industry witnessed the highest growth in the polypropylene (PP) segment followed by high-density polyethylene (HDPE). These plastic crates offer high durability and strength. In addition to this, their lightweight nature makes them a preferred choice amongst consumers and manufacturers. PE is most widely used in the agricultural sector since it is resistant to chemicals and their impact. PVC is less commonly used because they lack the necessary strength required to hold heavy products in a safe condition during transportation. As of 2021, China's agricultural land is over 57% of the total available land.
Based on application, the global market segments are retail, industrial, agriculture, pharmaceuticals, food and beverage, logistics distribution, and others. The industry registered the highest CAGR in the food and beverages segment in 2022 followed by the agricultural industries. In these segments, the main application of the crates is related to the transportation of perishable items, foods, and vegetables. Plastic crates are easy to clean while offering high resistance to damage. They can also be reused multiple times. Some of the other crucial applications of plastic crates include industries like distribution, industrial manufacturing, and retail. As per the Ellen MacArthur Foundation, the consumer goods and retail sectors account for approximately 20% of global plastic usage.
Recent Developments:
In August 2021, Plastic Sud, a leading manufacturer and supplier of plastic crates, announced the launch of NestBox which is a first-of-its-kind, reusable crate. The two-colored crate has a stacking ratio of 1: 6 and a volume strength of 43 liters. The specific application of NestBox includes harvesting baby leaves and lettuce in open fields. One of the leading characteristics of the box is that it reduces CO2 emissions
In June 2021, IFCO, one of the world's most dominant suppliers of Reusable Plastic Containers (RFCs), announced the launch of Banana Lift Lock crates which are specifically designed for the highly-secured transportation of bananas. The crate can be used at any point throughout the supply chain. The Lift Lock crates offer benefits like superior ventilation and increased strength
Plastic Crates Market: Report Scope
Report Attributes
Report Details
Report Name
Plastic Crates Market Research Report
Market Size in 2022
USD 9 Billion
Market Forecast in 2030
USD 41.9 Billion
Growth Rate
CAGR of 21.21%
Number of Pages
211
Key Companies Covered
Schoeller Allibert, Nilkamal Limited, Aristo Export Company, Craemer Group, Solent Plastics, CEP, Gamma-Wopla, Linpac Allibert, Granger Plastics Company, Polymer Logistics, Bito Lagertechnik, Orbis Corporation, Monoflo International, Schäfer Werke GmbH, Plast Team, Elkoplast, IPL Plastics, Georg Utz Holding AG, The Myers Group, and Buckhorn Inc.
Segments Covered
By Type, By Application, And By Region
Regions Covered
North America, Europe, Asia Pacific (APAC), Latin America, Middle East, and Africa (MEA)
Base Year
2022
Historical Year
2017 to 2021
Forecast Year
2023 - 2030
Customization Scope
Avail customized purchase options to meet your exact research needs. Request For Customization
Plastic Crates Market: Regional Analysis
Asia-Pacific to dominate the market growth
The global plastic crates market is expected to witness the highest growth in Asia-Pacific mainly due to the exponentially rising sectors of food & beverages and agriculture. Countries like India and China are amongst the top agricultural countries across the globe. For instance, as per the National Bureau of Statistics of China, the country's total agricultural output value in 2020 was USD 1.13 trillion. Agriculture is the top industrial sector of the Indian economy.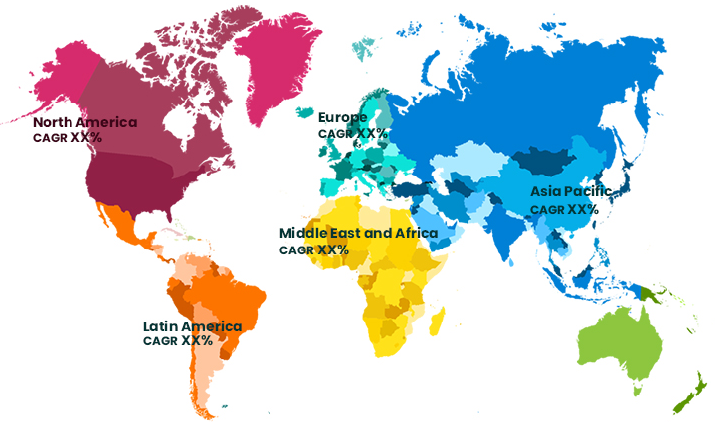 Request Free Sample
The region's Ministry of Statistics and Programme Implementation reported that agriculture will contribute to over 17.8% of India's total gross domestic product (GDP) in 2020-2021. Furthermore, Asia countries are also witnessing favorable support from the regional governments to encourage agricultural production and assist them with access to tools and systems required for safe transportation and storage of the goods. In North America, the industry is led by an increasing number of key players.
Plastic Crates Market: Competitive Analysis
The global plastic crates market is led by players like:
Schoeller Allibert
Nilkamal Limited
Aristo Export Company
Craemer Group
Solent Plastics
CEP
Gamma-Wopla
Linpac Allibert
Granger Plastics Company
Polymer Logistics
Bito Lagertechnik
Orbis Corporation
Monoflo International
Schäfer Werke GmbH
Plast Team
Elkoplast
IPL Plastics
Georg Utz Holding AG
The Myers Group
Buckhorn Inc.
The global plastic crates market is segmented as follows:
By Type
PP (Polypropylene)
HDPE (High-Density Polyethylene)
PE (Polyethylene)
PVC (Polyvinyl Chloride)
Others
By Application
Retail
Industrial
Agriculture
Pharmaceuticals
Food and Beverages
Logistics Distribution
Others
By Region
North America
Europe

France
The UK
Spain
Germany
Italy
Rest of Europe

Asia Pacific

China
Japan
India
South Korea
Southeast Asia
Rest of Asia Pacific

Latin America

Brazil
Mexico
Rest of Latin America

Middle East & Africa

GCC
South Africa
Rest of Middle East & Africa