Industry Prospective:
The global mycotoxin testing market size was worth around USD 6.12 billion in 2021 and is predicted to grow to around USD 11.12 billion by 2030 with a compound annual growth rate (CAGR) of roughly 7.25% between 2022 and 2030. The report analyzes the global mycotoxin testing market drivers, restraints/challenges, and the effect they have on the demands during the projection period. In addition, the report explores emerging opportunities in the mycotoxin testing market.
Mycotoxin Testing Market: Overview
Mycotoxins occur naturally. They are toxic compounds produced by certain types of fungi and are generally found in food products. The molds or fungi that give rise to mycotoxin grow on various types of crops or food products including, but not limited to, spices, nuts, coffee beans, apples, and cereals when these items are exposed to humid and warm weather. Consuming mycotoxin can lead to severe health impacts and they have been deemed dangerous for animal or human consumption.
These adverse effects can range from a long-term illness to acute cases of poisoning. Long-term consumption can result in certain types of cancer and can severely damage the immune system of the body. The global research community has already established and identified hundreds of different types of mycotoxins across the food chain. Some of them include patulin, aflatoxins, zearalenone, and ochratoxin A to name a few. Various methods of mycotoxin testing are employed by health agencies, as well as global market players to detect the presence of any form of mycotoxin. Some kits are also available for home testing.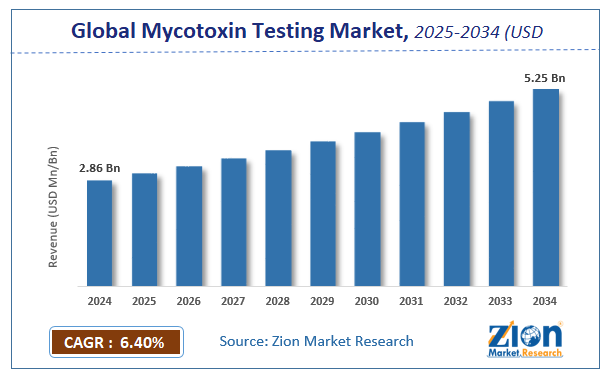 Request Free Sample
To know more about this report, request a sample copy.
Key Insights
As per the analysis shared by our research analyst, the global mycotoxin testing market is estimated to grow annually at a CAGR of around 7.25% over the forecast period (2022-2030)
In terms of revenue, the global mycotoxin testing market size was valued at around USD 6.12 billion in 2021 and is projected to reach USD 11.12 billion, by 2030.
The global mycotoxin testing market is projected to grow owing to the increasing level of strictness surrounding food safety.
Based on technology segmentation, high-performance liquid
was predicted to show maximum market share in the year 2021
Based on food type segmentation, processed food was the leading type in 2021
On the basis of region, Europe was the leading revenue generator in 2021
Mycotoxin Testing Market: Growth Drivers
Stringent regulations regarding food safety to drive market growth
The global mycotoxin testing market is projected to grow owing to the increasing level of strictness surrounding food safety. The concerns have grown multifold post the onset of Covid-19 which resulted in the loss of lives and has caused disruption in the global economy, the repercussions of which can still be seen. Regional bodies that are responsible for the health of the local population have become strict with the methods employed for testing human and animal food. These measures are undertaken in view of protecting the population from consuming contaminated food products or the addition of mycotoxin in the food chain through the means of animal fodder.
The World Health Organization (WHO), an international body promoting health, has already laid down guidelines for companies in the food & business sector, either operating at the domestic or international level, to be followed before the food product is made available for consumption in the live market. WHO works alongside the Food and Agriculture Organization of the United Nations (FAO) to limit the exposure of mycotoxin in edibles.
Mycotoxin Testing Market: Restraints
Lack of infrastructure to restrict market expansion
Many underdeveloped or developing nations lack the infrastructure required to conduct mycotoxin testing. As poor economies struggle to have access to advanced technology, many businesses may flout the rules or regulations which may severely impact the growth in the global market. This applies to domestic as well as multinational firms as they may avoid investing in creating the necessary systems required for testing purposes. There is a possibility that due to lack of accessibility, the general population is unaware of the harmful impact of consuming mycotoxin resulting in corporations avoiding the tests. Other factors like poor management, lack of updated information, and low expertise in regional law and regulation could also impact the global market expansion during the projection period.
Mycotoxin Testing Market: Opportunities
Growing consumer awareness to provide growth opportunities
The global mycotoxin testing market may witness higher growth owing to the rise in the number of consumers who are aware of the impact that food ingredients have on their health. This is possible due to the presence of information on the internet as well as growing efforts undertaken by regional health departments to educate the masses against the consumption of harmful compounds. As more people become aware, corporations are forced to provide consumers with correct information to maintain a regular flow of new buyers as well as maintain brand value.
Mycotoxin Testing Market: Challenges
Lack of qualified personnel to challenge revenue growth
The global market has a high demand for qualified technical personnel required to conduct mycotoxin testing as well as cover all the related areas. However, there is a significant gap between the number of people in demand and the actual supply of certified professionals. It acts as a challenge for the global market players as the pressure to provide updated information on time increases due to impositions laid down by regional laws.
Mycotoxin Testing Market: Segmentation
The global mycotoxin testing market is segmented based on technology, type, food type, and region
Based on technology, the global market segments are immunoassay-based, high-performance liquid chromatography, liquid chromatography with tandem mass spectrometry (LC-MS/MS), and others. The global market may register the highest growth in the high-performance liquid chromatography segment as it can quantify the exact amount of plasma level in drugs and their exact metabolites. When the information on the exact concentration of biogenic substances is known, the diagnosis can be accurate.
On the other hand, the use of LC-MS/MS has been growing significantly since it is deemed as one of the most powerful analytical tools that used the strength of liquid chromatography and triple quadrupole mass spectrometry. The cost of using the LC-MS/MS method ranged between USD 100 to USD 200 per sample.
Based on food type, the global market divisions are dairy, meat & poultry, processed food, fruits & vegetables, and others. Although mycotoxin testing is mandatory for all food types including animal fodder, in 2021, the global market was led by the processed food segment owing to the large consumer database. The global processed food market stood at a value of USD 144 billion in 2021. The meat & poultry industry is also projected to grow at a high CAGR, as the consumption of animal-based food increases.
Recent Developments:
In June 2019, PerkinElmer launched a mycotoxin testing strip designed to test aflatoxin in Corn. With this move, the company has managed to expand its portfolio and hold over the mycotoxin testing market
In September 2021, Ringbio, manufacturer of drug residue test kits for dairy milk, launched a new range of mycotoxins quantitative rapid test kit called iQuanti
Mycotoxin Testing Market Report Scope:
Report Attributes
Report Details
Report Name
Mycotoxin Testing Market Research Report
Market Size in 2021
USD 6.12 Billion
Market Forecast in 2030
USD 11.12 Billion
Compound Annual Growth Rate
CAGR of 7.25%
Number of Pages
262
Forecast Units
Value (USD Billion), and Volume (Units)
Key Companies Covered
Symbio Laboratories, Romer Labs Diagnostic GmbH, Microbac Laboratories Inc., Bureau Veritas SA, Silliker Inc., Asurequality, ALS Limited, Eurofins Scientific SE, Intertek Group PLC, and SGS SA.
Segments Covered
By Technology, By Type, By Food-Type By Region
Regions Covered
North America, Europe, Asia Pacific (APAC), Latin America, Middle East and Africa (MEA)
Countries Covered
North America: U.S and Canada
Europe: Germany, Italy, Russia, U.K, Spain, France, Rest of Europe
APAC: China, Australia, Japan, India, South Korea, South East Asia, Rest of Asia Pacific
Latin America: Brazil, Argentina, Chile
The Middle East And Africa: South Africa, GCC, Rest of MEA
Base Year
2021
Historical Year
2016 to 2020
Forecast Year
2022 - 2030
Customization Scope
Avail customized purchase options to meet your exact research needs. Request For Customization
Mycotoxin Testing Market: Regional Analysis
Europe to continue dominating with the highest market share
The global mycotoxin testing market is projected to be dominated by Europe in the coming years following the trend from 2021. The regional growth is projected to be driven by the increasing strictness in laws and regulations surrounding the content testing of food products including packaged food items, vegetables, and fruits. EU countries have laid down extensive food safety controls that aim to control the spread of chemical or microbial hazards throughout the food supply chain. The food and feed safety policies in Europe are underpinned by the research-based scientific advice provided by the European Food Safety Authority.
The United Kingdom, Ireland, Switzerland, Finland, and the Netherlands are named as some of the regions with the world's most strict laws related to food safety. The penalty for food hygiene and safety-related concerns can be up to USD 20,000 per offense.
Mycotoxin Testing Market: Competitive Analysis
The global mycotoxin testing market is led by players like:
Symbio Laboratories
Romer Labs Diagnostic GmbH
Microbac Laboratories Inc.
Bureau Veritas SA
Silliker Inc.
Asurequality
ALS Limited
Eurofins Scientific SE
Intertek Group PLC
SGS SA.
The global mycotoxin testing market is segmented as follows:
By Technology
Immunoassay-Based
High-Performance Liquid Chromatography
LC-MS/MS-Based, and Others
By Type
Patulin
Fusarium
Aflatoxins
Ochratoxins
Others
By Food-Type
Dairy
Meat & Poultry
Processed Food
Fruits & Vegetables
Others
By Region
North America
Europe

France
The UK
Spain
Germany
Italy
Rest of Europe

Asia Pacific

China
Japan
India
South Korea
Southeast Asia
Rest of Asia Pacific

Latin America

Brazil
Mexico
Rest of Latin America

Middle East & Africa

GCC
South Africa
Rest of Middle East & Africa