Market Overview
The Global Low Calorie Food Market accounted for USD 10.22 Billion in 2020 and is expected to reach USD 15.01 Billion by 2028, growing at a CAGR of 4.53% from 2021 to 2028.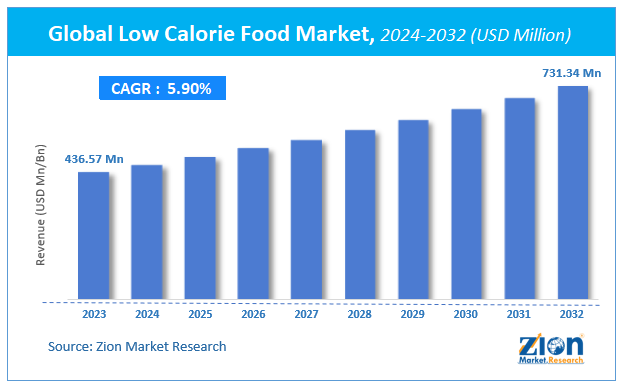 Request Free Sample
Low-calorie food is a standardized eating plan that limits daily caloric consumption, usually losing weight and cutting down from various health-related problems. In contrast to a conventional diet, low-calorie food contains fewer calories. A low-calorie diet entails eating between 1,200 and 1,500 calories per day, resulting in a calorie deficit leading to weight loss. Awareness among the new age generation for staying healthy and fit will drive the market's growth. Many segments in the health food industry have emerged due to recent changes in people's lifestyles and attitudes toward better health. People are becoming more aware of added sugars and how a sugary diet can increase the risk of diabetes and heart diseases, so they're looking for items with less added sugar. The Gluten-Free Diet hasn't lost its appeal, where they are getting more creative. Grain alternatives, such as almonds, and cassava flours, will continue to be among the trends during the forecast period.
COVID-19 Impact Analysis
Nutrition and hydration are essential, and people have started consuming a well-balanced diet to get healthier and less likely to contract chronic illnesses and infectious diseases. The Covid-19 crisis has positively impacted the low-calorie food market. As consumers seek to benefit from a healthy diet, the industry sees a rise in demand for low-calorie diets. With no proper treatment on COVID-19, people have become more concerned about preserving better immunity, which brings low-calorie food as one of the options to stay fit and healthy.
Growth Factors
Consumers' increasing health consciousness and changing habits pertaining to food intake are two significant factors expected to drive the low-calorie food industry's growth in the forecast years. Definitive diagnosis of diseases such as high blood pressure, weight gain, obesity, diabetes, and others are being caused by an increase in unhealthy lifestyles, high intake of fast food and soft drinks, and less regular exercise. Consumers are shifting their preferences toward low-calorie foods as a result of these health effects. Bloggers are promoting the advantages of eating a low-calorie diet, which has helped the industry gain traction in recent years as well.
In addition to growing awareness among consumers, the low-calorie food industry has benefited from the availability of functional diets, food supplements, cereal bars, and convenience diets. This is attributed to the rising popularity of sugar alternatives, combined with an ageing population, which is expected to shape the market's trajectory during forecast years.
Report Scope :
Report Attributes
Report Details
Report Name
Low Calorie Food Market Size Report
Market Size in 2020
USD 10.22 Billion in 2020
Market Forecast in 2028
USD 15.01 Billion
Compound Annual Growth Rate
CAGR of 4.53%
Number of Pages
110
Forecast Units
Value (USD Billion), and Volume (Units)
Key Companies Covered
Archer Daniels Midland Company, Zydus Wellness Limited, McNeil Nutritionals LLC, Pepper Snapple Group, The Coca Cola Company, Ajinomoto Co. Inc., Bernard Food Industries Inc, PepsiCo Inc., Abbott Laboratories, Nestle
Segments Covered
By Type,By end-user, And By Region
Regions Covered
North America, Europe, Asia Pacific (APAC), Latin America, Middle East and Africa (MEA)
Countries Covered
North America: U.S and Canada
Europe: Germany, Italy, Russia, U.K, Spain, France, Rest of Europe
APAC: China, Australia, Japan, India, South Korea, South East Asia, Rest of Asia Pacific
Latin America: Brazil, Argentina, Chile
The Middle East And Africa: South Africa, GCC, Rest of MEA
Base Year
2021
Historical Year
2016 to 2020
Forecast Year
2022 - 2030
Customization Scope
Avail customized purchase options to meet your exact research needs. Request For Customization
Substitute Type Analysis Preview
Sweeteners Substitute Type Segment held a significant share in 2020. This is attributed to consumers watching their daily sugar intake and rise in confectionery and beverage industries. This substitute is becoming more common, and the food industry is working hard to promote them as a healthier option. Sweeteners can be found in a variety of foods, including ice cream, yogurt, cereals, iced tea, energy drinks, candy, cookies, granola bars, condiments, frozen foods, and energy bars. Diet sodas are the most common source of sweeteners in the diet. Neotame has almost 7000 to 13000 sweetness when compared to sucrose. Stevia sweeteners, which are gaining in popularity and are often advertised as a more natural substitute. All of those are sweet in taste with little to no calories. They are actually much sweeter than sucrose, so a small amount will add a lot of sweetness to a dish.
Moreover, Nutrient-based segment is gaining traction due to available high protein, low fat substitutes in the market. Alternative proteins, especially convenient plant-based foods that substitute cheese, sausages, and meat, are becoming increasingly popular among consumers. Low-calorie food which are high in protein, and fiber can keep the person fuller for longer.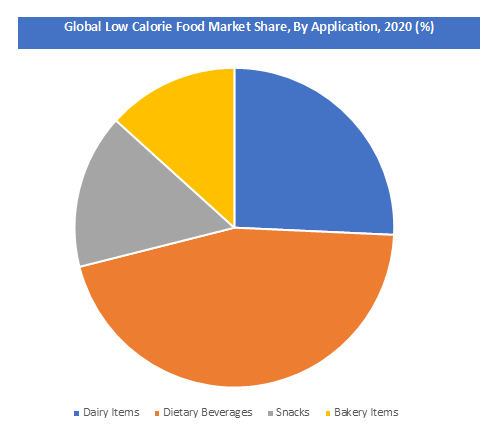 Request Free Sample
Applications Segment Analysis Preview
Dairy Items is the fastest growing segment due to the health benefits it has to offer. Skim or fat-free milk, as well as low-fat yoghurt and cottage cheese, are examples of low-fat dairy. Vitamin D and calcium, both of which are essential for bone health, are abundant in fortified low-fat milk. Furthermore, some low-fat yoghurts contain probiotics, which help to improve gut health. Increasing consumer awareness for plant-milk will drive the Dairy Items market significantly.
Dietary Beverages held a share of 45.34 % in 2020. Due to the market demand for various health drinks and packaged juice products, beverages are expected to be the fastest growing segment over the forecast period. It includes Diet Soda, Cola, and Healthy Juices. The best way to get nutrition and antioxidants is to eat whole fruits and vegetables, but beverages from these fruits are equally important. They are rich in antioxidants like vitamin A and C. Snacks and Bakery Items form the other application segment.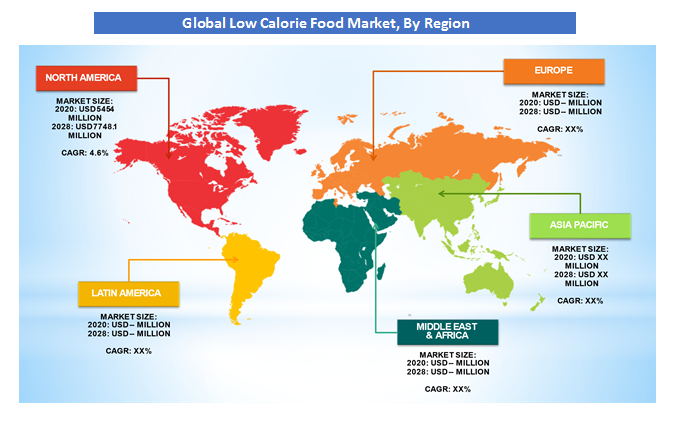 Request Free Sample
Regional Analysis Preview
North America held a significant share of 51.45% in 2020. Increasing customer understanding of health is going to accelerate the adoption of a healthier lifestyle, driving the growth of the low-calorie food industry. The demand for low-calorie food is growing due to an increase in the acceptance of healthy activities such as yoga, going to the gym, and eating healthy food. Low-calorie foods are also becoming more popular as obesity becomes more prevalent. Roughly out of three, two adults are overweight. The growing concerns of health will drive the market in North America Region. The US marketplace for low-calorie food is projected to be the largest in the world.
Europe is the second largest revenue generated region for this market. For years, health and wellness has been a defining theme in the food and beverage industry, and consumers continue to be concerned with what they eat and drink. People in UK and Germany have been following the trend of going vegan or vegetarian. But, Nutrition in Europe has followed a pattern seen in many other developed and developing countries, namely, a shift away from a complex carbohydrate-based diet toward one high in fat and added sugars.
Key Market Players & Competitive Landscape
Some of the key players in the Low-Calorie Food Market include Archer Daniels Midland Company, Zydus Wellness Limited, McNeil Nutritionals LLC, Pepper Snapple Group, The Coca Cola Company, Ajinomoto Co. Inc., Bernard Food Industries Inc, PepsiCo Inc., Abbott Laboratories, Nestle, among others.
Mergers, acquisitions, growth, and investments are some of the strategy's, companies have used to capture the evolving market. PepsiCo uses Stevia extraction. Similarly, many companies are following the same and using Stevia as sweeteners instead of artificial sweeteners. Bai Brands, which makes antioxidant-infused drinks, was purchased by Dr Pepper Snapple. This acquisition enabled the company to diversify its product offerings with a forecast of 40% to 50% volume growth, while also broadening its geographic reach.
The Global Low Calorie Food Market is segmented as follows:
By Substitute Type
Nutrient-based
Sweeteners

Stevia
Saccharin
Aspartame
Neotame
Others

Sugar Alcohol-based

Xylitol
Lactitol
Sorbitol
Erythritol
Others
By Applications
Dairy Items
Dietary Beverages
Snacks
Bakery Items
By Region
North America
Europe

France
The UK
Spain
Germany
Italy
Rest of Europe

Asia Pacific

China
Japan
India
South Korea
Southeast Asia
Rest of Asia Pacific

Latin America

Brazil
Mexico
Rest of Latin America

Middle East & Africa

GCC
South Africa
Rest of Middle East & Africa