Market Overview
The Latin America Steel Rebars Market accounted for USD 6,271 Million in 2020 and is expected to reach USD 12,056 Million in 2028 growing at a CAGR of 7.3% between 2021 and 2028.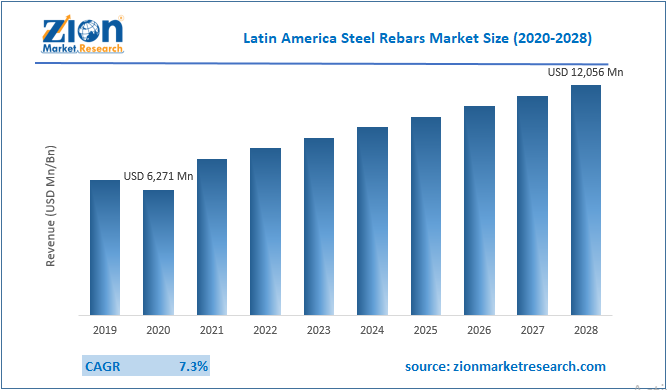 Request Free Sample
Steel bars are widely used across construction sector for varied purposes. Some purposes need high tensile strength steel bars and some need low tensile strength steel bars, Commercial and government projects need twisted steel bars as they can conceive more weight as their tensile strength is highest. Increasing number of construction projects across Latin is one of the prime factors for rising demand of steel bars.
COVID-19 Impact Analysis
The Latin America is still suffering through an unprecedented COVID-19 outbreak posing social, health, and economic emergency. National trade, travel and tourism, e-commerce, customer care, and consumer products are some of the severely affected sectors due to COVID-19 outbreak in Latin America. With travel restrictions on board and ban on local movement, people were stuck at places from where they couldn't attend offices and manufacturing facilities for months which made companies to lose enormous revenue in first 3 quarters of 2020. Marketing campaigns had stopped due to which marketing industry subsequently suffered the same. Jobs in construction material, industrial, and housing sectors were on stake and due to rapid downfall in investments, situation was nowhere to be seen to recover till end of 2021. In September 2020, lockdown restrictions in most of the Latin American countries have been lifted only to realize that the number of cases is rising rapidly again.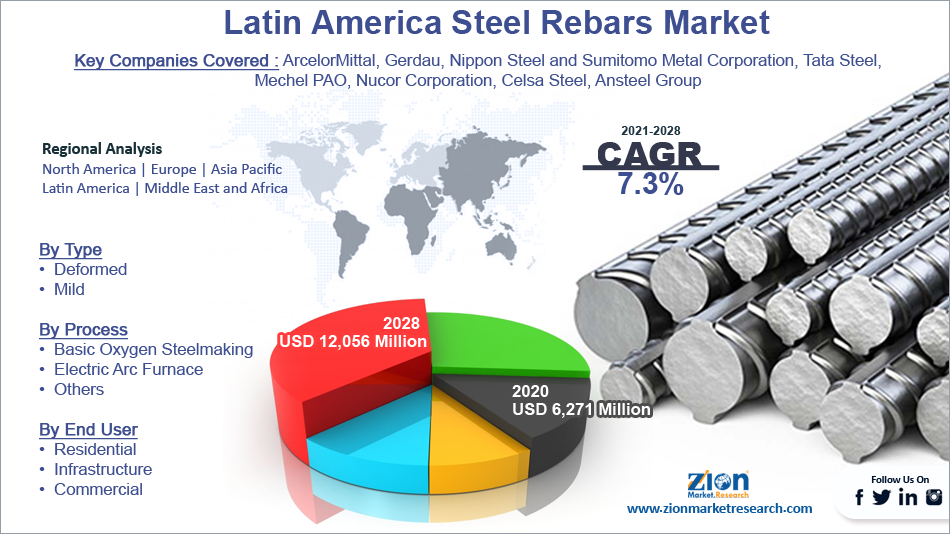 Request Free Sample
Growth Factors
Government initiatives go a long way in making a country self-sufficient and competitive in terms of export. Population growth in emerging economies has led to mass migration, exerting an enormous strain on the existing urban infrastructure. In order to deal with this, country governments have started providing soft loans to spur investment and FDI in the respective country's construction and industrial sectors. As steel bars are widely used in construction activities, increasing government investments and the rising demand for building and construction drive the demand for steel bars across Latin America.
The mining industry significantly contributes to a nation's economy. In Latin America, the mining industry had a positive outlook during 2014–2016 and is expected to flourish against a backdrop of upcoming projects in Brazil, Argentina, and other countries in Latin America. With increasing international trading activities in the last few years, Latin American seaborne trade has observed massive expansion majorly supported by the 2017 upswing in the world economy. Expanding at a rate of 4%, the fastest growth in five years, global maritime trade gathered momentum, wherein the total volume has reached 11 billion tons, as reported by United Nations Conference on Trade and Development (UNCTAD). As per to the UNCTAD, over 80% of global trade by volume and more than 70% of its value is carried on ships and handled by ports worldwide, which is expected to benefit Latin American trade routes and ports.
Steel Rebars Market Report Scope:
Report Attributes
Report Details
Report Name
Steel Rebars Market Research Report
Market Size in 2020
USD 6,271 Million
Market Forecast in 2028
USD 12,056 Million
Compound Annual Growth Rate
CAGR of 7.3%
Number of Pages
159
Forecast Units
Value (USD Million)
Key Companies Covered
ArcelorMittal, Gerdau, Nippon Steel and Sumitomo Metal Corporation, Tata Steel, Mechel PAO, Nucor Corporation, Celsa Steel, Ansteel Group
Segments Covered
By Type, By Process, By End User and By Region
Regions Covered
North America, Europe, Asia Pacific (APAC), Latin America, Middle East and Africa (MEA)
Countries Covered
North America: U.S and Canada
Europe: Germany, Italy, Russia, U.K, Spain, France, Rest of Europe
APAC: China, Australia, Japan, India, South Korea, South East Asia, Rest of Asia Pacific
Latin America: Brazil, Argentina, Chile
The Middle East And Africa: South Africa, GCC, Rest of MEA
Base Year
2022
Historical Year
2018 - 2022
Forecast Year
2023 - 2030
Customization Scope
Avail customized purchase options to meet your exact research needs. Request For Customization
Type Analysis Preview
Deformed segment held a share of around 76.97% in 2020. Hot rolled deformed bars is one kind of reinforcing steel bars. Its surface commonly has ribs which has three kinds of shape: crescent, spiral, and herringbone. Hot rolled deformed bars with high strength can be directly used in reinforced concrete structure and also can be used as pre-stressed reinforcing bar after cold drawing. Because of its great flexibility, it is widely used in many construction sectors including commercial, residential, and industrial. It has minimum crack width, desired flexibility, high fatigue resistance, and high bonding strength features and has a wide array of applications including reinforced concrete slabs, refabricated beams, construction industry, residential and building structures, cages, and columns.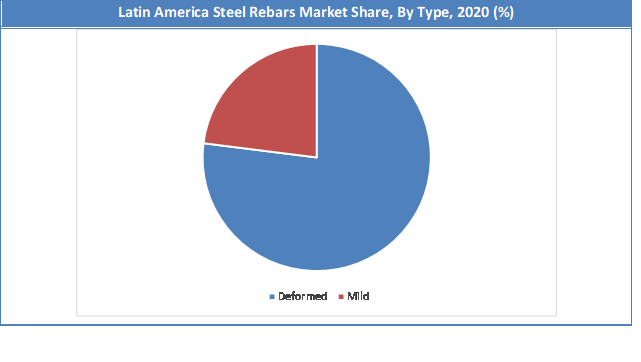 Request Free Sample
Process Segment Analysis Preview
Electric Arc Furnace segment is expected to grow at a CAGR of over 1.3% from 2021 to 2028. This process involves refractory lined and tiltable basic oxygen furnace (BOF) converter into which a vertically movable and water-cooled lance is inserted to blow oxygen through nozzles at supersonic velocity onto the charge. To refine 1 charge, only about 20 minutes are required per heat as the use of pure oxygen at high flow rates results in fast oxidation of elements contained in blast furnace iron. Commercial advantages of using pure oxygen instead of air in refining pig iron into steel such as less labor, steel with a low nitrogen content, and high production rates were recognized long back.
Regional Analysis Preview
Brazil held a share of 28.09% in 2020. Latin America is one of the fastest growing and revolutionizing markets across the globe. Due to fast urbanization in this modern world, raw material manufacturers, industrial manufacturers are entering the market and also moving their manufacturing hubs to Latin America. This scenario has increased demand for steel bars in the manufacturing sector of Latin America.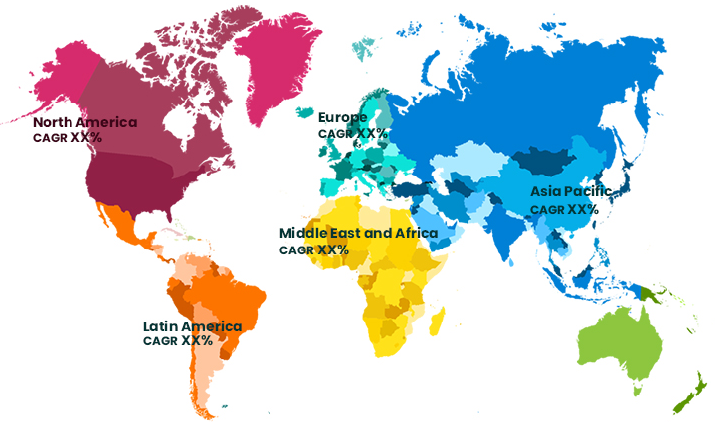 Request Free Sample
The Latin America steel bar market is expected to register a healthy growth rate during the forecast period. The U.S.-China trade war has led to some marginal gains for economies in this region. Argentina and Brazil are the leading economies that govern Latin America's economic outlook.
Key Market Players & Competitive Landscape
Some of key players in Latin America Steel Rebars Market are ArcelorMittal, Gerdau, Nippon Steel and Sumitomo Metal Corporation, Tata Steel, Mechel PAO, Nucor Corporation, Celsa Steel, Ansteel Group, among others.
The Latin America Steel Rebars Market is segmented as follows:
By Type
By Process
Basic Oxygen Steelmaking
Electric Arc Furnace
Others
By End User
Infrastructure
Commercial
By Region
Latin Americas

Brazil
Argentina
Rest of Latin America