Market Overview
The global construction adhesive market accounted for USD 8.42 Billion in 2020 and is expected to reach USD 12.05 Billion by 2028, growing at a CAGR of 5% from 2021 to 2028.
Adhesives are gluing agents that are used to adhere materials which range from basic household materials to construction materials. Construction adhesive is a multipurpose adhesive that used to adhere drywall, tile, molding, and fixtures to walls, ceilings, and floors. Globally, growing construction and infrastructure activities are driving up demand for construction adhesives. Low cost and easy availability, as well as improved properties and production techniques, are driving growth. In the construction industry, advancements in adhesive technologies have encouraged the use of plastic flooring materials in the building industry, both for internal and outdoor (e.g., rubber sport courts) applications. Improvements in adhesive efficiency have also aided the growing use of luxury vinyl tile (LVT) in high-traffic areas including hospitals.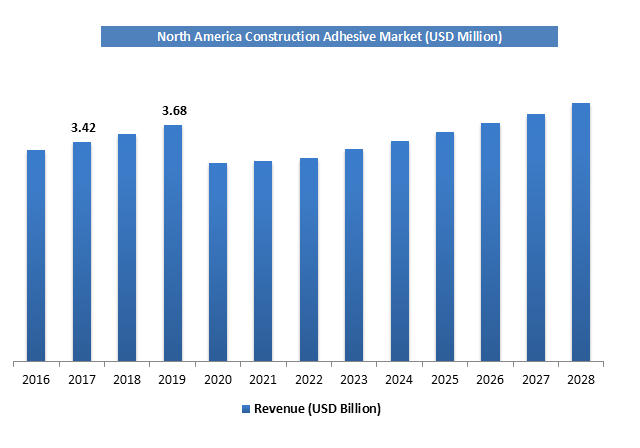 Request Free Sample
COVID-19 Impact Analysis
The outbreak of COVID-19 has had several short-term and long-term consequences in the construction industry, which are likely to affect the demand for construction adhesives. Workplace disruptions or project cancellations occurred, and demand for "non-essential" projects such as offices, entertainment, and sports facilities reduced. The demand for construction adhesives would continue to be constrained as a result of the shutdown of such projects and other construction activities.
Growth Factors
The rapid growth of the construction adhesives industry has been fueled by rising demand from the non-residential and residential industries, government incentives for affordable housing to improve construction activities, and ongoing infrastructure projects.
Increase in end-use activities such as the expansion of logistic terminals, the growth and expansion of new manufacturing facilities, car assembly plants, multi-story buildings, oil pipelines, and water treatment plants have also raised demand for adhesive in construction.
Report Scope: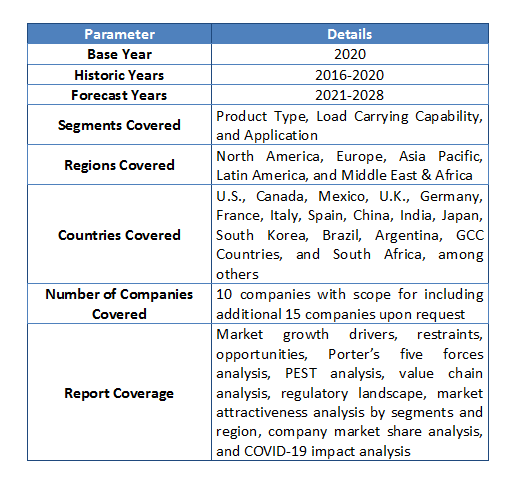 Request Free Sample
Product Type Segment Analysis Preview
Polyurethane segment will grow at a CAGR of over 4% from 2021 to 2028. This is attributable to rising demand for lightweight and durable goods in the automotive, construction, and electronics industries. Overall demand for is expected to be fueled by the end-use industries in developed countries, as well as the product's flexibility and specific physical properties. Furthermore, the growing adoption of innovative manufacturing technologies for polyurethane (PU) with advanced properties is expected to boost overall demand in the market.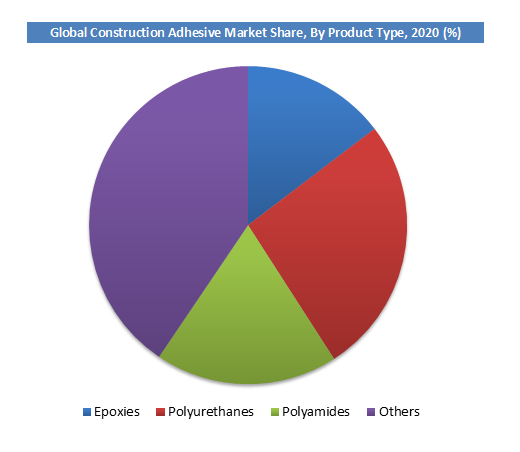 Request Free Sample
Load Carrying Capacity Segment Analysis Preview
The structural adhesives segment will grow at a CAGR of around 6% from 2021 to 2028. This is attributable to rising adhesive demand caused due to increased adoption of composite, demand for non-hazardous, renewable, and sustainable structural adhesives. Structural adhesives are used to join materials that must withstand loads or pressures that could endanger the structure's integrity. Epoxy is the most commonly used structural additive because it can bind to a wide range of materials and has high strength. Epoxy structural adhesives are used to bind different substrates such as ceramics, metal, wood, concrete, composites, and rubber used in automotive, buses and trucks, and railways. Non-structural adhesives keep materials in place that are not subject to critical stress like tiles, laminates, floor coverings, millwork, and other elements.
Regional Analysis Preview
North America region held a share of around 30% in 2020. This is attributable to the fact that the residential construction demand has outperformed the overall economy and recovered from the COVID-19's initial shock. This was because of the low mortgage rates and a significant shift in mode of employment (work from home), which caused many renters and first-time buyers to opt for more accessible and larger living spaces in lower density areas such as suburbs, exurbs, and rural communities while maintaining their employment and wealth.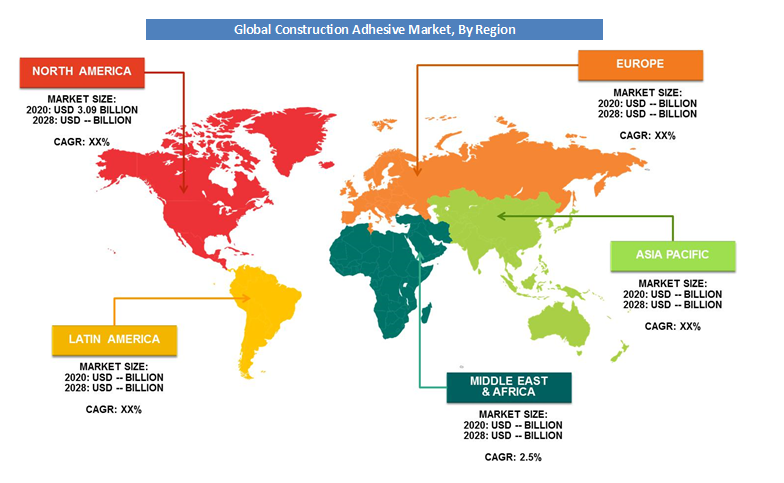 Request Free Sample
Asia Pacific region is projected to grow at a CAGR of around 7% over the forecast period. This surge is due to fast economic growth, increasing demand from infrastructure construction in countries like India and China along with increase in activities like maintenance, and renovation. In countries like India, there has been an increase in government expenditure to boost infrastructure and development activities like power generation, bridges, dams, highways, and urban infrastructure growth, all of which serve as a foundation and support for other service sectors.
Key Market Players & Competitive Landscape
Some of key players in construction adhesive market Henkel, H.B. Fuller, Sika, DowDuPont, Bostik, 3M, Avery Dennison, Franklin International, Dap, LORD Corp., and ITW, among others.
To increase the use of adhesives and sealants, companies in this market are aggressively pursuing strategies to identify and engage specific targeted segments of end-users. They're also attempting to create additional member-led tools aimed at particular end user markets, educating them of the advantages of using adhesives and sealants in the production of their products.
The global construction adhesive market is segmented as follows:
By Product Type
Epoxies
Polyurethanes
Polyamides
Others
By Load Carrying Capability
Structural
Non-Structural
By Application
Resilient flooring
Drywall Lamination
Roofing
Others
By Region
North America
Europe

France
The UK
Spain
Germany
Italy
Rest of Europe

Asia Pacific

China
Japan
India
South Korea
Southeast Asia
Rest of Asia Pacific

Latin America

Brazil
Mexico
Rest of Latin America

Middle East & Africa

GCC
South Africa
Rest of Middle East & Africa