Industrial Detonator Industry Prospective:
The global industrial detonator market size was worth around USD 190.75 million in 2022 and is predicted to grow to around USD 257.58 million by 2030 with a compound annual growth rate (CAGR) of roughly 3.85% between 2023 and 2030.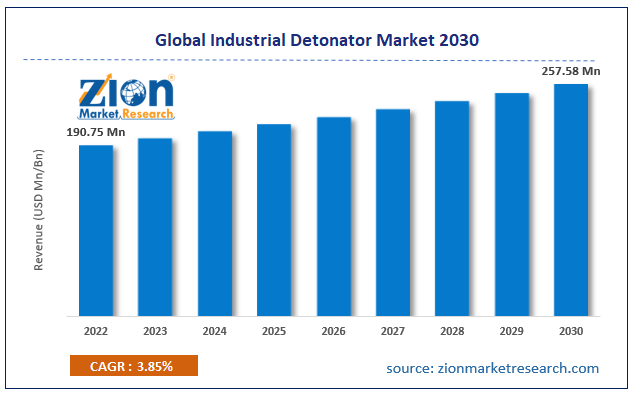 Request Free Sample
Industrial Detonator Market: Overview
An industrial detonator is a device used for triggering or initiating controlled explosions in an industrial setting. The largest and most prominent applications of industrial detonators are in the mining and building or construction industry. These explosives are different from other explosion-causing tools since they are used under the guidance of explosion experts and are intended only for industrial purposes. When handled properly after meeting all safety requirements, industrial detonators do not lead to explosions that may cause any harm to animals or humans around the detonation site.
Industrial detonators typically consist of loaded shells or small tubes containing sensitive explosives such as lead styphnate or lead azide. During the forecast period, several factors are expected to drive the demand for efficient industrial detonators but companies must continue to focus on improving safety features associated with these explosion-triggering components. In earlier times, silver fulminate was an essential component of blasting caps; however, with time, it has been replaced with safer alternatives but silver fulminate continues to have certain applications which can be harmful for the market growth.
Key Insights:
As per the analysis shared by our research analyst, the global industrial detonator market is estimated to grow annually at a CAGR of around 3.85% over the forecast period (2023-2030)
In terms of revenue, the global industrial detonator market size was valued at around USD 190.75 million in 2022 and is projected to reach USD 257.58 million, by 2030.
The industrial detonator market is projected to grow at a significant rate due to the increasing mining activities
Based on application segmentation, mining sector was predicted to show maximum market share in the year 2022
Based on product type segmentation, the prompt detonator was the leading type in 2022
On the basis of region, Asia-Pacific was the leading revenue generator in 2022
Industrial Detonator Market: Growth Drivers
Increasing mining activities to drive market growth
The global industrial detonator market is expected to grow owing to the increasing mining activities across the globe. Industrial detonators are one of the standard business tools used by companies operating in the mining sector since they are used for most industry-specific applications such as drilling & tunneling, blasting during ore extraction, cutting through hard rock & concrete surfaces, and quarrying. The increasing mining rate for all essential raw materials that form the basis of the modern world has resulted in surging demand for safe and effective industrial detonators. Mining is technically considered a manufacturing unit with the difference in the tools used during the process and the end goods produced. For instance, mining focuses on the extraction of important and high-value geological materials such as ores, salt, gravel, sand, oil & natural gas, gemstones, industrial minerals, cobalt, and many more raw materials. All the products extracted by mining companies are used extensively in the commercial world.
In addition to this, companies across industries are working toward developing applications of newly discovered products while also investing in expanding the applications of well-known geological materials. For instance, while silver remains a prominent raw material for the jewelry industry, it has been studied extensively to develop silver coating for implantable medical devices since silver can protect against infection.
On the other hand, mining companies are expanding resource allocation for the discovery of new mining sites that could directly impact the global market demand during the projection period. In September 2023, Norge Mining announced that it had discovered a new mining site in Norway and insisted that the discovery could shape the global future, especially focusing on clean energy. The mining site has a rich deposit of 77 billion-ton phosphate that has the capacity to meet global energy demand for the next 50 years.
Industrial Detonator Market: Restraints
Tough competition from modern alternate solutions to restrict market growth
The industrial detonator industry growth will be restricted due to the tough competition that market players face from alternate methods used for safe, controlled, and supervised explosions across end-user verticals. For instance, the proliferation application of non-blasting agents consisting of chemicals to assist the breaking of rocks or hydraulic breakers may result in stunted demand for industrial detonators. Another popular method to break through hard rocks and other materials is abrasive water jet cutting using water jets under pressure as high as 200–300 MPa suspended with abrasive powder. Mining and building industry players are increasingly moving toward deploying methods that do not require blasting as it is often associated with high risk in terms of ecosystem damage.
Industrial Detonator Market: Opportunities
Increasing launch of new industrial detonators to provide growth opportunities
The global industrial detonator market growth prospects appear promising due to the increasing development and launch of advanced industrial detonators with higher security and functional attributes. For instance, in September 2023, Orica, a global leader and the world's only producer of non-electric detonators in the Nordic region, launched the Neo range of Exel™ non-electric detonators, its premium segment in the existing range. These variants are lead-free and hence more sustainable. The company has worked toward ensuring that performance consistency is not impacted by this change. The newly launched range has applications in surface and underground mining operations as well as the civil infrastructure segment.
Rising demand for digital detonators to push market revenue in a positive direction
The rising innovation and development of digital detonators will help the market witness a higher growth rate during the projection period. These detonators work on microelectronic chips instead of electronic or chemical components for delay. Digital detonators are considered safer since they are highly accurate in terms of timing thus reducing the risk of error.
Integration of 3-D printing technology and industrial detonators will create additional expansion possibilities
Research indicates that scientists are increasingly using 3-D printing technology to learn more about the way in which explosives work. Integrating 3-D printing technology and industrial detonator manufacturing can help in controlling the release of energy. This could be made possible by investing more resources in industrial-grade 3-D printers. The technology is already in use to print complex spare parts for several military applications. However, this segment needs more brainstorming and discussion within the market to witness higher applications.
Industrial Detonator Market: Challenges
Strict government regulations governing detonator production and use to challenge market growth
The industrial detonator industry growth trend may face several hindrances since the production and use of industrial detonators are subject to severe regulatory guidelines laid down by regional and international government bodies keeping in view the impact of these detonators on humans, animals, and the ecosystem in general. Furthermore, even though the explosion-assisting devices are produced with safety as a primary concern, their storage, transportation, and use are extremely complex and require strict adherence to safety protocols.
Industrial Detonator Market: Segmentation
The global industrial detonator market is segmented based on application, product, and region.
Based on application, the global market segments are building, mining, and other applications. In 2022, the mining sector was the largest revenue generator due to the rapid proliferation of the global mining industry. In 2022, more than 25000 metric tons of silver was produced. The growing demand for precious gemstones and ores is likely to push segmental growth during the projection period.
Based on type, the industrial detonator industry segments are delay detonator and prompt detonator. The latter segment generated high demand across end-user verticals. These variants trigger explosions when electro-mechanical, shock, or heat is applied. It provides efficient and quick results while being highly reliable. Delay detonators, on the other hand, have a time delay between the explosion request and the final explosion. Most delay variants are available in the delay range of 0 to 10 with 1-6 being a delay of 25 milliseconds.
Industrial Detonator Market: Report Scope
Report Attributes
Report Details
Report Name
Industrial Detonator Market
Market Size in 2022
USD 190.75 Million
Market Forecast in 2030
USD 257.58 Million
Growth Rate
CAGR of 3.85%
Number of Pages
206
Key Companies Covered
MNK, AEL Mining Services, Sasol Limited, Davey Bickford, Orica, Yahua Industrial, Austin, Dyno Nobel, and others.
Segments Covered
By Application, By Product Type, and By Region
Regions Covered
North America, Europe, Asia Pacific (APAC), Latin America, Middle East, and Africa (MEA)
Base Year
2022
Historical Year
2017 to 2021
Forecast Year
2023 - 2030
Customization Scope
Avail customized purchase options to meet your exact research needs. Request For Customization
Industrial Detonator Market: Regional Analysis
Asia-Pacific to witness the highest growth rate during the assessment period
The global industrial detonator market will witness the highest growth in Asia-Pacific driven by increasing urban infrastructure development projects as well as mining activities. India has over 1300 mining sites while China boasts of over 40,000 mines. Some of the richest mines in China include Shaxi Copper Mine, CSH Gold Mine, and Sanshandao Gold Mine, among many others. The countries have a rising industrial segment leading to more demand for essential raw materials in end-user verticals such as the jewelry industry and semiconductors market. Furthermore, a growing number of industrial detonator manufacturers and consistent expansion in new territories is expected to drive market growth. However, one of the key setbacks for industrial detonators is expected to emerge in India as the country recently announced its intention to phase out the use of electric detonators. In October 2023, the Department of Promotion of Industry and Internal Trade (DPIIT) named the device as dangerous and put a ban on its manufacturing, possession, or trade starting in April 2025. The Africa region is projected to continue growing at a steady pace. The regional market driving force is the abundant existence of crucial and highly valuable geological materials including precious stones and minerals. In 2018, over 66.6 million carats of diamonds were mined in Africa.
Industrial Detonator Market: Competitive Analysis
The global industrial detonator market is led by players like MNK, AEL Mining Services, Sasol Limited, Davey Bickford, Orica, Yahua Industrial, Austin, and Dyno Nobel.
The global industrial detonator market is segmented as follows:
By Application
Building
Mining
Other Applications
By Product Type
Delay Detonator
Prompt Detonator
By Region
North America
Europe

France
The UK
Spain
Germany
Italy
Rest of Europe

Asia Pacific

China
Japan
India
South Korea
Southeast Asia
Rest of Asia Pacific

Latin America

Brazil
Mexico
Rest of Latin America

Middle East & Africa

GCC
South Africa
Rest of Middle East & Africa