The global Waterjet Cutting Machine Market was estimated at 950 (USD Million) in 2019 and is set to record a CAGR of nearly 5% over 2020-2027. The report offers valuation and analysis of Waterjet Cutting Machine market on a global as well as regional level. The study offers a comprehensive assessment of the industry competition, limitations, sales estimates, avenues, current & emerging trends, and industry-validated market data. The report offers historical data from 2016 to 2019 along with a forecast from 2020 to 2027 based on value (USD Million).
Introduction
Waterjet cutting machine is a tool used in factories for cutting a large number of materials through use of high-pressure water jet. Moreover, waterjet cutting is frequently used for fabricating parts of machines. It is preferred over other methods when the substances that are being cut are highly sensitive to rising temperatures. The product is used in myriad industries like aerospace and mining for cutting, rearing, and shaping materials.
Furthermore, waterjet cutting machines are segmented into two types, namely, pure and abrasive. Additionally, an abrasive waterjet cutting machine make use of water & abrasive mixture and is utilized for cutting hard substances such as granite and metal. On other hand, pure waterjet cutting machines are utilized for cutting soft substances like rubber and wood.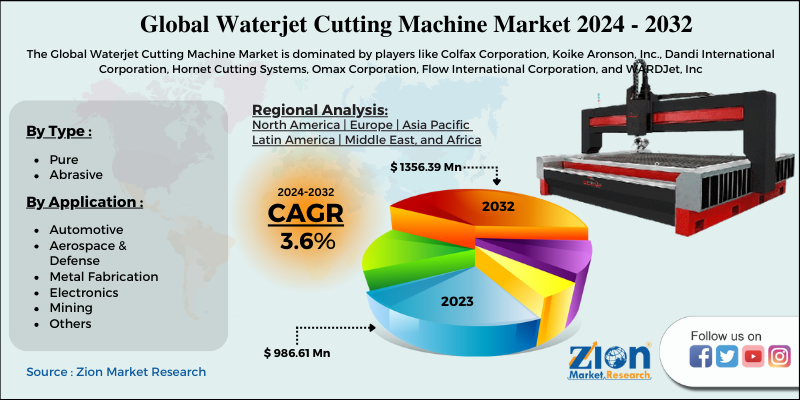 Request Free Sample
Market Growth Dynamics
The growth of the waterjet cutting machine industry over the forecast timeline is attributed to surge in the demand for eco-friendly cutting products in automotive, packaging, mining, textile, construction, and electronics sectors. Apparently, rise in the automation of various processes in factories has resulted in launching of new equipment, thereby steering market growth. In addition to this, the waterjet cutting technology is gaining humungous popularity in manufacturing sector for cutting of various substances including glass, metals, composites, and other flammable substances. Breakthroughs in waterjet cutting machine technology such as launching of 3D waterjet cutting machines and micro waterjet cutting machines will enlarge the market size.
Moreover, massive requirement for enhancing the throughput and producing precise cutting functionalities will pave a way for the growth of waterjet cutting machine market over the years to come. Apparently, waterjet cutting equipment is predicted to find massive use in robotics, food & beverages, and packaging sectors and this will embellish the market trends.
Asia Pacific To Make Notable Contributions Towards Overall Market Share By 2027
The growth of the market in Asia Pacific during 2020-2027 is credited to swift industrialization in the countries like South Korea, China, and India. Apart from this, thriving metal & mining, material handling, food & beverages, tobacco, and electric & electronic component manufacturing sectors in the emerging countries of the sub-continent will prompt the business growth over the estimated timespan.
Key players profiled in the report are Colfax Corporation, Koike Aronson, Inc., Dandi International Corporation, Hornet Cutting Systems, Omax Corporation, Flow International Corporation, and WARDJet, Inc.
The global waterjet cutting machine market is segmented as follows:
By Type
By Application
Automotive
Aerospace & Defense
Metal Fabrication
Electronics
Mining
Others
By Region
North America
Europe

France
The UK
Spain
Germany
Italy
Rest of Europe

Asia Pacific

China
Japan
India
South Korea
Southeast Asia
Rest of Asia Pacific

Latin America

Brazil
Mexico
Rest of Latin America

Middle East & Africa

GCC
South Africa
Rest of Middle East & Africa