Hair Wigs And Extensions Industry Prospective:
The global hair wigs and extensions market size was worth around USD 6.48 billion in 2022 and is predicted to grow to around USD 12.25 billion by 2030 with a compound annual growth rate (CAGR) of roughly 8.29% between 2023 and 2030.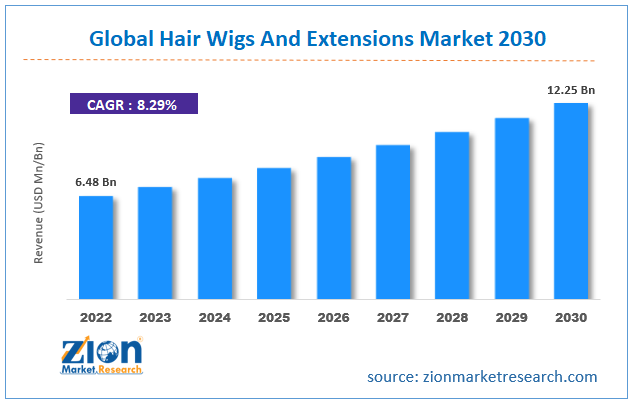 Request Free Sample
The report delves deeper into several crucial aspects of the global hair wigs and extensions market. It includes a detailed discussion of existing growth factors and restraints. Future growth opportunities and challenges that impact the hair wigs and extensions industry are comprehensively addressed in the report.
Hair Wigs and Extensions Market: Overview
Hair wigs or extensions are artificially prepared hair pieces or accessories that are used to change or enhance a person's hairstyle. They can either be made of synthetic fibers or natural human hair depending on the product provider. There is a significant difference between hair wigs and extensions. The former typically covers the full head and is designed to replicate natural hair. They are available in various shapes, sizes, colors, and textures. Their construction requires the use of a cap or base material which is made of materials such as lace, monofilament, or a combination of both. On the other hand, hair extensions are strands of hair put together that are typically used to increase hair volume or increase hair length. They are attached to the length of natural hair on a person's scalp using various methods such as weaving, bonding, tape-in, or clip-in techniques.
Key Insights:
As per the analysis shared by our research analyst, the global wigs and extensions market is estimated to grow annually at a CAGR of around 8.29% over the forecast period (2023-2030)
In terms of revenue, the global wigs and extensions market size was valued at around USD 6.48 billion in 2022 and is projected to reach USD 12.25 billion, by 2030.
The hair wigs and extensions market is projected to grow at a significant rate due to the increasing application in creative arts
Based on product segmentation, wigs was predicted to show maximum market share in the year 2022
Based on end-user segmentation, the commercial was the leading user in 2022
On the basis of region, North America was the leading revenue generator in 2022
Hair Wigs and Extensions Market: Growth Drivers
Increasing application in creative arts such as cinema may drive market growth
The global hair wigs and extensions market is projected to grow owing to the increasing use of hair wigs and extensions in creative arts such as movie-making across platforms. They are also used by artists performing at theaters such as popular Broadway shows. As end-consumers are expecting a more realistic appearance from performers, they are encouraged to make use of existing tools such as hair wigs to gain the appearance of a particular character. Recently, Daily Mail reported that nearly all actors on stage in Broadway show use some form of hair wig or extension since hairstyle is known to be an important factor in transforming an actor into a character.
Hair Wigs and Extensions Market: Restraints
High cost of quality hair wigs and extensions to restrict market expansion
One of the key factors that lead to restricted revenue in the global hair wigs and extensions market is the high cost associated with quality hair wigs or extensions. Products made of synthetic fiber are not as real-looking as the ones made with natural hair. However, the latter is more expensive than the former. With growing consumer awareness and the importance of aesthetics, there is more demand for natural-looking hair extensions. However, only a certain segment of end-consumers can afford them.
Hair Wigs and Extensions Market: Opportunities
Providing customized solutions to consumers could lead to better growth opportunities
The global sales volume of the hair wigs and extensions industry may reach newer heights owing to the increasing number of service providers that are developing customized or personalized solutions for their clients. Service and product providers have become more aware of consumer expectations and they have consistently worked on mending processes to ensure complete consumer satisfaction. In addition to this, better availability of natural hair for producing hair extensions and wigs has resulted in improved services or products which translates to higher revenue.
Hair Wigs and Extensions Market: Challenges
Higher susceptibility to damage from the sale of counterfeit products to create challenges
The hair wigs and extensions industry is highly susceptible to damage owing to the increasing sale of fake, low-grade, or counterfeit products. It is easy to sell unauthentic products as genuine, especially among consumer groups with limited knowledge of the quality of hair extensions and wigs. Counterfeit products not only cause monetary harm but also impact brand image which is a long-term effect as it can erode customer trust. Manufacturers must invest in developing measures that help in curbing the selling of counterfeit products.
Hair Wigs and Extensions Market: Segmentation
The global wigs and extensions market is segmented based on product, hair type, end-users, and region.
Based on product, the global market is divided into extensions and wigs. The industry registered the highest growth in the wigs segment in 2022 and it accounted for nearly 75% of the market share. Wigs are typically used to cover bald spots or fading hairlines. They also have extensive commercial applications where they are used to develop a character for motion pictures or creative shows. Moreover, with the increasing stress levels in the general population due to changing lifestyles, irregular sleeping patterns, and other factors, more people have reported hair loss in the last decade. Improper eating can also lead to people experiencing irreversible baldness. This growing segment of consumers has encouraged more companies, including small firms or larger corporations to tap into the previously unexplored potential of the hair wigs and extensions industry.
Based on hair type, the global market divisions are synthetic and real.
Based on end-user, the global market is segmented into individual and commercial. The highest growth was observed in the commercial segment. It comprises the entertainment industry, beauty salons, hair stylists, and fashion professionals. All of the final users in the commercial sector have registered steady growth after being drastically impacted during Covid-19. A large portion of the commercial segment has already recovered due to an increase in professional assignments undertaken by actors, actresses, models, performers, and stylists. The individual segment also generated substantial revenue mainly due to rising interest among the general population toward trying new hairstyles and increasing hair fall. As per Cleveland Clinic, hair fall impacts nearly 80% of the US population.
Recent Developments:
In July 2022, Diva Divine Hair, one of India's leading providers of premium hair extensions and wigs, launched an affordable range of products. The company revealed pocket-friendly yet high-grade clip-in hair extensions, wigs, hair toppers, and accessories. These products are made using 100% natural human hair and provide instant hair volume or length
In January 2022, Hair Originals, a startup founded by a student of the Indian Institute of Technology (IIT), was awarded funding after pitching its business vision and prospects to the judges in Shark Tank (India). The company managed to raise INR 60 lakhs from 3 judges in the show. The founder stated that the money will be used on expansion strategies
Hair Wigs and Extensions Market: Report Scope
Report Attributes
Report Details
Report Name
Hair Wigs And Extensions Market Research Report
Market Size in 2022
USD 6.48 Billion
Market Forecast in 2030
USD 12.25 Billion
Growth Rate
CAGR of 8.29%
Number of Pages
229
Key Companies Covered
L'Oréal SA, Godrej Consumer Products Limited, Henkel AG & Co. KGaA, Shake-N-Go Fashion Inc., HairUWear Inc., Great Lengths Ltd., Sensationnel, Divatress, Hairlocs, Outre, UniWigs, Mayvenn, RPGSHOW, Lordhair, Klix Hair Extensions, Indique Hair, Wilshire Wigs, Zury Hollywood, Jon Renau, The Hair Shop Inc., Bellami Hair, Hotheads Hair Extensions, Luxy Hair, Remy New York, and Wigs.com.
Segments Covered
By Product, By Hair Type, By End-User, and By Region
Regions Covered
North America, Europe, Asia Pacific (APAC), Latin America, Middle East, and Africa (MEA)
Base Year
2022
Historical Year
2017 to 2021
Forecast Year
2023 - 2030
Customization Scope
Avail customized purchase options to meet your exact research needs. Request For Customization
Hair Wigs and Extensions Market: Regional Analysis
North America to register the highest growth rate by 2030
The global wigs and extensions market is expected to be led by North America during the forecast period. It dominated nearly 40% of the global market share in 2022. The products enjoy higher acceptance and adoption rates in the US owing to the presence of a mature market. Moreover, the country is home to start-ups and small companies that have paved the path for future businesses operating in the hair wigs and extensions industry. The increasing popularity of dressing up as character forms during seasonal holidays such as Halloween has caused higher demand during the seasons. The regional market is further driven by a high level of fashion consciousness and the existence of a diverse population along with the rising influence of the entertainment industry. North America has more demand for natural-looking wigs and extensions due to higher consumer expectations.
Hair Wigs and Extensions Market: Competitive Analysis
The global wigs and extensions market is led by players like:
L'Oréal SA
Godrej Consumer Products Limited
Henkel AG & Co. KGaA
Shake-N-Go Fashion Inc.
HairUWear Inc.
Great Lengths Ltd.
Sensationnel
Divatress
Hairlocs
Outre
UniWigs
Mayvenn
RPGSHOW
Lordhair
Klix Hair Extensions
Indique Hair
Wilshire Wigs
Zury Hollywood
Jon Renau
The Hair Shop Inc.
Bellami Hair
Hotheads Hair Extensions
Luxy Hair
Remy New York
Wigs.com.
The global wigs and extensions market is segmented as follows:
By Product
By Hair Type
By End-User
By Region
North America
Europe

France
The UK
Spain
Germany
Italy
Rest of Europe

Asia Pacific

China
Japan
India
South Korea
Southeast Asia
Rest of Asia Pacific

Latin America

Brazil
Mexico
Rest of Latin America

Middle East & Africa

GCC
South Africa
Rest of Middle East & Africa