Spas And Beauty Salons Market Size
The global spas and beauty salons market size was estimated at USD 139.1 billion in 2021 and is estimated to grow to about USD 181.44 billion by 2028, with a compound annual growth rate (CAGR) of approximately 4.50 percent over the forecast period. The report analyzes the digital remittance market's drivers, restraints/challenges, and the effect they have on the demands during the projection period. In addition, the report explores emerging opportunities in the digital remittance market.
Spas and Beauty Salons Market: Overview
Due to continually changing client expectations of numerous commodities, the beauty, and personal care market is undergoing a revolution. Customers are concerned about the item, its constituents, and the benefits it provides. This growing customer interest has raised consumer awareness of the harmful chemicals included in traditional personal care products, paving the way for the natural and Spa and Beauty Salons sectors. Cosmetics and personal care items are made up of chemical compounds or organic substances that are used to improve one's overall appearance or personal cleanliness. Natural personal care and cosmetic products are made entirely of plant ingredients and do not contain potentially harmful chemicals like parabens, phthalates, aluminum salts, or petrochemicals.
COVID-19 Impact:
The COVID-19 pandemic has significantly impacted the spa and beauty salon industry. Due to the rapid spread of the coronavirus, all non-essential services were discontinued. Consumers' increasing disposable incomes and spending capacity increased demand for spas and beauty treatments. Massage, skin lightning, waxing, facial, anti-aging, and tan removal treatments are increasingly popular among customers. People, particularly women, are making efforts to improve their appearance. This aspect fuels the demand for spas and beauty salons, offering lucrative prospects for service providers and beauticians. Manufacturers in the spa and beauty salon market are focused on service improvements to gain a competitive advantage.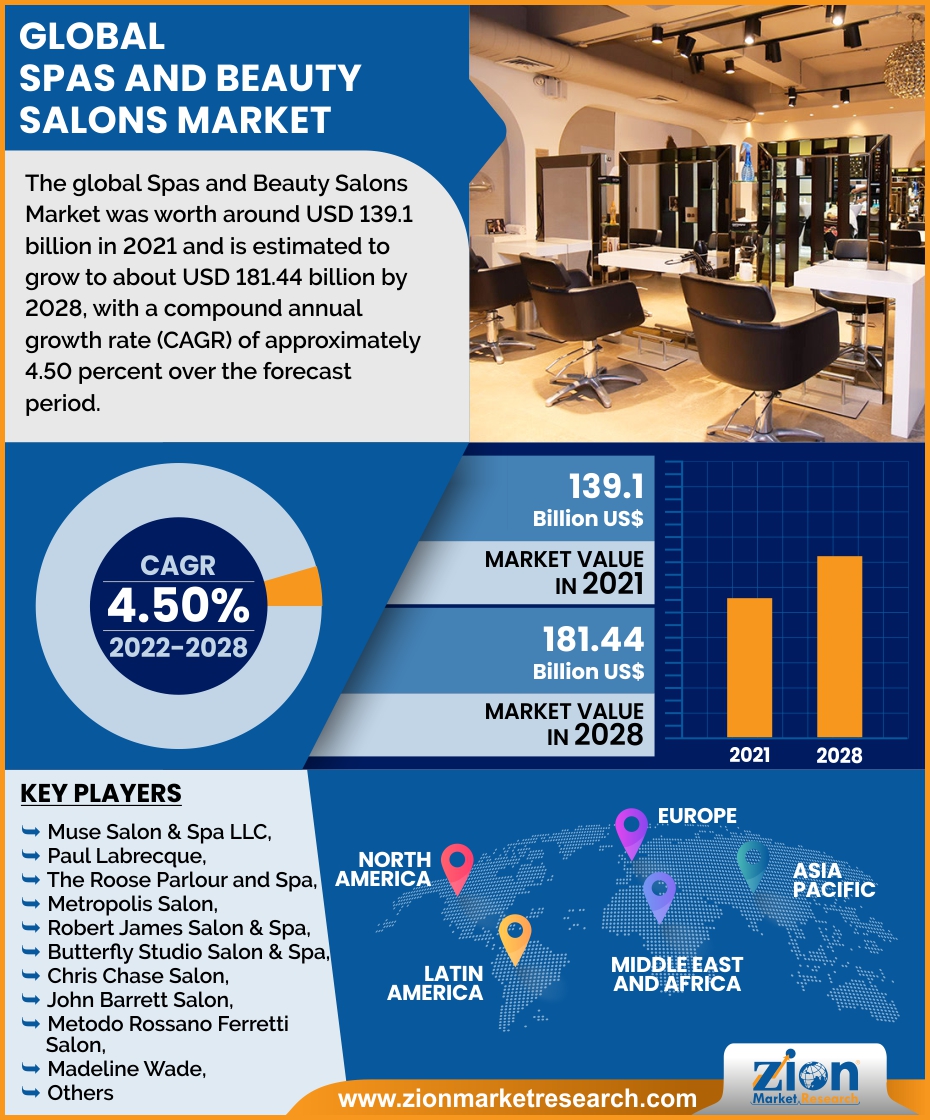 Request Free Sample
Spas and Beauty Salons Market: Growth Drivers
Growing modernization and busy lifestyle.
Growing modernization and a busy lifestyle are the key factors driving the growth of the worldwide Spas and Beauty Salons market. Furthermore, the high level of living and rising disposable income encourages customers to seek such services to help renew their skin and decrease stress, driving the market growth. This industry is expected to grow further due to increased demand for natural or herbal products to maintain the body's healthy. Aside from that, the growing tendency toward personal appearance among youth and the senior population and the availability of new spa technologies are expected to fuel the growth of the global Spas and Beauty Salons market.
Spas and Beauty Salons Market: Restraints
The cost of qualified therapy is high, and penetration is low.
The high cost of competent therapy practitioners and low penetration in underdeveloped nations are holding back the worldwide spa and beauty salon business.
Spas And Beauty Salons Market Report Scope:
Spas and Beauty Salons Market: Segmentation
The global Spas and Beauty Salons Market is segregated based on type and end user. Based on type, the market is divided into two divisions: Spas and Beauty Salon. Day, club, medical, destination, mineral springs, resort, and hotel spas are the most common types of spas. Hair, waxing, nail, tanning, facials, and skin care salons are the most common types of beauty salons. Men's and women's beauty and personal care products and services are available at spas and beauty salons. Spas and beauty salons are becoming increasingly popular in the modern world since there is a growing desire for wellness solutions to alleviate stress from a stressful lifestyle. Spa professionals and beauticians in spas and beauty salons offer skin and hair guidance and information, which is another factor driving business growth. Based on end-user the market is segmented into men and women.
Regional Landscape
During the forecast period, North America is expected to lead the worldwide Spas and Beauty Salons market. Consumer worries about personal appearance and changing lifestyles are linked to industry expansion. In addition, the growth of the Spas and Beauty Salons market is being ascribed to a shift in client perception of beauty salon and spa services. The global Spas and Beauty Salons market is predicted to be driven by the adoption of international standards as well as new techniques and therapies for better training programmes to meet the growing client demands. Furthermore, an increase in the number of working women, changing lifestyles, and a greater desire to invest in personal grooming are some of the factors boosting demand for spas and beauty salons in the United States.
Competitive Landscape
The market for spas and beauty salons is fragmented due to the existence of various companies. Competition is predicted to heat up in the coming years because of the rise of several local players. Muse Salon & Spa LLC, Paul Labrecque, The Roose Parlour and Spa, Metropolis Salon, Robert James Salon and Spa, Butterfly Studio Salon & Spa, Chris Chase Salon, John Barrett Salon, Metodo Rossano Ferretti Salon, Madeline Wade, Bradley & Diegel Salon, and others are key players in the spas and beauty salons market.
Spas and Beauty Salons market is segmented as follows:
By Type
By End- Users
By Region
North America
Europe

France
The UK
Spain
Germany
Italy
Rest of Europe

Asia Pacific

China
Japan
India
South Korea
Southeast Asia
Rest of Asia Pacific

Latin America

Brazil
Mexico
Rest of Latin America

Middle East & Africa

GCC
South Africa
Rest of Middle East & Africa