Movies & Entertainment Industry Prospective:
The global movies and entertainment market size was worth around USD 94.45 Billion in 2022 and is predicted to grow to around USD 169.62 Billion by 2030 with a compound annual growth rate (CAGR) of roughly 7.21% between 2023 and 2030. The report analyzes the global movies and entertainment market drivers, restraints/challenges, and the effect they have on the demands during the projection period. In addition, the report explores emerging opportunities in the movies and entertainment market.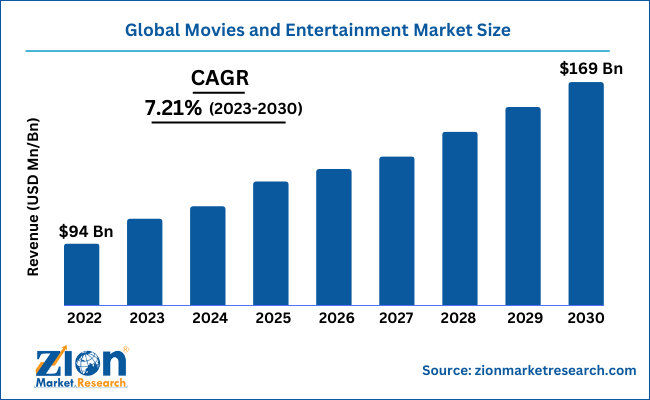 Request Free Sample
Movies and Entertainment Market: Overview
The movies and entertainment industry deals with the production, distribution, and exhibition of music, movies, TV shows, and other forms of entertainment. It includes service providers such as film studios, production companies, broadcasters, streaming services, cinema chains, distribution companies, and other entities that create and distribute content. In recent years, the market has managed to become one of the top revenue-generating segments when considering the total sales profit generated by movies and entertainment shows produced worldwide. It is also one of the most well-funded and technologically advanced sectors. In the last decade, with the emergence and exponential popularity of over-the-top (OTT) platforms such as Netflix, Amazon Prime, and Disney +, the industry has managed to revolutionize itself thus attracting better prospects.
Key Insights:
As per the analysis shared by our research analyst, the global movies and entertainment market is estimated to grow annually at a CAGR of around 7.21% over the forecast period (2023-2030)
In terms of revenue, the global movies and entertainment market size was valued at around USD 94.45 billion in 2022 and is projected to reach USD 169.62 billion, by 2030.
The movies and entertainment market is projected to grow at a significant rate due to the growing global demand
Based on mode of watching segmentation, over-the-top platforms were predicted to show maximum market share in the year 2022
Based on product segmentation, movies was the leading product in 2022
On the basis of region, North America was the leading revenue generator in 2022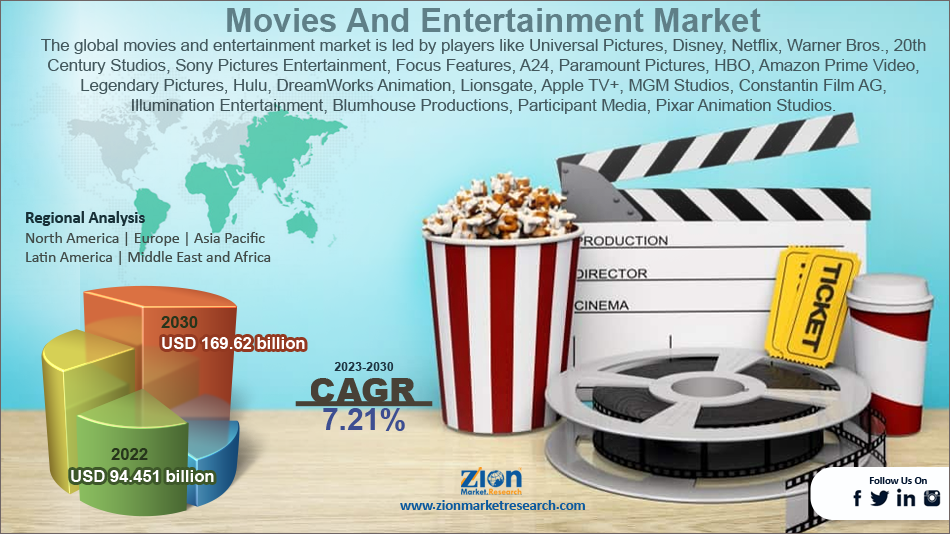 Request Free Sample
Movies and Entertainment Market: Growth Drivers
Growing global demand to propel market growth
The global movies and entertainment market is projected to witness high growth owing to the increasing global demand for various forms of movies and other entertainment-related shows. With the advancements in technology, movies, and other programs have become more accessible. Earlier, people could only enjoy lengthy movies in large theaters. However, with the advent and increased adoption of smart devices such as laptops, mobile phones, and tablets, people can now watch their favorite programs from anywhere and at any time. This has also opened doors for gaining access to global movies and shows which was not possible earlier when movies were only shown in physical theaters. Furthermore, the growing population and increasing number of people showing exhaustive interest in the movie-making business is a source of higher revenue. The population of the consumer segment is growing every day.
Movies and Entertainment Market: Restraints
High competition within the market to restrict the market growth
The global movies and entertainment industry is one of the most competitive industries across all sectors. This is because it is home to a large number of people and includes millions of stakeholders, unlike other industries where the number of people involved in bringing products to the market is relatively limited. Furthermore, art and its form are highly subjective and hence it is difficult for production houses to make entertainment programs that can attract the entire potential consumer group at once. In addition to this, several economic and social factors within the nation can severely impact the performance of a movie or any other entertainment show.
Movies and Entertainment Market: Opportunities
Growing demand for original content to provide growth opportunities
The global movie and entertainment industry players can benefit from launching and creating original content. The market has become highly saturated in recent times. With movies and programs becoming easily accessible, consumers are bored of watching the same kind of programs and shows. However, if recent trends are to be taken seriously, viewers have shown love for content that is more authentic. For instance, Squid Games, a popular show on Netflix, is estimated to have amassed over USD 900 million in its first year on the OTT platform.
Movies and Entertainment Market: Challenges
Changing consumer preference to pose a major challenge
The global movies and entertainment market faces one of the most difficult challenges to tackle for any product or service provider. Consumer preference in this sector is constantly changing, especially in modern times when people have become more sure of their preferences and what they would like to watch. People are taking control back from the entertainment industry by outright rejecting content that does not meet their expectations. With a vastly dynamic audience to cater to, movie production houses are struggling with cracking the right formula for success.
Movies and Entertainment Market: Segmentation
The global movies and entertainment market is segmented based on mode of watching, product, and region.
Based on mode of watching, the global market segments are theaters and over-the-top platforms. In 2022, the highest growth was observed in the over-the-top platforms segment. The trend was set in motion during Covid-19 which led to theaters across the globe being shut for many months. This year saw a massive surge in the popularity and subscriber list of several OTT platforms. Witnessing the sudden demand, various domestic-level players entered the industry whereas already established business groups invested in further expansion. For instance, Netflix, one of the most popular OTT platforms, boasted of more than 209 million paid subscribers as of 2021, and the number has been rising since then. However, theaters continue to remain significant shareholders in the industry.
Based on product, the global movies and entertainment market segments are music, movies, TV shows, and others. The industry witnessed the highest growth in the movies segment in 2022 followed by music and TV shows. Movies continue to remain one of the most preferred modes of entertainment for a large part of the population. Time and excellent strategic investment toward integrating advanced technology and movie-watching experience have resulted in more people spending extra to enjoy well-made movies. As per Box Office Mojo, Avengers: Endgame crossed more than USD 2.798 billion during its theatrical release in 2019.
Recent Developments:
In October 2022, Netflix, a US-based OTT platform, announced the addition of a profile transfer feature that lets people set up their accounts using paid membership option. This feature allows users to shift to a personalized account if the account is being shared by multiple users
In December 2022, Miraj Cinemas, India's fastest-growing multiplex chain, announced the inauguration of its first six-screen premium range multiplex in the country's metropolitan city of Bangalore. The new facility offers a state-of-the-art cinematic experience and gourmet food options for its customers
In June 2021, Zee Entertainment Enterprises (ZEE), an Indian media conglomerate, announced its intention to expand its OTT services in the American market by June 2022
Movies and Entertainment Market: Report Scope
Report Attributes
Report Details
Report Name
Movies and Entertainment Market Research Report
Market Size in 2022
USD 94.45 Billion
Market Forecast in 2030
USD 169.62 Billion
Growth Rate
CAGR of 7.21%
Number of Pages
199
Key Companies Covered
Universal Pictures, Disney, Netflix, Warner Bros., 20th Century Studios, Sony Pictures Entertainment, Focus Features, A24, Paramount Pictures, HBO, Amazon Prime Video, Legendary Pictures, Hulu, DreamWorks Animation, Lionsgate, Apple TV+, MGM Studios, Constantin Film AG, Illumination Entertainment, Blumhouse Productions, Participant Media, Pixar Animation Studios, Open Road Films, STX Entertainment, and Village Roadshow Pictures.
Segments Covered
By Mode of Watching, By Product And By Region
Regions Covered
North America, Europe, Asia Pacific (APAC), Latin America, Middle East, and Africa (MEA)
Base Year
2022
Historical Year
2017 to 2021
Forecast Year
2023 - 2030
Customization Scope
Avail customized purchase options to meet your exact research needs. Request For Customization
Movies and Entertainment Market: Regional Analysis
North America to dominate with the highest CAGR
The global movies and entertainment market is expected to witness the highest growth in North America with the US and Canada leading with the highest growth rate. In 2022, the region accounted for more than 35% of the global market share. The US is home to some of the largest production houses in the world and it has provided viewers with movies and entertainment programs that have managed to change history with time. The movie-making industry in the US is one of the most influential sectors globally. The high amount of investment from the production houses to be used for creative writing and technological growth in the industry is a leading reason for the dominance of the US region. Furthermore, the mature consumer database of several OTT platforms in North America contributes to the regional expansion.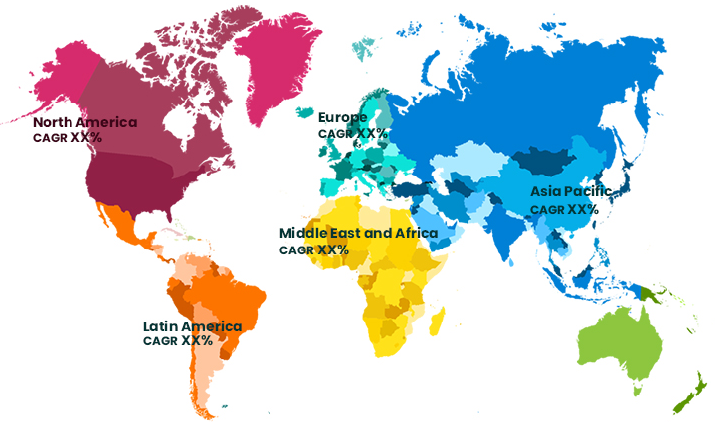 Request Free Sample
Movies and Entertainment Market: Competitive Analysis
The global movies and entertainment market is led by players like:
Universal Pictures
Disney
Netflix
Warner Bros.
20th Century Studios
Sony Pictures Entertainment
Focus Features
A24
Paramount Pictures
HBO
Amazon Prime Video
Legendary Pictures
Hulu
DreamWorks Animation
Lionsgate
Apple TV+
MGM Studios
Constantin Film AG
Illumination Entertainment
Blumhouse Productions
Participant Media
Pixar Animation Studios
Open Road Films
STX Entertainment
Village Roadshow Pictures.
The global movies and entertainment market is segmented as follows:
By Mode of Watching
Theaters
Over-the-Top Platforms
By Product
Music
Movies
TV Shows
Others
By Region
North America
Europe

France
The UK
Spain
Germany
Italy
Rest of Europe

Asia Pacific

China
Japan
India
South Korea
Southeast Asia
Rest of Asia Pacific

Latin America

Brazil
Mexico
Rest of Latin America

Middle East & Africa

GCC
South Africa
Rest of Middle East & Africa