Description
Market Overview
The global OTT devices and services market accounted for USD 65,633.6 Million in 2020 and is expected to reach USD 254,118.2 Million by 2028, growing at a CAGR of 18.7% from 2021 to 2028.
Over the top (OTT) market is a film and television content platform provided via a high-speed internet connection instead of a cable or satellite provider-based platform. Presently, the OTT devices and services aid the video, music, podcast, and audio streaming category significantly. Increasing adoption can be attributed to the narrow genre choices, packaging flexibility, wider device availability, Mobility and on the go facilities, internet penetration, and overall lower costs. Moreover, the rising demand for customized content led to significant adoption rates of OTT devices.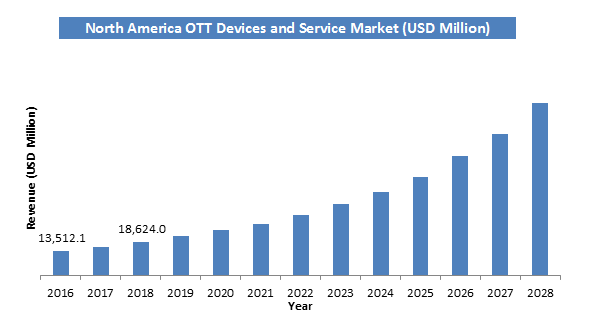 COVID-19 Impact Analysis
The onset of the COVID-19 pandemic created a positive impact on the OTT landscape, with audiences consuming more content at home via OTT devices. There has been a crippling effect of traditional media commutation but OTT platforms flourished like never before during the lockdown in entire world. The digitally-driven industry is becoming more consumer-centric and is emerging as one of those sections of the entertainment arena that has performed exceptionally well even in the current situation. The need for social distancing and non-availability of traditional media platforms like cinema halls, new TV episodes and shows and other entertainment avenues resulted in exponential surge in viewership of major streaming platforms.
Growth Factors
There has been a paradigm shift in the OTT devices and services market owing to large availability of options, connectivity, portability, convenience, advancement in technologies, and change in lifestyle. Surge in implementation of Artificial Intelligence, cloud services and deployment advanced technologies have led to a great hike in the market and is expected to accelerate further in projected 7 years. Increasing use of social media among consumers have made them more aware of recent productions and developed an interest in them which in turn demands for higher OTT subscriptions. Many of the conventional media houses, which own vast archives of television content and legacy movies, are intensifying and reviving their growth via OTT-based distribution models.
The increasing readiness of subscribers to pay for premium content has stimulated OTT service player to introduce "freemium" models, which provide free access to the selected content to grab selected subscriber base. Furthermore, the innovations in the communication infrastructure and snowballing internet penetration globally have resulted in huge demand for such services. This is expected to expand the industry growth over the forecast period. Along with providing messaging services, some OTT apps also provide the functionalities that a broadcast channel provides to its customers. With a high adoption rate, users broadcast entertaining videos, music, local or international news to a large group of other users. This wide range of applicability's is accelerating its adopted growth.
Report Scope :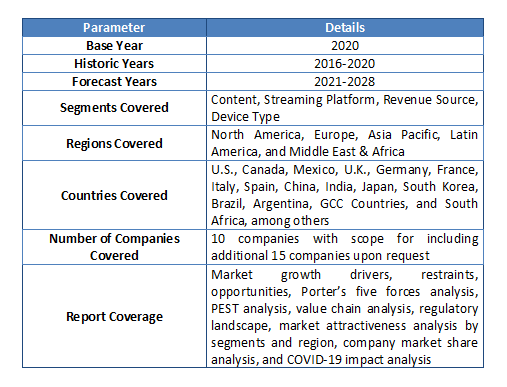 Content Segment Analysis Preview
The VoIP segment is expected to exhibit the highest growth of around 25% during forecasted period. A substantial hike in smartphone users globally has led to the increased popularity of mobile VoIP, with users across regions subscribing to VoIP services and apps offered by OTT service players. VoIP has witnessed substantial growth in developed countries as well as in emerging economies, such as India. VoIP's cost-saving rewards and abilities over conventional telecom are driving its prompt acceptance as a modern standard for voice communications.
Revenue Source Segment Analysis Preview
SVOD is a video monetization strategy based on recurring revenue, usually monthly or annual subscriptions. TVOD is usually a supplement to an SVOD strategy. YouTube is the most well-known AVOD platform for most creators. SVOD market is expected to grow significantly owing to high number pf content providers on this segment like Amazon Prime, Disney+Hotstar and others.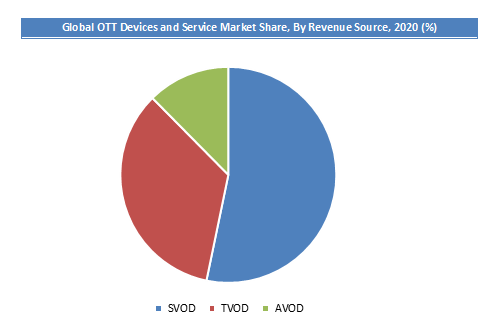 Regional Analysis Preview
North America held a share of over 30% in 2020. This is due to the presence of major market players such as Amazon and Netflix.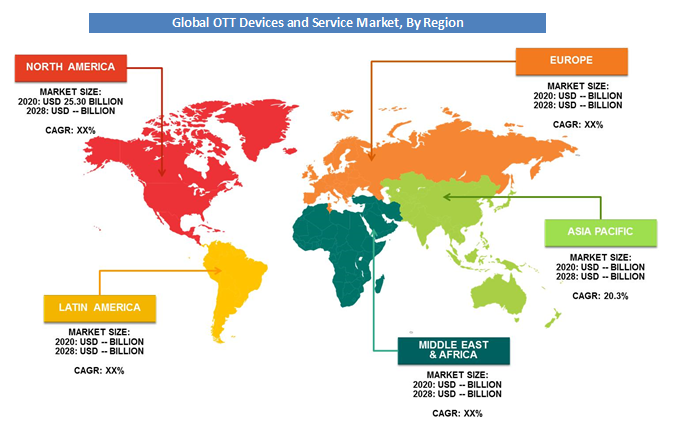 Asia Pacific region is projected to grow at a CAGR of around 20% over the forecast period. Asia Pacific is the highest growing region owing to growing number of mobile phone user and increase in adoption on internet of things in various industries and shift of consumer preference towards OTT platforms.
Key Market Players & Competitive Landscape
Some of key players in OTT devices and service market are Netflix, Amazon.com, Hulu LLC, Apple Inc., Facebook Inc., Roku Inc., Disney+ Hotstar, Mi, Indieflix, and Nimbuzz, among others. The market is becoming extremely competitive companies are focusing on product innovation to gain consumer attention. The OTT platform providers have taken charge of catering to the increasing entertainment needs of the audience to keep consumers hooked. In, October 2020 - Netflix Inc. partnered with Microsoft to help coders in their learning journey of Data Science and AI.
The global OTT devices and service market is segmented as follows:
By Content
By Revenue Source
By Streaming Platform
Mobile Devices
Computers
Smart TVs and Set Tops
Gaming Consoles
By Region
North America
Europe

France
The UK
Spain
Germany
Italy
Rest of Europe

Asia Pacific

China
Japan
India
South Korea
Southeast Asia
Rest of Asia Pacific

Latin America

Brazil
Mexico
Rest of Latin America

Middle East & Africa

GCC
South Africa
Rest of Middle East & Africa