Fuel Cell Humidifier Industry Prospective:
The global fuel cell humidifier market size was worth around USD 161.53 million in 2022 and is predicted to grow to around USD 386.47 million by 2030 with a compound annual growth rate (CAGR) of roughly 11.73% between 2023 and 2030.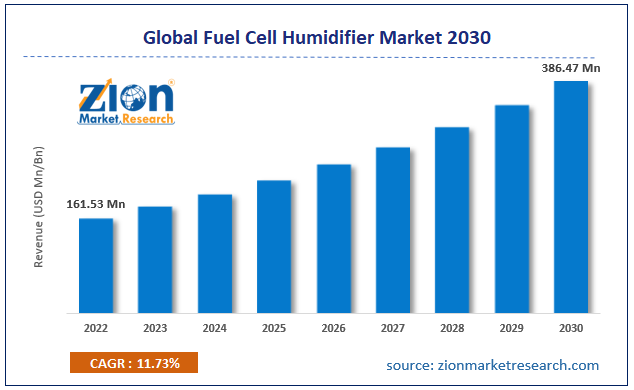 Request Free Sample
Fuel Cell Humidifier Market: Overview
A fuel cell humidifier performs the function of imparting humidity to a fuel cell which is an electrochemical cell converting chemical energy generated from a fuel such as hydrogen and an oxidizing agent which is most likely oxygen into electricity. Fuel cells have widespread application in the modern world and are used for primary and backup power across industrial, residential, and commercial units along with remote or inaccessible areas.
They are also used in trains, forklifts, automobiles, motorcycles, boats, and submarines. Water management plays a crucial role in driving the optimum performance of a fuel cell. Any changes in the humidity level of the cell such as a shift from 85% to 35% may cause performance disruption as with time, the cell may tend to stop functioning as expected along with other losses including polarization, concentration, and mass transportation. In simple terms, a fuel cell humidifier protects or prevents a fuel cell from drying out completely. Additionally, it also imparts humidity by transferring water vapor obtained from the exhaust gasses into intake gasses.
Key Insights:
As per the analysis shared by our research analyst, the global fuel cell humidifier market is estimated to grow annually at a CAGR of around 11.73% over the forecast period (2023-2030)
In terms of revenue, the global fuel cell humidifier market size was valued at around USD 161.53 million in 2022 and is predicted to grow to around USD 386.47 million, by 2030.
The fuel cell humidifier market is projected to grow at a significant rate due to the rising application of fuel cells in the automotive industry
Based on type segmentation, flat membrane humidifier was predicted to show maximum market share in the year 2022
Based on application segmentation, automotive was the leading application in 2022
On the basis of region, Asia-Pacific was the leading revenue generator in 2022
Fuel Cell Humidifier Market: Growth Drivers
Rising application of fuel cells in the automotive industry to drive market growth
The global fuel cell humidifier market is expected to grow owing to the increased interest of players operating in the automotive sector toward the production of vehicles running on fuel cells. The trend is a result of increasing environmental consciousness and the need to seek sustainable means of further growth in the automobile sector. The surging demand for low-emission including two-wheelers, four-wheelers, trucks, and buses is an indication of the changing consumer pattern. This has resulted in more automotive manufacturers to experiment with fuel cell-powered vehicles as they offer zero emissions and versatility in terms of performance. Researchers are expecting that the interest in fuel cell vehicles can assist in creating a global hydrogen economy where hydrogen can be used to generate electricity across all major industries.
Hyundai, a leading automobile manufacturer, showcased the Nexo fuel cell vehicle at the 2020 Auto Expo. The car is equipped with a hydrogen fuel cell and has already found a dedicated market in the US region. In May 2023, it was reported that Omega Seiki Mobility, a company operating in the electric vehicle (EV) segment, was planning to invest in developing a 3-wheeler offering a driving range of 400 km and powered by a hydrogen fuel cell. The company is looking at an initial investment of USD 5 million for this undertaking. In February 2023, luxury car brand BMW launched a demonstration fleet of cars running on hydrogen fuel cells made by Toyota. The BMW iX5 runs at a top speed of 112 miles per hour with a range of 313 miles. Such projects represent the demand for hydrogen fuel cell cars thus leading to higher consumption of fuel cell modifiers.
Fuel Cell Humidifier Market: Restraints
High cost of fuel cell humidifiers to restrict market growth
The global fuel cell humidifier market expansion trajectory is expected to be blocked due to the high cost of fuel cell humidifiers. These systems are manufactured using specialized parts and components including catalysts and superior-grade proton exchange membranes (PEMs). The higher cost of fuel cell humidifiers that are used in hydrogen-powered cars as compared to machines running on traditional internal combustion engines may restrict new players from entering the market. In addition to this, there is a significant lack in terms of hydrogen refueling infrastructure on a global scale. This makes extensive adoption of fuel cell-powered objects more restricted and gives rise to the need for establishing a function and large network of consistent hydrogen supply which may take a few years thus limiting the use of fuel cell humidifiers.
Fuel Cell Humidifier Market: Opportunities
Ongoing research and development (R&D) surrounding fuel cell humidifier technology to create expansion opportunities
The fuel cell humidifier industry is expected to witness higher growth possibilities due to the ongoing R&D surrounding the performance and efficiency of fuel cell humidifiers. This also includes strategic partnerships between players to bring the best of their resources together which may lead to superior innovation. For instance, in October 2022, Fraunhofer Institute for Microengineering and Microsystems (IMM) and Parker Hannifin's Engine Mobile Filtration EMEA Division (EMFE) partnered to work on developing and testing new proprietary hollow fiber membrane technology which will be further used for fuel cell humidification uses. The companies will collaborate to disrupt the field of fell cell humidifiers with extensive innovation. In August 2023, EMFE reached a milestone with the successful mass production of the hollow fiber membrane technology.
Fuel Cell Humidifier Market: Challenges
Presence of alternate technologies with an extensive market to challenge growth in the industry
One of the key challenges faced by the new entrants in the industry for fuel cell humidifiers is the existing market for alternative technologies including internal combustion engines, battery electric vehicles, natural gas vehicles, and automobiles running on biofuel to name a few. These markets are much older in terms of presence and have already created commercial consumers. The global market players will have to invest more and come up with more aggressive means to create higher awareness and adoption rates.
Fuel Cell Humidifier Market: Segmentation
The global fuel cell humidifier market is segmented based on humidification type, type, method of humidification, fuel cell, and region.
Based on humidification type, the global market segments are water to gas and gas to gas.
Based on type, the fuel cell humidifier industry is divided into hollow fiber membrane humidifier, recirculating humidifier, and flat membrane humidifier. In 2022, the highest growth was observed in the flat membrane humidifier segment and is expected to grow at a CAGR of 26.25% during the forecast period. The growth is a result of extensive growth measures adopted by players in this particular segment. For instance, in 2019, the Center of Competence Fuel Cell was founded by Valmet Automotive to promote research on fuel cell technology. Factors such as cost-effectiveness, precise control, and efficiency are the leading factors for segmental popularity.
Based on method of humidification, the global market divisions are external humidification and internal humidification.
Based on application, the segments in the fuel cell humidifier industry include defense, automotive, marine, backup power, transportation, and others. The automotive industry was the largest adopter of fuel cell humidifiers in 2022 as a result of increased R&D and changing inclination toward environmentally friendly vehicles. The transportation segment is expected to grow at a CAGR of 28.6% during the forecast period. The consumers in the transportation industry include regional governments as they are seeking means to reduce carbon emissions and reliance on non-renewable sources of fuel and energy.
Fuel Cell Humidifier Market: Report Scope
Report Attributes
Report Details
Report Name
Fuel Cell Humidifier Market
Market Size in 2022
USD 161.53 Million
Market Forecast in 2030
USD 386.47 Million
Growth Rate
CAGR of 11.73%
Number of Pages
211
Key Companies Covered
Perma Pure, Freudenberg Filtration Technologies, CellKraft, MANN+HUMMEL, Permselect, Kolon Industries Enprise Corp., Zehnder, Fumatech, Pentair, and others.
Segments Covered
By Humidification Type, By Type, By Method of Humidification, By Application, and By Region
Regions Covered
North America, Europe, Asia Pacific (APAC), Latin America, Middle East, and Africa (MEA)
Base Year
2022
Historical Year
2017 to 2021
Forecast Year
2023 - 2030
Customization Scope
Avail customized purchase options to meet your exact research needs. Request For Customization
Fuel Cell Humidifier Market: Regional Analysis
Asia-Pacific to grow at the highest CAGR during the coming period
The global fuel cell humidifier market is expected to witness the highest growth in Asia-Pacific. Japan and China may act as the leading contributors as a result of the presence of robust automotive industries in both countries. Japan has been at the forefront of revolutionizing the regional automobile sector with constant innovation in terms of technology, marketing & sales strategies, and creating quality vehicles across the price range.
Japan has created a mark in emerging economies such as India for the supply of fuel-efficient and novel passenger cars and such projects are expected to help Asia-Pacific to witness further growth which may be pushed to the increasing interest of the regional government in developing hydrogen fuel cell humidifiers. However, a key point to note is that some of the countries in Asia-Pacific lack a proper hydrogen supply chain and they may have to invest significantly in creating a functional network of hydrogen refueling. Europe is projected to play a crucial role in global market expansion. This is mainly due to the changing norms discouraging the use of non-renewable and environmentally poisonous fuels for generating electricity.
Fuel Cell Humidifier Market: Competitive Analysis
The global fuel cell humidifier market is led by players like:
Perma Pure
Freudenberg Filtration Technologies
CellKraft
MANN+HUMMEL
Permselect
Kolon Industries Enprise Corp.
Zehnder
Fumatech
Pentair
The global fuel cell humidifier market is segmented as follows:
By Humidification Type
By Type
Hollow Fiber Membrane Humidifier
Recirculating Humidifier
Flat Membrane Humidifier
By Method of Humidification
External Humidification
Internal Humidification
By Application
Defense
Automotive
Marine
Backup Power
Transportation
Others
By Region
North America
Europe

France
The UK
Spain
Germany
Italy
Rest of Europe

Asia Pacific

China
Japan
India
South Korea
Southeast Asia
Rest of Asia Pacific

Latin America

Brazil
Mexico
Rest of Latin America

Middle East & Africa

GCC
South Africa
Rest of Middle East & Africa