Luxury Car Rental Market: Overview
The Luxury Car Rental Market accounted for USD 32.7 Billion in 2020 and is expected to reach more than USD 38.8 Billion by 2028, growing at a CAGR of 2.4% from 2021 to 2028.
A luxury car provides a high level of equipment, comfort, quality, performance, amenities, and status compared to regular cars for a higher price. Compact Luxury Cars, Full-size Luxury Cars, Mid-size Luxury Cars, Luxury SUVs, Luxury Crossovers & Minivans these are the type of luxury cars.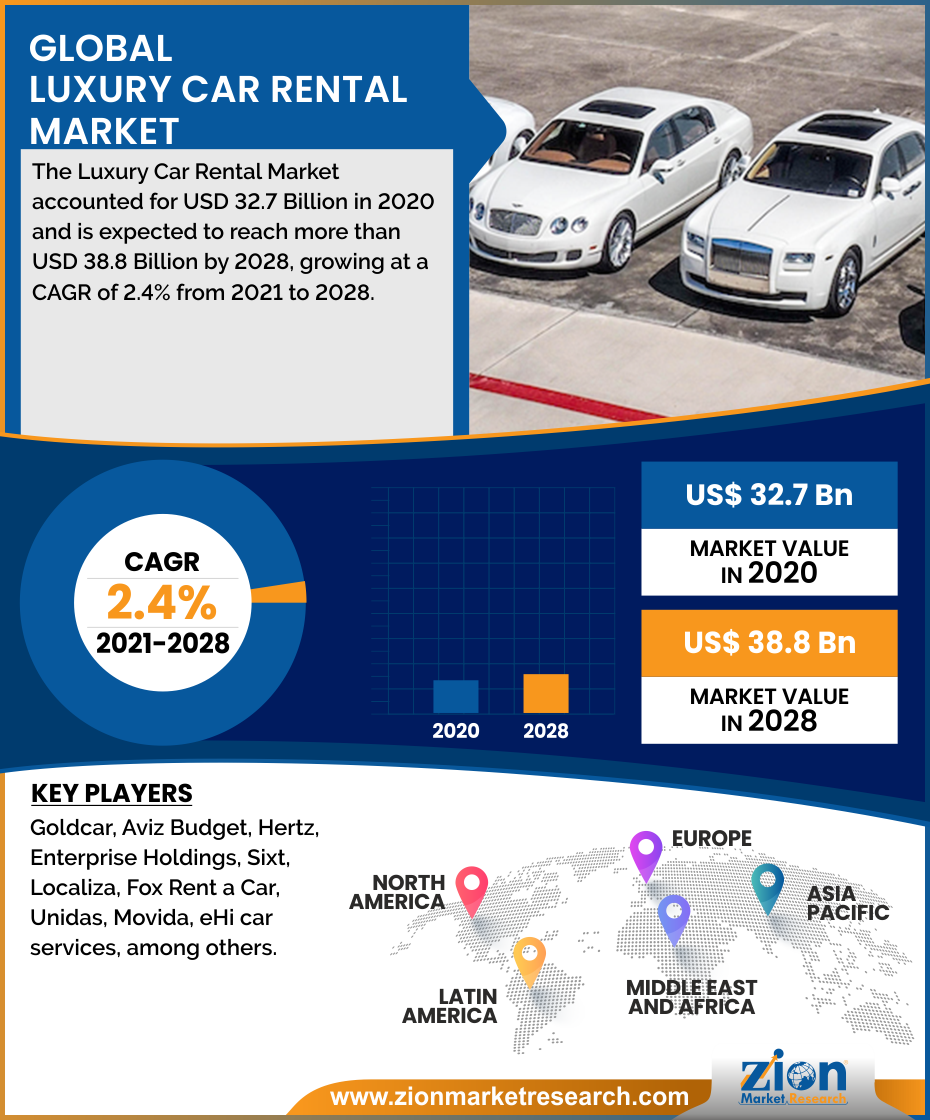 Request Free Sample
COVID-19 Impact Analysis
COVID-19 harshly impacted demand for Luxury Car Rental Market. Lockdown in different countries has adversely affected Luxury Car Rental companies. The outbreak of the novel coronavirus affected on many aspects, like travel bans and flight cancellations which forced people to sit at home which means people cannot roam around for business or leisure. This has affected severely to the car rental services.
Growth Factors
Increasing tension with respect to traffic backed by the rising vehicles on roads is set to further improve the luxury car rental market growth globally. Likewise, the booming travel and tourism industry in different countries, as well as rising air pollution would stimulate growth. People nowadays are bending more towards luxury car rentals as an alternative to buying their own cars due to the increasing traffic problems & its harmful effects on our health.
One doesn't have to take the effort to drive them to reach their destination, since, these cars are chauffeur driven. It has many benefits, such as enhanced traveling convenience, cost-effectiveness, low air pollution level, and reduction in traffic volume. At the same time, renting or hiring a car helps in decreasing various hidden costs that the buyer often has to bear while he/she owns a car.
Report Scope :
Type Segment Analysis Preview
The business segment held a share of over 60% in 2020. Business rental car services are mainly used by groups of people and individuals for traveling for conferences, meetings, seminars, workshops, and to their regular working spaces. Leisure rental car service is usually used for occasions, outings, weddings, road trips, parties, and others.
Booking Mode Segment Analysis Preview
The online segment is projected to grow at a CAGR of around 2.7% from 2021 to 2028. A growing number of customers is a key factor driving the endorsement of online platforms for renting out a luxury car as they offer various benefits over an offline seller such as discounts and cashback to attract the customer, development in internet connectivity, one-click procedures, and it's a time-saving method.
Moreover, market players are developing strategies, for instance, customization in the products according to the requirements and delivery at the doorstep is also helping in growing the market share.
Regional Analysis Preview
North America accounted for a share of over 37% in 2020 and is expected to generate substantial growth in the luxury car rental service market while maintaining its leading position in the coming few years supported by the increasing technological advancements in the region. Also, the existence of different renowned luxury car rental service providers in the region would drive growth.
The Asia Pacific in the coming years is expected to remain in the second position owing to the rising craze of luxury cars in the region. Additionally, the increasing adoption of greater production of passenger cars and state-of-the-art technologies would augment growth in this region. The global market is made up of a large number of Small and Medium Enterprises (SMEs). SMEs are striving constantly to bolster their positions by taking over other local firms. Some of the firms are helping common people to list up their cars for rental and generate income.
Key Market Players & Competitive Landscape
Some of key players in the Luxury Car Rental Market are Goldcar, Aviz Budget, Hertz, Enterprise Holdings, Sixt, Localiza, Fox Rent a Car, Unidas, Movida, eHi car services, among others. The industry players are focusing in joint ventures, new product development, and research, and development activities to create innovative and new products to stay ahead of the competition.
The Luxury Car Rental Market is segmented as follows:
By Type
By Distribution Channel
By Region
North America
Europe

France
The UK
Spain
Germany
Italy
Rest of Europe

Asia Pacific

China
Japan
India
South Korea
Southeast Asia
Rest of Asia Pacific

Latin America

Brazil
Mexico
Rest of Latin America

Middle East & Africa

GCC
South Africa
Rest of Middle East & Africa