Global Electric Vehicle Battery Market: Size
The Global Electric vehicle battery market is set for a rapid growth over the forecast period. In terms of revenue, the global Electric Vehicle Battery market accounted for USD 71.82 Billion in 2019 and is expected to reach USD 105.06 Billion by 2026, growing at a CAGR of 5.58%
Global Electric Vehicle Battery Market: Overview
A battery is used as a secondary source of power in vehicles. A battery of an Electric Vehicle (EV) is a rechargeable battery, also known as secondary cells. It utilizes stored chemical energy in battery powered packs for power supply and therefore it does not demand any combustion engine for propulsion. The traction battery or an electric vehicle battery is powered by battery electric vehicle propulsion.
Nowadays, with rising concerns about the environmental effects of conventional vehicles, policymakers around the world are promoting the introduction of alternative fuel vehicles. EVs are zero-emission vehicles and have a preference for sustainable public transport across countries. Numerous national governments provide financial benefits, such as tax exemptions and rebates, discounts, reduced parking/toll charges for EVs, and free charging, to promote the implementation of EVs. As a result, the global market for EV battery is steadily gaining momentum.
Global Electric Vehicle Battery Market: Growth Factors
The demand for electric vehicles is seeing an unprecedented growth across geographies. As a result, major car manufacturers are joining the EV market due to the increasing demand for EVs. Several auto manufacturers, such as Tata Motors, Toyota, Hyundai, and Mercedes-Benz, are working on EV models to broaden their role in the automotive industry. With major auto manufacturers taking an interest in EV space, advances in electric vehicles are projected to grow during the forecast period.
Increased global concerns about the adverse effects of climate change, as well as the unprecedented levels of pollution recorded in major cities, have created substantial demand for electric vehicles. The funding offered by various government agencies to promote the selling of these vehicles is a key factor in the growth of electric vehicles. This aspect has powered the global growth of the electric vehicle battery industry.
The growth of the market for electric vehicle batteries is driven by an increase in demand for zero-emission vehicles, a decline in the cost of electric vehicle battery systems and a rise in global climate change awareness.
Companies are developing business models such as Battery-as-a-Service (BaaS) and battery swapping that allow consumers to change/swap EV batteries after they have been discharged. This saves user's time spent on recharging the batteries, hence improving customer relationships and addressing one of the key reasons why customers refrain from choosing EVs.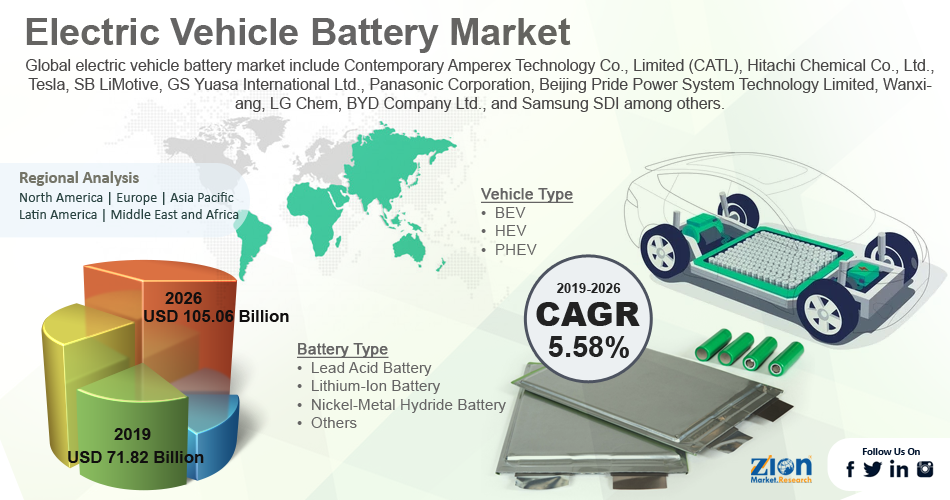 Request Free Sample
Impact due to the outbreak of COVID-19
While the overall level of production and sales of new vehicles worldwide came to a standstill due to the outbreak of COVID-19, the influence on electric vehicles was favorable. The number of EVs sold in 2020 was higher than the total number of EVs sold in 2019. However, component manufacturing has been adversely affected and small Tier II and Tier III manufacturers are addressing liquidity problems.
Due to the disease outbreak, many countries have imposed a complete shutdown of more than two months, that further had an impact on the production of electric vehicles and battery components. Production units across the globe have been shut down, and sales of electric vehicles have initially had a significant impact. The majority of the automakers, however, resumed the vehicle.
EV battery manufacturers suffered a significant decrease in revenue in the first quarter of 2020 as a result of the COVID-19 pandemic, although sales and net profit improved by the third quarter of 2020. Sales of Samsung SDI in the lithium-ion battery segment decreased by 18.8 per cent compared to the 4th quarter, 2019, with net profits falling by 33.1 percent, with limited production and necessary measures.
Global Electric Vehicle Battery Market: Segmentation
On the basis of battery type, the lithium-ion segment had the highest revenue share in 2019, as they offer higher energy density and do not face loss of maximum energy capacity due to rapid recharge compared to nickel-metal hydride and lead-acid batteries. This segment is therefore expected to dominate the market during the forecast period.
Based on the type of vehicle, the electric vehicle battery is projected to expand at a fastest rate. Government agencies that implement quota systems and strict fuel economy regulations, especially in developing economies, are expected to encourage the adoption of battery-powered electric vehicles that entirely rely on rechargeable battery packs.
The Hybrid Electric Vehicle held the largest market revenue share in 2019. HEVs use electric drive technology to provide reduced fuel consumption and minimize reliance on charging stations. These factors, combined with their substantially lower prices, are therefore expected to boost demand for this segment in the coming years compared to the BEVs.
Global Electric Vehicle Battery Market: Regional Analysis
By Geography, the electric vehicle battery market is segmented into North America, Europe, Latin America, Asia Pacific, and Middle East and Africa.
Europe is expected to account for a significant share in 2019. The growth of the EV battery market in the region is largely dependent on government incentives and funding, as electric vehicles are currently very costly. Countries such as France, Germany, Spain, Italy, the United Kingdom, Sweden, Denmark, and Norway are considered for market analysis in Europe.
The auto manufacturers such as VDL Groep and AB Volvo provides possibilities for the development of the EV battery market in the region. Progressively strict environmental regulations are pushing industry players to test and build new vehicles, which will further fuel the market for advanced battery technologies.
France is anticipated to witness the fastest growing market for EV batteries in the region. The French Government's policies to encourage electric commercial vehicles and the electrification of public transport fleets are pushing the EV battery market in the region. The German government is also focused on increasing the use of electric vehicles.
The demand for electric vehicle batteries in Asia-Pacific is characterized by the dominance of China, Japan, and South Korea, which constitute the majority of the global production potential of electric vehicle batteries. The production of lithium cells is highly concentrated in China and more than half of the battery production of gigafactories is based in China. As a result, Asia Pacific is estimated to be the largest in the projected timeframe.
Global Electric Vehicle Battery Market: Competitive Players
The major players in the global electric vehicle battery market include Contemporary Amperex Technology Co., Limited (CATL), Hitachi Chemical Co., Ltd., Tesla, SB LiMotive, GS Yuasa International Ltd., Panasonic Corporation, Beijing Pride Power System Technology Limited, Wanxiang, LG Chem, BYD Company Ltd., and Samsung SDI among others.
The report segment of global electric vehicle battery market are as follows:
Global Electric Vehicle Battery Market: Vehicle Type Segment Analysis
Global Electric Vehicle Battery Market: Battery Type Segment Analysis
Lead Acid Battery
Lithium-Ion Battery
Nickel-Metal Hydride Battery
Others
Global Electric Vehicle Battery Market: Regional Segment Analysis
North America
Europe

France
The UK
Spain
Germany
Italy
Rest of Europe

Asia Pacific

China
Japan
India
South Korea
Southeast Asia
Rest of Asia Pacific

Latin America

Brazil
Mexico
Rest of Latin America

Middle East & Africa

GCC
South Africa
Rest of Middle East & Africa