Market Overview
The Global Fuel Cell Technology Market accounted for USD 6.22 Billion in 2020 and is expected to reach USD 26.55 Billion by 2028, growing at a CAGR of 23% from 2021 to 2028.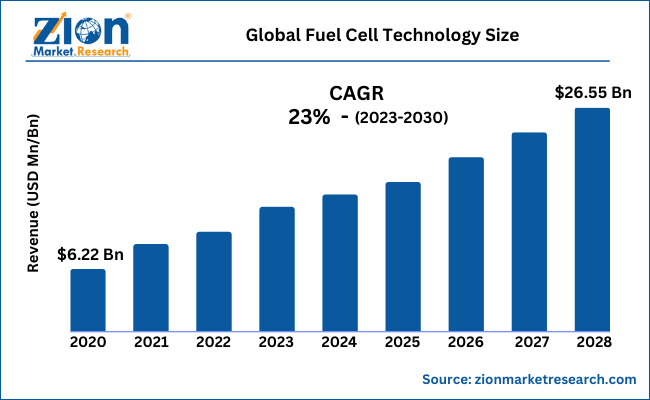 Request Free Sample
A fuel cell is a system that effectively conducts and generates electricity by combining a cathode and an anode immersed in an electrolyte medium.
Chemical energy is converted into electrical energy by fuel cells. Buildings use fuel cells as a source of heat and energy, as well as as an electrical power source for electric motors that drive cars. Forklifts, or trucks that carry and move bulky goods, are often often used. Fuel cells don't need to be charged externally and can generate electricity as long as they have access to fuel and oxygen.
COVID-19 Impact Analysis
The Global Fuel Cell Technology Market has been adversely impacted by the COVID-19 pandemic, which has resulted in supply chain shortages, project delays, and a lack of financial funding for R&D operations.
The effect of the outbreak on global supply chains would have an impact on hydrogen-based systems, which require a well-coordinated supply chain and a large amount of resources to demonstrate. The COVID-19 outbreak has impacted existing hydrogen demand from oil refining, steel production, and the chemicals industry, according to the IEA. According to the International Energy Agency, gasoline usage would fall by 9%, diesel by 6%, and jet fuel by 26% by 2020, while demand for core hydrogen-based chemicals (such as methanol) will fall by 7%. Sales of hydrogen-based fuel-cell vehicles increased in 2019, and it was predicted that early 2020 would set a new sales milestone.
The COVID-19 crisis, according to the IEA, has had a major effect on the addition of renewable power energy. According to IEA projections, owing to the unprecedented COVID-19 global crisis, the number of new renewable power installations is expected to decline in 2020.
Growth Factors
One of the major growth drivers for the Global Fuel Cell Technology Market is increasing Demand for electric vehicles, hybrid electric vehicles, and plug-in hybrid vehicles (EV/HEV/PHV). The market for electric cars is rapidly increasing, resulting in a strong demand for fuel cells. Furthermore, the carbon emissions have heightened government interest in the use of electric and plug-in hybrid cars.
Another factor for the growth in this market is the dependency on oil, diesel, and other non-conventional energy source is reducing. The demand for fuel cells has increased around the world. Excessive CO2, CO, NOx, and SOx emissions from traditional petroleum products and oils have raised environmental issues. By - reliance on gasoline, diesel, and other fossil fuels, fuel cells act as an alternative to traditional and unconventional energy sources.
Because of the growing need for environmentally sustainable cars, fuel cells have a strong acceptance rate in the transportation sector. Furthermore, as the government's commitment to reducing greenhouse emissions grows, the need for fuel cell vehicles, buses, and trucks grows. The demand for stationary fuel cells in buildings, schools, and shopping centres has increased as a result of globalisation. Fuel cells are expected to become more widely used in handheld devices such as smartphones, tablets, and PCs, as well as as power backup batteries, and have been described as a profitable target market for investment.
Report Scope :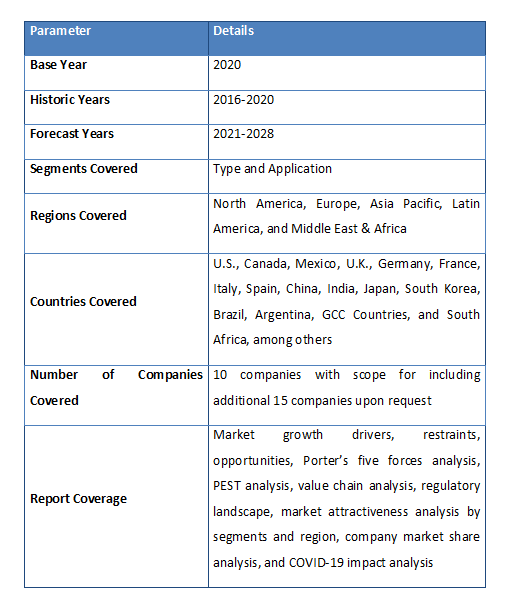 Request Free Sample
Type Segment Analysis Preview
In 2019, the Proton Exchange Membrane Fuel Cell (PEMFC) accounted for more than 67.7% of all units shipped. Forklifts, motorcycles, telecommunications, main systems, and secondary control systems are all examples of PEMFC implementations. Their demand is expected to be bolstered by their versatility in the forecast timeframe.
Fuel Cell Technologies Office (FCTO), Solid Oxide Fuel Cell (SOFC), and other fuel cell research projects receive funds from the US Department of Energy (DOE). The Solid Oxide Fuel Cell (SOFC) is expected to expand rapidly in the immediate future. In SOFCs, the presence of all solid components eliminates the need for electrolyte loss. The fact that they can work at high temperatures reduces the need for expensive catalysts like ruthenium.
Molten Carbonate Fuel Cells (MCFC) emerged as the most common product category in 2019, with 380 MW of demand. The market for molten carbonate fuel cells is expected to rise steadily in the coming years, thanks to their widespread use in large stationary power plants.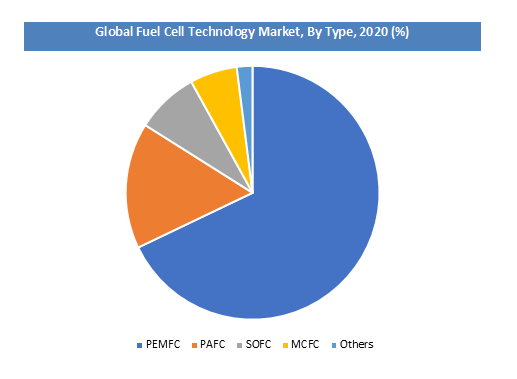 Request Free Sample
Application Segment Analysis Preview
In terms of application, stationary fuel cells lead the Fuel Cell Market. The stationary segment is expected to retain its leadership role due to product simplicity and performance. Due to the demand for fuel cell powered forklifts and increased R&D activities in developing economies of Europe, the transportation sector is projected to be the fastest growing segment during the forecast period. Personal devices, portable products, printers, mobile phones, APUs, and household products, among other things, use portable fuel cells.
Regional Segment Analysis Preview
The Global Fuel Cell Technology Market is divided into five regions : North America, Europe, Asia Pacific, Latin America and Middle East Africa . The Asia Pacific is currently the largest market for fuel cells and a key region in the advances in fuel cell technology market, followed by North America and Europe.
In 2020, Asia-Pacific accounted for a large share with 17.3 % CAGR and this domination is projected to persist during the forecast period. Because of supportive government policies in countries like China, Japan, and South Korea, the Asia-Pacific region is one of the most lucrative international markets for fuel cells in the coming years. The PEMFC is the most widely deployed fuel cell technology in the area of the available fuel cell technologies.
China's fuel cell industry has a lot of promise, as the government is gradually working on ways to use renewable energy technologies to transition to a low-carbon economy. Furthermore, the hydrogen fuel cell industry in the country has been gaining momentum as a result of attractive national and regional government incentives as well as local government funding schemes to promote the use of hydrogen vehicles to reduce emissions.
In Canada , the federal government has provided money to associations and fuel cell firms.. Government financing programmes in the United States and Canada have fueled the product's growth and deployment in North America. In the near future, Europe's industry will change its emphasis to public-private alliances in order to achieve the goal of being a low-carbon economy while maintaining a competitive advantage.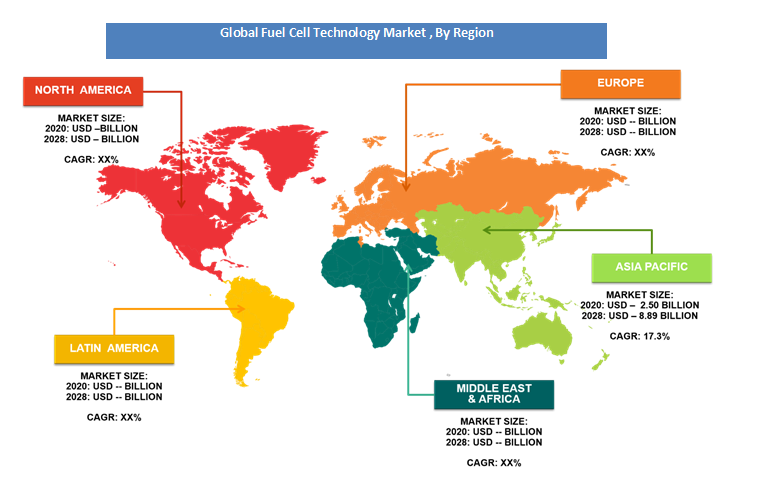 Request Free Sample
Key Market Players and Competitive Landscape
Some of the key players in the Global Fuel Cell Technology Market include Fuel Cell Energy, Inc.; Ballard Power Systems; Hydrogenics Corporation; SFC Energy AG; Nedstack Fuel Cell Technology B.V.; Bloom Energy; Doosan Fuel Cell America, Inc.; Ceres Power Holdings Plc; Plug Power, Inc.; Nuvera Fuel Cells LLC.; and Others.
Ballard Power Systems, Fuel Cell Energy, Hydrogenics Corporation, Plug Technology, and Ceres Power, for example, have a high level of convergence across the value chain. These businesses have developed themselves as major producers. They concentrate on R&D activities in order to improve low-cost fuel cell technologies for the car industry. Mergers and acquisitions, as well as product releases, are some of the key tactics used by industry participants. Ceres Power and Honda R & D Co Ltd have agreed to collaborate on the construction of solid oxide fuel cell stacks. This effort aids the organisation in gaining acceptance for its steel cell technology.
The Global Fuel Cell Technology Market is segmented as follows:-
Type
Solid Oxide Fuel Cells
Proton Exchange Membrane Fuel Cells
Molten Carbonate Fuel Cells
Phosphoric Acid Fuel Cells
Others
Application
Transport
Stationary
Portable
By Region
North America
Europe

France
The UK
Spain
Germany
Italy
Rest of Europe

Asia Pacific

China
Japan
India
South Korea
Southeast Asia
Rest of Asia Pacific

Latin America

Brazil
Mexico
Rest of Latin America

Middle East & Africa

GCC
South Africa
Rest of Middle East & Africa