Industry Prospective:
The global die cut lids market size was worth around USD 660 Million in 2022 and is predicted to grow to around USD 1100 Million by 2030 with a compound annual growth rate (CAGR) of roughly 6.45% between 2023 and 2030. The report analyzes the global die cut lids market drivers, restraints/challenges, and the effect they have on the demands during the projection period. In addition, the report explores emerging opportunities in the die cut lids industry.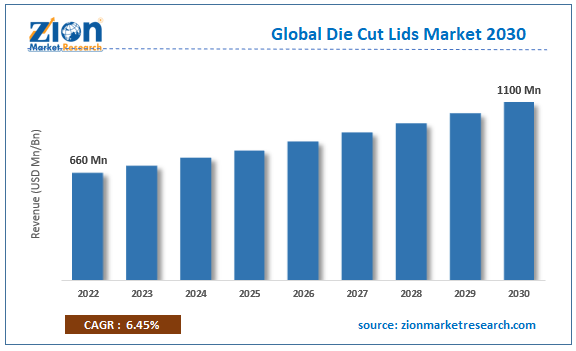 Request Free Sample
Die Cut Lids Market: Overview
Die cut lids are also known as pre-cut lids. They are used for covering different types of containers like bottles, jars, trays, and cups. Die cut lids are typically made of plastic, paper, or aluminum. The demand for the lids is growing owing to the rising requirement for secure sealing solutions for various kinds of containers. This ensures that the product contained in the units remains safe and fresh for consumption. The industry deals with stakeholders involved in the production and distribution of the lids across end-user verticals. In recent years, the fraternity has registered significant growth increasing at a steady rate and the food & beverages industry is one of the significant contributors in the sector. During the projection period, the industry players can expect more growth opportunities but they may also have to deal with rising environmental concerns over the consumption and disposal of plastic-based die cut lids which could directly impact the total revenue of the market.
Key Insights:
As per the analysis shared by our research analyst, the global die cut lids market is estimated to grow annually at a CAGR of around 6.45% over the forecast period (2023-2030)
In terms of revenue, the global die cut lids market size was valued at around USD 660 Million in 2022 and is projected to reach USD 1100 Million, by 2030.
The die cut lids market is projected to grow at a significant rate due to the growing demand for portable food products
Based on application segmentation, cups were predicted to show maximum market share in the year 2022
Based on end-user segmentation, food & beverages was the leading user in 2022
On the basis of region, North America was the leading revenue generator in 2022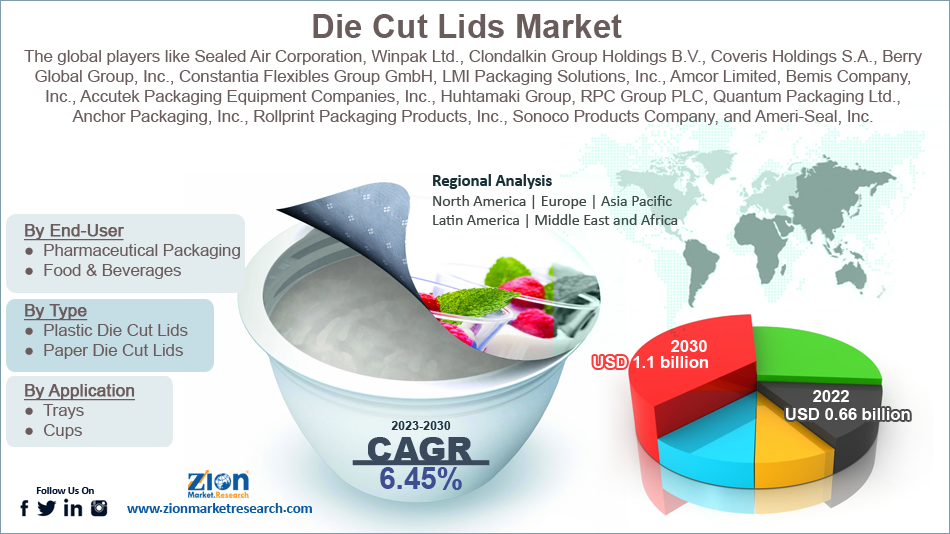 Request Free Sample
Die Cut Lids Market: Growth Drivers
Growing demand for portable foot items to drive market growth
The global die cut lids market is projected to grow owing to the increasing demand and consumption of portable and convenience food items. With reasons like changing lifestyle habits, rising disposable income, urbanization, surging accessibility, and higher awareness rate, the demand for takeaway food products or beverages or consumables that can be stored in refrigeration and consumed at a later time, the demand for convenience food items has increased over the years. The busy lifestyle trend has allowed industry players to cater to the needs of the modern population by providing them with packaging solutions that can securely protect food products for a long time. Since die cut lids are one of the most efficient solutions in terms of food storage and transportation, industry growth has been noteworthy. In addition to this, the growing research and adoption of advanced printing technology have allowed higher customization and visually pleasing lids giving industry players a better opportunity for branding activities.
Die Cut Lids Market: Restraints
High cost of production to restrict market expansion
Die cut lids are expensive in terms of production value as compared to other types of lids. This can act as a significant barrier against die cut lids industry growth. The high cost is generally influenced due to the cost of the most commonly used raw materials to produce these lids. Raw materials like aluminum and plastic can be expensive, especially in situations where high-grade lids are in question owing to a compliance with food safety regulations. Other factors like the use of complex manufacturing processes along with customization requirements can lead to the addition of new segments of cost.
Die Cut Lids Market: Opportunities
Increasing investments in developing eco-friendly solutions to provide growth opportunities
One of the crucial disadvantages of using die cut lids is the environmental impact of these coverings especially when they are made of plastic since it is a non-biodegradable product. However, the global die cut lids market is witnessing a rise in the number of investments along with research & development activities toward the adoption of sustainable or environmentally friendly materials. This could lead to the creation of greater interest in end-consumer goods as currently many people refrain from excessive use of plastic-based items.
Die Cut Lids Market: Challenges
Supply chain complexities to challenge market growth
The entire production process of die cut lids is a complex procedure. This is due to the large number of stakeholders involved in the process. This included multiple suppliers of raw materials and distributors of the final goods. Even a slight disruption at any point in the supply chain can lead to a severe loss of revenue. Furthermore, a large segment of the final product may have to undergo quality reassessment since such items are generally produced in bulk quantities. Additionally, the rising competition from alternatives could lead to more challenges for the current global die cut lids industry players.
Die Cut Lids Market: Segmentation
The global die cut lids market is segmented based on end-user, type, application, and region.
Based on end-user, the global market segments are pharmaceutical packaging and food & beverages. In 2022, the highest growth was observed in the food & beverages (F&B) segment where the product is used extensively to cover and protect various food products including ready-to-eat meals, dairy products, and beverages. They allow higher convenience in terms of transporting food items along with safe storage. In the pharmaceutical industry, die cut lids are used as packaging solutions for medical devices and medicines along with other healthcare items. During the forecast period, the F&B sector is expected to continue dominating the industry. The global convenience food market in 2019 was close to 1 trillion in 2019.
Based on type, the global market divisions are plastic die cut lids and paper die cut lids.
Based on application, the global market divisions are trays and cups. In 2022, the highest CAGR was associated with the cups segment although the demand may vary depending on the intended use of the lid. For instance, in the cups segment, the lids are used to seal cups of fruits, pudding, yogurt, and other snacking products. Most of these cups are made of plastic and come in different shapes or sizes. Paper is another popular choice in this segment. In the trays segment, die cut lids are used to protect real-to-eat food products and other edible items like salads, sandwiches, and entrees. As per Statista, the US revenue from the yogurt segment in 2022 was close to USD 8 billion.
Recent Developments:
In January 2021, Tekni-Plex announced signing an agreement with PackPlus Embalagens for a distributor partnership. The latter will be responsible for the sale of formers coated DuPont Tyvek along with coated paper rollstock offerings
In May 2022, Aluflexpack AG announced its acquisition of an 80% stake in Teko, a flexible packaging solution provider that focuses on dairy and beverage segments in Turkey and surrounding regions
In January 2022, Oliver Healthcare Packaging announced the launch of its new range of innovative products at the Med-Tech Innovation Expo, a leading event in the UK and Ireland for showcasing medical design and technology
Die Cut Lids Market: Report Scope
Report Attributes
Report Details
Report Name
Die Cut Lids Market Research Report
Market Size in 2022
USD 660 Million
Market Forecast in 2030
USD 1100 Million
Growth Rate
CAGR of 6.45
Number of Pages
210
Key Companies Covered
Sealed Air Corporation, Winpak Ltd., Clondalkin Group Holdings B.V., Coveris Holdings S.A., Berry Global Group, Inc., Constantia Flexibles Group GmbH, LMI Packaging Solutions, Inc., Amcor Limited, Bemis Company, Inc., Accutek Packaging Equipment Companies, Inc., Huhtamaki Group, Chadwicks of Bury (Part of Clondalkin Group Holdings B.V.), RPC Group PLC, Quantum Packaging Ltd., Anchor Packaging, Inc., Rollprint Packaging Products, Inc., Sonoco Products Company, and Ameri-Seal, Inc.
Segments Covered
By End-User, By Type, By Application, And By Region
Regions Covered
North America, Europe, Asia Pacific (APAC), Latin America, Middle East, and Africa (MEA)
Base Year
2022
Historical Year
2017 to 2021
Forecast Year
2023 - 2030
Customization Scope
Avail customized purchase options to meet your exact research needs. Request For Customization
Die Cut Lids Market: Regional Analysis
North America to generate the highest revenue
The global die cut lids market is expected to generate the highest revenue in North America followed by Europe. The growing popularity and consumption of ready-to-eat meals along with the rising trend of on-the-go snacking is a major reason for the growth in both regions. In addition to this, the presence of key market players along with growing investment toward product innovation and advancements is crucial to regional growth both in North America and Europe.
In Asia-Pacific, the industry is steadily rising significant revenue mainly due to rising Western influence in terms of consumption of convenience food products further strengthened by busy lifestyle habits and the growing number of players offering quality food items mainly targeting the urban population. Additionally, the rapid population of India and China along with the increase in disposable income can lead to a higher CAGR during the forecast period.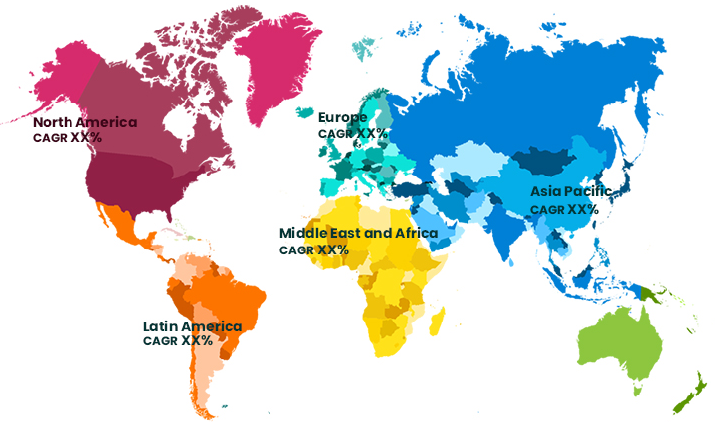 Request Free Sample
Die Cut Lids Market: Competitive Analysis
The global die cut lids market is led by players like:
Sealed Air Corporation
Winpak Ltd.
Clondalkin Group Holdings B.V.
Coveris Holdings S.A.
Berry Global Group Inc.
Constantia Flexibles Group GmbH
LMI Packaging Solutions Inc.
Amcor Limited
Bemis Company Inc.
Accutek Packaging Equipment Companies Inc.
Huhtamaki Group
Chadwicks of Bury (Part of Clondalkin Group Holdings B.V.)
RPC Group PLC
Quantum Packaging Ltd.
Anchor Packaging Inc.
Rollprint Packaging Products Inc.
Sonoco Products Company
Ameri-Seal Inc.
The global die cut lids market is segmented as follows:
By End-User
Pharmaceutical Packaging
Food & Beverages
By Type
Plastic Die Cut Lids
Paper Die Cut Lids
By Application
By Region
North America
Europe

France
The UK
Spain
Germany
Italy
Rest of Europe

Asia Pacific

China
Japan
India
South Korea
Southeast Asia
Rest of Asia Pacific

Latin America

Brazil
Mexico
Rest of Latin America

Middle East & Africa

GCC
South Africa
Rest of Middle East & Africa