Sterile Bottles Market Size
The sterile bottle market is set for rapid growth over the forecast period. In terms of revenue, the global sterile bottles market accounted for USD 13.36 Billion in 2019 and is expected to reach USD 28.86 Billion by 2026, growing at a CAGR of 11.63%
Global Sterile Bottles Market: Overview
Sterile bottles are widely used in science, medical and pharmaceutical laboratories. They help to keep sensitive samples and products from contamination with the proper airtight closures. Sterile bottles are safe from bacteria and other microorganisms so that the product stored in the laboratory and the bottles that are sterilized could maintain their purity. Sterile containers help ensure that the results are as authentic as possible and remove negative factors that can influence the results.
The sterilisation method includes a boiling, steaming, or dry heat system that uses high temperatures to destroy any microorganisms present. Many packaging firms use secondary packaging, such as air-sealed plastic, to store bottles after sterilisation, which helps avoid contamination before first use.
Packaging solutions for sterile containers include glass which can be sterilised multiple times without impacting structural integrity. These sterile glass bottles are sealed containers with proper airtight closure to help avoid contamination during the transportation of products or materials.
Report Scope:
Report Attributes
Report Details
Report Name
Sterile Bottles Market Report
Market Size in 2019
USD 13.36 Billion
Market Forecast in 2026
USD 28.86 Billion
Compound Annual Growth Rate
CAGR of 11.63%
Number of Pages
110
Forecast Units
Value (USD Billion), and Volume (Units)
Key Companies Covered
Berlin Packaging, Avantor Fluid Handling LLC, Daigger Scientific Inc., CELLTREAT Scientific Products, Deltalab, Foxx Life Sciences, Fisher Scientific International, Inc., Greenwood Products Inc., Spectrum Chemical Manufacturing Corp, SciLabware Limited, and Wipak Group
Segments Covered
By Type,By end-user, And By Region
Regions Covered
North America, Europe, Asia Pacific (APAC), Latin America, Middle East and Africa (MEA)
Countries Covered
North America: U.S and Canada
Europe: Germany, Italy, Russia, U.K, Spain, France, Rest of Europe
APAC: China, Australia, Japan, India, South Korea, South East Asia, Rest of Asia Pacific
Latin America: Brazil, Argentina, Chile
The Middle East And Africa: South Africa, GCC, Rest of MEA
Base Year
2021
Historical Year
2016 to 2020
Forecast Year
2022 - 2030
Customization Scope
Avail customized purchase options to meet your exact research needs. Request For Customization
Glass does not affect the contents of sterile containers since it does not leach chemicals or absorb liquids or oils. Non-porous glass construction also works to prevent dust, bacteria, air, and moisture from forming when containers are completely sealed.
The increased use and uptake of sterile bottles during COVID-19 has had a positive impact on the sterile bottle market. The spread of COVID-19 has pushed this sector to become more involved online and to find new ways to provide analytics. As a result, end users are joining the market to address the difficulties of business. With the emergence of the Covid-19 disease outbreak, the pharmaceutical industry's focus has shifted to increased coronavirus testing and development. The sterile bottle industry has seen a significant increase in demand.
Diagnostic device manufacturers, such as sterile bottle manufacturers, have altered their strategies to address the diagnostics demand, particularly in low- and middle-income regions, in order to control the outbreak. The industry, on the other hand, is being harmed by the shutdown of manufacturing units around the world. Some units have been operating with insufficient resources, resulting in product shortages or delays.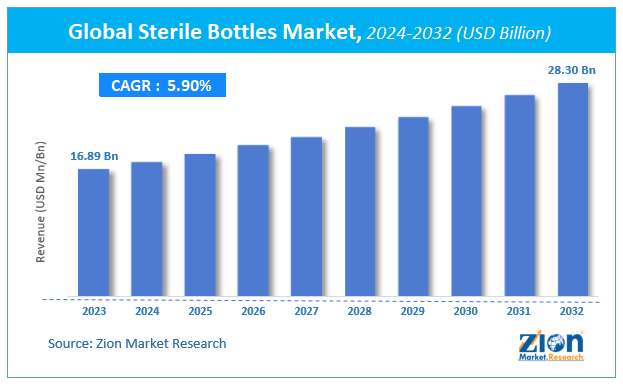 Request Free Sample
Global Sterile Bottles Market: Growth Factors
Increased demand for sterile bottles from various sectors, such as pharmaceutical and medical, food & beverages, and others are propelling the demand for the global sterile bottles market. Following the outbreak of the Covid-19 pandemic, all the countries worldwide are focusing on improving their healthcare system and laboratories. This will have a direct influence on the demand for sterile bottles. According to World Bank statistics, healthcare spending in developing countries such as India and China is 4.98% and 3.65% of GDP, respectively, compared to developed countries such as the United States, which invests over 17.07% of GDP in healthcare.
The rising occurrence of viral infections, which are caused by the use of non-sterile instruments, is a major factor driving the growth of the sterile bottle market. There is a growing understanding of such diseases, resulting in increased demand for sterilised bottles. Aseptic packaging of vital instruments and appliances increases the shelf life of the sterilisation process. The market is rising due to the need for longer shelf lives. In addition, the effectiveness of sterile bottles for short or long-term storage of samples in diagnostic laboratories is also influencing the growth of the industry.
The world is witnessing a rapid rise in viral infections due to rising levels of pollution. As a result, medical device manufacturing companies, diagnostic centres and hospitals are focusing on sterile packaging of medical devices, thus creating opportunities for the growth of the sterile bottle market in the upcoming years. In addition, ISRO decided to bring out seven mega missions over the next 10 years. For example, the second moon mission was introduced in July 2019 and the next missions for Venus and Mars are also included. These developments would increase the need for sterilised bottles in spacecraft and space missions.
Global Sterile Bottles Market: Segmentation
On the basis of end-users, the pharmaceutical and biological segment accounted for the largest segment in 2019, due to their use in medical, pharmaceutical, and scientific laboratories to avoid contamination of samples and test materials.
The food and beverage industry will create substantial demand for sterile bottles. Improvements in consumer living conditions have contributed to a rise in global demand for packaged food. Consumption of contaminated food causes a large number of foodborne diseases among the public. The Food and Drug Administration (FDA) believes that the use of sterile packaged food will be effective in enhancing food safety. In addition, according to the Food Safety and Standards Authority of India, the number of sales of packaged food items increased by more than 48% between 2012 and 2016. With the increased demand for packaged food and increased awareness of sterile packaging, the market for sterile bottles is experiencing significant growth.
Global Sterile Bottles Market: Regional Analysis
By Geography, the sterile bottle market is segmented into North America, Europe, Latin America, Asia Pacific, and the Middle East and Africa.
North America held the largest market share in 2019 and is predicted to grow at the fastest rate in the projected timeframe. This increase may be due to the various regulations introduced by the FDA, which, in turn, drive demand for healthy and high-quality products in this region. Moreover, due to the involvement of several major players and strict FDA regulations, the industry has been very competitive in the region.
Global Sterile Bottles Market: Competitive Players
The major players in the global sterile bottles market include Berlin Packaging, Avantor Fluid Handling LLC, Daigger Scientific Inc., CELLTREAT Scientific Products, Deltalab, Foxx Life Sciences, Fisher Scientific International, Inc., Greenwood Products Inc., Spectrum Chemical Manufacturing Corp, SciLabware Limited, and Wipak Group among others.
The report segment of the global sterile bottles market are as follows:
Global Sterile Bottles Market: Product Type Segment Analysis
Aspirator Bottles
Dispensing/Dropping Bottles
Sampling/Serum Bottles
Reagent Bottles
Solution Bottles
Dilution Bottles
Others
Global Sterile Bottles Market: Material Type Segment Analysis
Plastic

Polypropylene
Polyethylene
Polystyrene
Others

Glass
Global Sterile Bottles Market: End User Segment Analysis
Pharmaceuticals & Biological
Food & Beverage
Medical & Surgical
Others
Global Sterile Bottles Market: Regional Segment Analysis
North America
Europe

France
The UK
Spain
Germany
Italy
Rest of Europe

Asia Pacific

China
Japan
India
South Korea
Southeast Asia
Rest of Asia Pacific

Latin America

Brazil
Mexico
Rest of Latin America

Middle East & Africa

GCC
South Africa
Rest of Middle East & Africa