Description
The Aluminum Forging market is set for a rapid growth over the forecast period. In terms of revenue, the global Aluminum Forging market accounted for USD 15.24 Billion in 2019 and is expected to reach USD 25.74 Billion by 2026, growing at a CAGR of 7.77%.
Global Aluminum Forging Market: Overview
Aluminum forging is an industrial process that is carried out before high-strength forged aluminum pieces are produced by pounding the aluminum or vigorous squeezing. For parts used in applications that require protection and superior strength, aluminum forgings are perfect. Aluminum is highly used in numerous end-user industries such as construction, military, automotive, electrical, and others. Aluminum forging products are employed in modern vehicles to make it lighter, safer and eco-friendly. As low-fuel-consumption cars have been requested for the economy in recent years, the automotive industry is one of the largest consumers of aluminum forged components. The deformation rate and the solid temperature are the main factors impacting the forgeability of aluminum alloys. Most of the alloys are forged at nearly 55 °C (100 °F) below the respective solid temperature.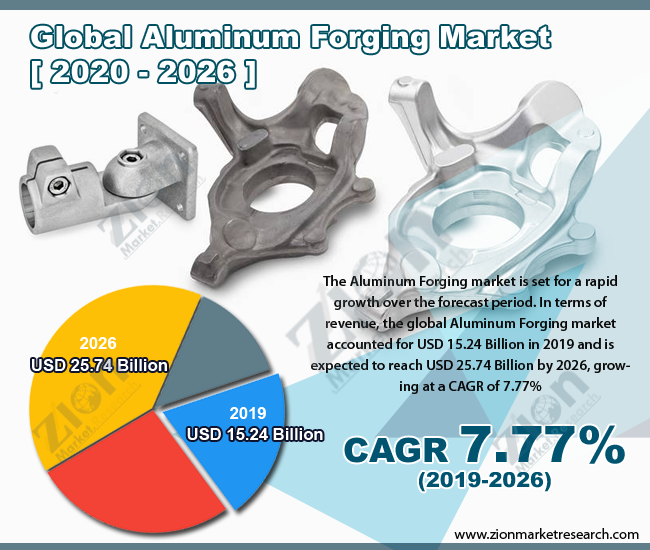 Some of the common Aluminum forged part includes aircraft frames and wheels, automobile chassis and body panels, automotive engine and drive train components, decorative architectural components, structural components for construction, manufacturing equipments, and components for boats and marine equipment
Global Aluminum Forging Market: Growth Factors
Aluminum Forging Market growth is driven by a growing demand for robust, lightweight, high-strength materials in aircraft and automotive vehicles. The increasing popularity of forged aluminum due to the effective replacement of steel by lightweight material in an industrial application is also fueling market development. Its application areas have been expanded by the use of forging to produce aluminum at a lower cost. Due to their favorable high fatigue strength and low density, the global demand for aluminum forgings is expected to see rapid growth over the forecast period, as aluminum forgings are widely used in aerospace applications and airframe structures. However, demand growth over the forecast period is expected to be impeded by fluctuations in aluminum prices and availability.
Global Aluminum Forging Market: Segmentation
Global Aluminum Forging Market is segmented into type and application. On the basis of type the market is segmented into Custom Aluminum Forging, and Conventional Aluminum Forging. Custom aluminum forging segment had the largest market share in 2019 owing to the ability to supply different shapes and sizes of aluminum products. Custom aluminum forgings are best suited to applications where the strength, safety and efficiency will not be hindered due to the light weight design of the aluminum. The two most common methods of custom aluminum forgings are closed-die forging and open-die forging. Closed-die forging is suitable for smaller, more complex designs and restricted tolerances, whereas Open-die forging is perfect for the processing of large quantities of aluminum. The open-die forging process uses flat dies that are not constraining and free from pre-cut designs and profiles.
On the basis of application, the largest market share in 2019 was held by the automotive industry. For some forged components, customized aluminum forgings are used in the automotive industry to produce different automotive parts. A broad variety of companies engaged in the manufacturing, design and sale of automobile parts are involved in the automotive industry. There are over 20,000 parts in the vehicle on average, and all these components are manufactured in various processes, such as forging, welding, stamping, casting, machining, and others. They are used in a wide number of industries for development of many spare parts. The customized aluminum forgings are also used over such forged pieces in the automotive industry. In addition, the aluminum content is expected to fluctuate, depending on the capacity of OEMs to meet CO2 requirements with powertrain changes and the future transition from a mass-based European CO2 emission standards. As a result, the increase in the use of aluminum content per vehicle to minimize vehicle emissions is expected to fuel demand for aluminum forging during the projected timeline.
Global Aluminum Forging Market: Regional Analysis
By Geography, the Aluminum forging market include North America, Europe, Latin America, Asia Pacific, and Middle East and Africa. In the aluminum forging industry, Asia Pacific was the largest contributor to value in 2019. Asia Pacific had almost a one third share in the same year. The rising automotive and construction industries are the key drivers for the Aluminum forging market in Asia-Pacific. Developing Asia-Pacific economies, such as China and India, will be the crucial players in the region due to the rise in the adoption of forging techniques in the manufacturing sector. One of the major growth factors in the Aluminum forging market is heavy investments and government initiatives to increase production in the region.
In 2019, China had the largest market share. Due to heavy investments in developing new forging methods and upgrading existing infrastructure, China is also the fastest-growing area in the Aluminum forging industry owing to the presence of many global and local producers in the country.
Global Aluminum Forging Market: Competitive Players
Key players operating in the global aluminum forgings market include Accurate Steel Forgings (India) Limited, Alcoa Corporation, Anderson Shumaker Company, All Metals & Forge Group, Aluminum Precision Products, Inc., Consolidated Industries, Inc., Continental Forge Company, Deeco Metals, Queen City Forging Company, Scot Forge Company, Sun Fast International, LLC, and UNIFOR Brass Forgings Inc. among others.
Global Aluminum Forging Market: Regional Segment Analysis
North America
Europe

France
The UK
Spain
Germany
Italy
Rest of Europe

Asia Pacific

China
Japan
India
South Korea
Southeast Asia
Rest of Asia Pacific

Latin America

Brazil
Mexico
Rest of Latin America

Middle East & Africa

GCC
South Africa
Rest of Middle East & Africa