Industry Prospective:
The global car safety market size was worth around USD 129.4 Billion in 2022 and is predicted to grow to around USD 267.5 Billion by 2030 with a compound annual growth rate (CAGR) of roughly 9.5% between 2023 and 2030. The report analyzes the global car safety market's drivers, restraints/challenges, and the effect they have on the demands during the projection period. In addition, the report explores emerging opportunities in the car safety industry.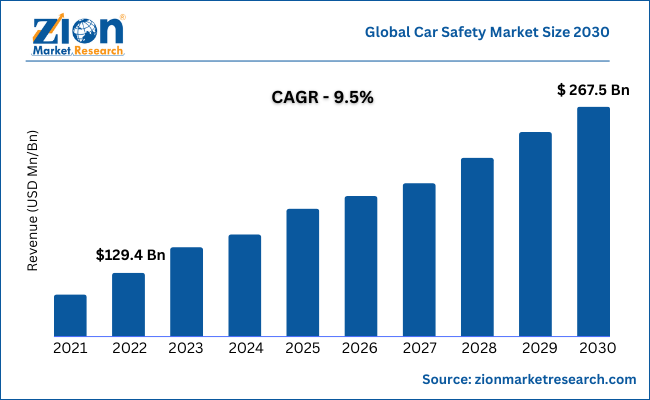 Request Free Sample
Car Safety Market: Overview
Car safety regulations are a set of guidelines that are implemented for automotive vehicles, safety systems, and manufacturing equipment. The main aim of imposing such regulations is to control the occurrences of automobile accidents. Car safety regulations are implemented in many countries, where active safety systems play a vital role in restricting such accidents. Active safety systems comprise various subsystems, which include tire-pressure-monitoring systems, anti-lock braking, and electronic stability control. Passive safety systems include seat belts and airbags that help to reduce the risk of injury in an accident.
The growth in the car safety market is mainly due to increase awareness regarding safety systems among consumers thus driving the global car safety market. Other factors that are responsible for the market growth include progressively stringent safety norms, increasing vehicle electrification, and rising production of vehicles. Active safety systems offer advantages such as prevention, pre-crash warning, and post-crash rescue management; these features positively impact the global car safety market. It helps to reduce the harmful effects of road traffic accidents. Companies are focusing on creating an accident-proof vehicle, which will inform the driver about the hazards and warn the driver against disaster; this is anticipated to open up new growth opportunities in the market.
Key Insights
As per the analysis shared by our research analyst, the global car safety market is estimated to grow annually at a CAGR of around 9.5% over the forecast period (2023-2030).
In terms of revenue, the global car safety market size was valued at around USD 129.4 billion in 2022 and is projected to reach USD 267.5 billion, by 2030.
Some of the factors driving the market are an increase in accidents, an increase in vehicle safety concerns, and strict government regulations in different regions.
Based on the type, the active safety segment is expected to dominate the market over the forecast period.
Based on the occupant type, the adult occupant segment is expected to account for the largest market share during the forecast period.
Based on region, North America is expected to dominate the market during the forecast period.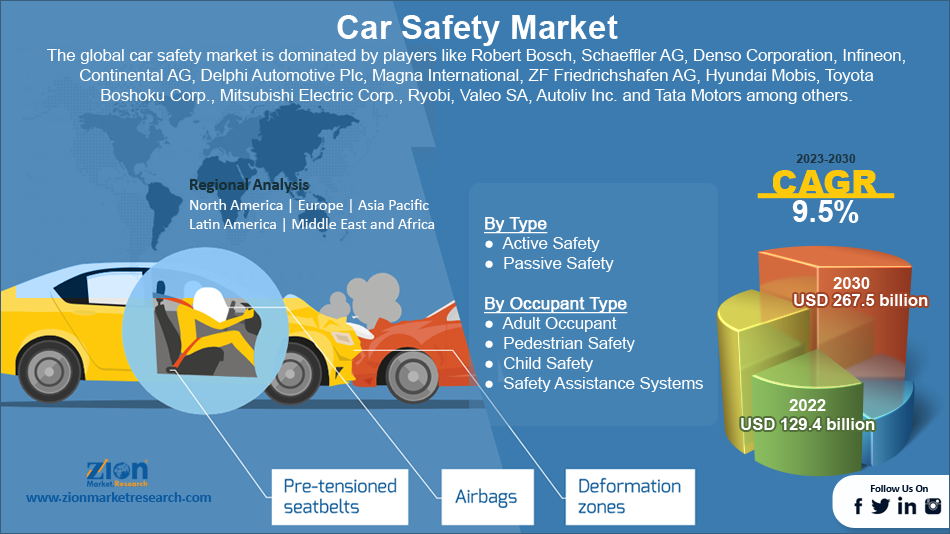 Request Free Sample
Car Safety Market: Growth Drivers
Rising demand for cars with intelligent braking systems drives the market growth
As end users seek to maximize performance, intelligent braking systems (IBS) in all commercial and passenger vehicles are gaining more focus. Sensors in cars equipped with them continuously check the vehicle's circumstances and react in an emergency. An ultrasonic wave emitter and ultrasonic receiver in an intelligent mechatronic system generate and emit ultrasonic waves frontward at a preset distance, providing the distance between the obstacle and the car. Then, a microcontroller is employed to control the vehicle's speed based on the information from the detection pulse to depress the stop pedal and apply extreme braking to the vehicle for safety reasons. Several nations have implemented strict regulations to incorporate intelligent braking systems. For instance, forty nations, headed by Japan and Europe, have agreed to mandate the installation of automated braking systems in new cars and light commercial vehicles by 2019. This is probably going to open up new opportunities for vehicles with IBS and increase demand for the car safety industry.
Car Safety Market: Restraints
Drop in sales and production of cars hinders the industry from growing
Since 2016, there has been a slowdown in both car production and sales as a result of the global economic slowdown and different government financial reform initiatives. For instance, since 2016, the increase in the Federal Reserve interest rate has caused a decline in car sales in the United States. During this time, output has also been falling. The world's vehicle sales are predicted to decline by about 3.1 million units in 2019. Ford stated that new vehicle sales in China decreased by about 28.75% in 2019. GM recorded a 0.9% to 1.2% decline in sales. The potential of the American automotive market declining, as a result, will have a detrimental impact on the expansion of the automotive safety market.
Car Safety Market: Opportunities
Stringent environmental and fuel economy regulations
New technological innovations are disrupting the automotive industry as a result of the strict requirements from customers and regulatory bodies. Several governments are currently concentrating on lowering the number of collisions by incorporating active and inactive safety systems into automobiles. The U.K. government committed in 2019 to requiring lane-keeping technology, advanced emergency braking, and intelligent speed assistance in vehicles by 2022. Similar to this, several nations, including China, India, and the United States, have set strict regulations for automakers to incorporate passive and active safety systems in new cars by 2020. These laws are designed to cut down on mishaps. The majority of makers are using active and passive safety systems in cars to accomplish this, which is driving up demand for the car safety market.
Car Safety Market: Challenges
The high installation cost impedes market expansion
The high installation and replacement cost of the passive safety system is expected to hinder the car safety market growth over the forecast period.
Car Safety Market: Segmentation
The global car safety industry is segmented based on the type, occupant type, and region.
Based on the type, the global market is bifurcated into active safety and passive safety. The active safety segment is expected to dominate the market over the forecast period due to its benefits, such as anti-lock brakes, electronic stability control, or traction control, it also prevents or mitigates traffic accidents by enhancing the general driving experience in a variety of conditions. Several governments have enacted stringent laws requiring the installation of safety features in vehicles. For instance, the deployment of active safety measures in automobiles is required by 2018 according to India's New Car Assessment Program (NCAP). In addition, starting in October 2018, all newly released vehicles must comply with pedestrian safety standards. Similar to this, Europe NCAP created strict guidelines for integrating active safety features to prevent or lessen mishaps. As a result of these regulations, the market for active safety devices will see an increase in demand.
Based on the end user, the market is segmented into adult occupant, pedestrian safety, child safety, and safety assistance systems. The adult occupant segment is expected to account for the largest market share during the forecast period. The increase in the number of consumer safety awareness programs and the rising number of road accidents that further result in severe fatalities in the human body will drive the market's development during the forecast period. However, due to increasing disposable incomes, consumers are quickly shifting towards spending more on the different safety features offered in their vehicles. Giants in the business are now able to invest due to it. Additionally, manufacturers offer active and passive safety systems in the automotive industry to improve customer comfort and driving experience, which will improve driving comfort for consumers and open up growth opportunities for the car safety market.
Recent Developments:
In May 2020, a German technology firm called ZF Friedrichshafen AG Company acquired WABCO. The deal will help ZF advance the market's current digital platforms and establish itself as a global champion in commercial automotive systems. For heavy-duty commercial cars, WABCO Vehicle Control Systems, a US-based business, offers electronic braking, stability, suspension, and transmission automation systems.
In December 2021, the world's first system that combines outstanding HMI (Human-Machine Interface) technology with cutting-edge driver and occupant monitoring will be made available by Behr-Hella Thermocontrol GmbH (BHTC), a joint venture between Hella and MAHLE Behr GmbH & Co. KG. The display and climate control devices from BHTC can include cameras that watch for driving distraction, drowsiness, and sudden sickness and will sound an alarm.
In August 2021, in Limerick, UK, Robert Bosch (Bosch) developed an automotive research and development facility. The emphasis of the events in Limerick will be on automotive electronics and semiconductor goods. Integrated circuits (IC) for adaptive cruise control and radar technologies for automated driving will be among the first things developed at the site.
Car Safety Market: Report Scope
Report Attributes
Report Details
Report Name
Car Safety Market Research Report
Market Size in 2022
USD 129.4 Billion
Market Forecast in 2030
USD 267.5 Billion
Growth Rate
CAGR of 9.5%
Number of Pages
214
Key Companies Covered
Robert Bosch, Schaeffler AG, Denso Corporation, Infineon, Continental AG, Delphi Automotive Plc, Magna International, ZF Friedrichshafen AG, Hyundai Mobis, Toyota Boshoku Corp., Mitsubishi Electric Corp., Ryobi, Valeo SA, Autoliv Inc. and Tata Motors among others.
Segments Covered
By Type, By Occupant Type, And By Region
Regions Covered
North America, Europe, Asia Pacific (APAC), Latin America, Middle East, and Africa (MEA)
Base Year
2022
Historical Year
2017 to 2021
Forecast Year
2023 - 2030
Customization Scope
Avail customized purchase options to meet your exact research needs. Request For Customization
Car Safety Market: Regional Analysis
North America is expected to dominate the market during the forecast period
North America is expected to dominate the global car safety market during the forecast period. More autonomous vehicles will be introduced in various sectors due to the rise of electric vehicles in the automotive business. The likelihood and potential for the present market for safety systems to grow and expand increases with the number of autonomous vehicles in the market. The market has become cluttered compared to how it was a few years ago because the majority of North American automobiles are already outfitted with the majority of safety systems.
The United States provides at least 3% of the nation's overall gross domestic product, serving as the sole cornerstone of the North American automotive hub. (GDP). The nation is also among the biggest producers of luxury vehicles, with total sales of USD 5 billion in 2021. BMW, a luxury automaker, announced record-breaking sales of more than 336,600 vehicles in 2021. Human error is the main cause of the majority of automobile accidents. Nearly one-third of the traffic-related fatalities in Virginia (220 crashes), according to the National Highway Traffic Safety Administration (NHTSA) branch of the US Department of Transportation, featured alcohol-impaired driving.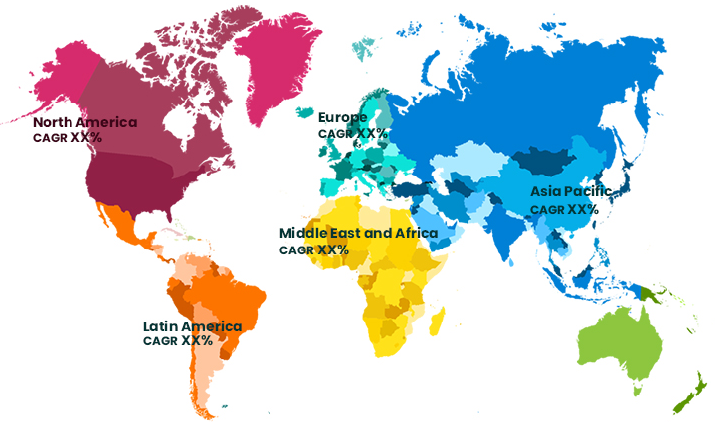 Request Free Sample
In addition to raising awareness about driver assistance technologies, the Canadian government declared the safe testing of every car and the introduction of automated and connected vehicles. For instance, the US Department of Transportation will receive safety solutions data straight from GM through INRIX Inc.'s analytics-assisted cloud-based application as part of the company's Safety View by GM Future Roads & Inrix initiative, which was announced by GM in May 2022.
Car Safety Market: Competitive Analysis
The global car safety market is dominated by players like:
Robert Bosch
Schaeffler AG
Denso Corporation
Infineon
Continental AG
Delphi Automotive Plc
Magna International
ZF Friedrichshafen AG
Hyundai Mobis
Toyota Boshoku Corp.
Mitsubishi Electric Corp.
Ryobi
Valeo SA
Autoliv Inc.
Tata Motors
The global car safety market is segmented as follows:
By Type
Active Safety
Passive Safety
By Occupant Type
Adult Occupant
Pedestrian Safety
Child Safety
Safety Assistance Systems
By Region
North America
Europe

France
The UK
Spain
Germany
Italy
Rest of Europe

Asia Pacific

China
Japan
India
South Korea
Southeast Asia
Rest of Asia Pacific

Latin America

Brazil
Mexico
Rest of Latin America

Middle East & Africa

GCC
South Africa
Rest of Middle East & Africa