Abstract
The report analyzes and forecasts the microcontroller market on a global and regional level. The study offers past data from 2016 to 2018 along with a forecast from 2019 to 2025 based on revenue (USD Billion). The assessment of microcontroller market dynamics gives a brief thought about the drivers and restraints of the microcontroller market along with their impact on the demand over the years to come. Additionally, the report also includes the study of opportunities available in the microcontroller market on a global level.
The report gives a transparent view of the microcontroller market. We have included a detailed competitive scenario and portfolio of leading vendors operating in the microcontroller market. To understand the competitive landscape in the Microcontroller Market, an analysis of Porter's Five Forces model for the market has also been included. The study encompasses a market attractiveness analysis, wherein all the segments are benchmarked based on their market size, growth rate, and general attractiveness.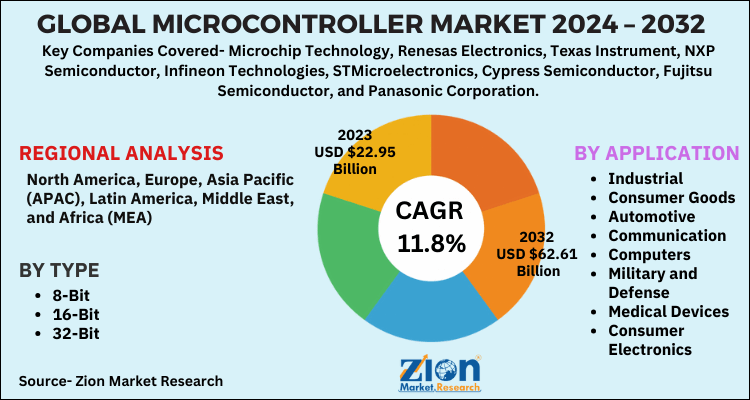 The study provides a crucial view of the microcontroller market by segmenting it based on type, application, and region. All the segments of the microcontroller market have been analyzed based on present and future trends and the market is estimated from 2019 to 2025. The regional segmentation comprises the current and forecast demand for the Middle East and Africa, North America, Asia Pacific, Latin America, and Europe.
Some major players of the microcontroller market are Microchip Technology, Renesas Electronics, Texas Instrument, NXP Semiconductor, Infineon Technologies, STMicroelectronics, Cypress Semiconductor, Fujitsu Semiconductor, and Panasonic Corporation.
This report segments the global microcontroller market into:
Global Microcontroller Market: Type Analysis
Global Microcontroller Market: Application Analysis
Industrial
Consumer Goods
Automotive
Communication
Computers
Military and Defense
Medical Devices
Consumer Electronics
Global Microcontroller Market: Regional Analysis
North America
Europe
Asia Pacific
Latin America
Middle East and Africa