Analysis
A microcontroller is a computer on a single integrated circuit, which is committed to accomplishing specific tasks.
The microcontroller market is expected to grow rapidly in the future, owing to the rising need for electric vehicles to save fossil fuels for future generations. Numerous players are installing microcontrollers in electric vehicles to reduce vehicle's noise and avoid pollution via their vehicles. The rising demand for automated machines along with portable electronics, such as smartphones, tablets, personal computers, and growing number of luxury cars, which work on electronics, is anticipated to stimulate the microcontroller market growth. The healthcare sector largely uses microcontrollers in medical equipment, such as heart rate monitors, spirometers, and blood pressure monitor. Microcontroller reduces the cost of medical devices and provides exact patient information. Moreover, the rising healthcare disorders among the geriatric population are also contributing to this market. The growing awareness about smart energy management with technological advancements is also expected to propel the microcontroller market. The combination of technology with digital communication and electrical network is called a smart grid, which uses communication channel and smart meters to communicate between locations (physical). This is another factor supporting the microcontroller market. Microcontrollers are also in demand, as they require less time to perform an operation. It is mostly used in automatically controlled devices and products that include implantable medical devices, automobile engine control systems, office machines, remote control, power tools, toys, appliances, and other embedded systems. However, along with high efficiency and low time in operation performance, it performs a limited number of tasks simultaneously. This is the major growth restraint for this market.
By type, the microcontroller market includes 32-bit, 16-bit and 8-bit. The 8-bit microcontrollers will grow notably in the future, owing to its technology simplification, low material cost, and product design. These microcontrollers are selected on the basis of the degree of interfacing, power consumption, and processing capability that is required by a particular product. The 8-bit microcontroller unit encompasses lesser complexity, software simplicity, low gate count, software simplicity, which makes it economical than any other microcontrollers in the market. The 32-bit microcontrollers have superior processing power as compared to its counterparts and also consume lesser power. Moreover, the rising popularity of 32-bit MCUs due to the diminishing unit price is also anticipated to further fuel this segment's growth.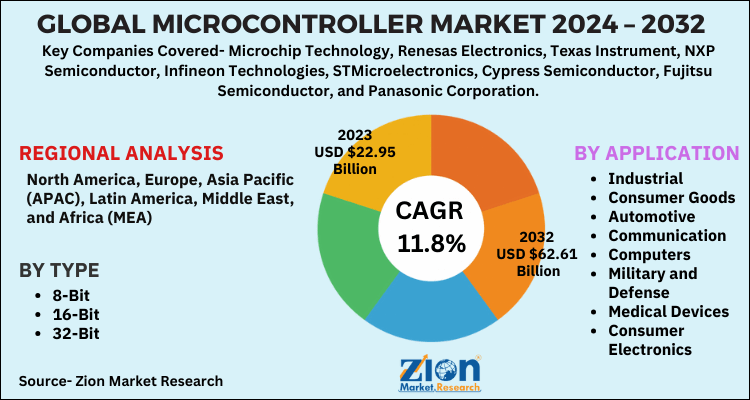 North America is expected to witness major growth in the microcontroller market, owing to its various benefits and use of microcontrollers in robots for research purposes.
Some major players of the microcontroller market are Microchip Technology, Renesas Electronics, Texas Instrument, NXP Semiconductor, Infineon Technologies, STMicroelectronics, Cypress Semiconductor, Fujitsu Semiconductor, and Panasonic Corporation.