Abstract
The report includes forecast and study for the biolubricant market on a global and regional level. The study comprises historic data of 2014-2016 along with a forecast from 2017 to 2024 based on revenue (USD Billion). The study encompasses drivers and restraints for the market along with their impact on the demand over the forecast period. Moreover, the report provides a study of opportunities present in the biolubricant market on a global and regional level.
In order to provide the users with the comprehensive view of the biolubricant market, we have included a detailed competitive scenario and product portfolio of the key vendors. The analysis of Porter's Five Forces model for the biolubricant market has also been included along with strategic development. The study includes market attractiveness analysis, where base oil type and product segments are benchmarked based on their market size and general attractiveness.
The study provides a decisive view on the base oil base oil type, application, and end-user segment. All the segments have been analyzed based on current and future trends and the market is estimated from 2017 to 2024. The regional segmentation comprises of the current and forecast demand for North America, Europe, Asia Pacific, Latin America, and the Middle East and Africa.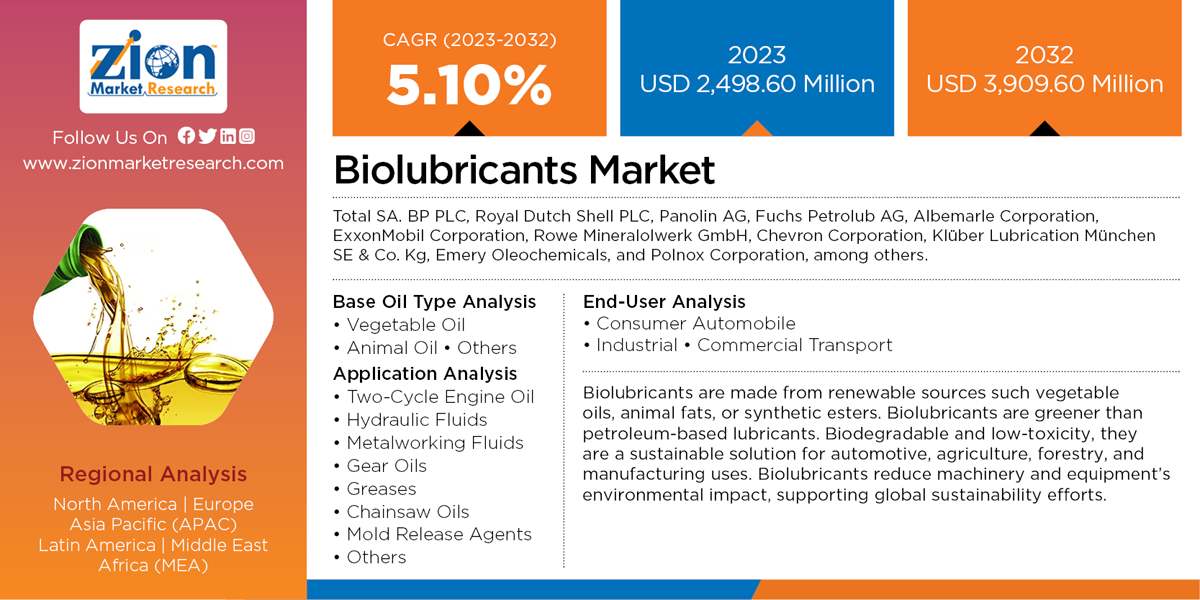 The report includes detailed competitive outlook including company profiles of the key participants operating in the global biolubricant market. Key players profiled in the report include Total SA. BP PLC, Royal Dutch Shell PLC, Panolin AG, Fuchs Petrolub AG, Albemarle Corporation, ExxonMobil Corporation, RoWe Mineralolwerk GmbH, Chevron Corporation, Klüber Lubrication München SE & Co. Kg, Emery Oleochemicals, and Polnox Corporation, among others, are some of the major players in the biolubricant market.
This report segments the biolubricants market as follows:
Biolubricants Market: Base Oil Type Analysis
Vegetable Oil
Animal Oil
Others
Biolubricants Market: Application Analysis
Two-Cycle Engine Oil
Hydraulic Fluids
Metalworking Fluids
Gear Oils
Greases
Chainsaw Oils
Mold Release Agents
Others
Biolubricants Market: End-User Analysis
Consumer Automobile
Industrial
Commercial Transport
Biolubricants Market: Regional Analysis
North America
Europe
Asia Pacific
Latin America
Middle East and Africa