Analysis
Biolubricants are renewable lubricants that are biodegradable, non-toxic in nature, and emits net zero greenhouse gas. Biolubricants also applies to lubricants which are both biodegradable and nontoxic for humans and aquatic environments.
Lubricants play a vital role in every industry. However, various rules regulated by the government on the use of conventional lubricants lead to the huge demand for biolubricants. Biolubricants possess finer characteristics such as high flash points, constant viscosity, biodegradability, and lower emission levels. These eminent characteristics are expected to fuel the demand of the biolubricants in several industrial applications. However, lack of awareness coupled with high prices of biolubricants among the underdeveloped economies may obstruct the growth of the biolubricants market. Nevertheless, spreading out of the automotive sector, predominantly in emerging regions such as India, China, South Africa & Brazil is expected to contribute to the huge demand of biolubricants market in the forecast period.
On the basis of base oil type, the biolubricants market can be segmented as vegetable oil, animal oil, and other types. Vegetable oil held the major chunk of the biolubricants market. The various constructive characteristics of vegetable oil such as eco-friendly, nontoxicity, and renewable nature makes it appropriate for the feedstock. Numerous applications of biolubricants are engine oil, hydraulic fluids, metalworking fluids, gear oils, chainsaw oils, mold release agents, and other applications. Two-cycle engine oil curled the biolubricants market followed by hydraulic fluids. Hydraulic fluids are used in moving mechanical parts, elevator, cylinders in bridges and locks, and others. Bio-based engine oils reveal the superior inherent rate of biodegradation, low toxicity to aquatic organisms, and very low level of bioaccumulation. Based on end-user, the market is segmented as consumer automobile, industrial, and commercial transport.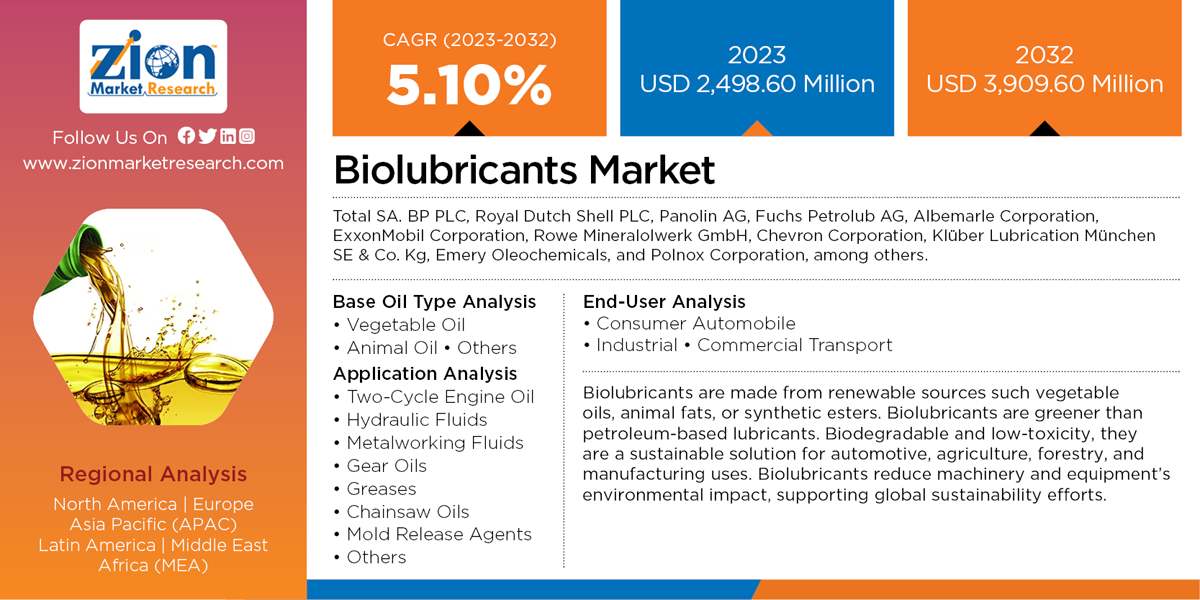 The growth rate of biolubricant market differ by region, despite fairly strong growth, penetration of biolubricants is partial. The major cause for this is the limited uptake of biolubricants which includes lofty prices and deficiency in high-performing formulations with respect to conventional lubricants and suitable additives. North America followed by Europe governed the biolubricants market in 2017 and is further expected to maintain this trend over the forecast period. The U.S. is closely followed by Germany and Nordic countries such as Sweden, Denmark, Norway, and Finland are the major consumers of the biolubricants across the globe led the market by highest consumption rate in 2016. Various stringent regulations imposed by the governing bodies on the use of conventional lubricants led to huge consumption of eco-friendly biolubricants in these regions. Heavy availability of soybean & rapeseed in North America is expected to drive the industry growth in this region.
The Asia Pacific is expected to be accountable for the significant growth in the coming years. India being third largest economy for production of lubricants lacks its presence in global biolubricants market owing to low stringent laws and low cost of conventional lubricants. However, the nation's superior oil and lubricant producers are launching biolubricants which may withstand the biolubricants market in this region over the forecast period.
Some of the key players in the biolubricants market are Total SA. BP PLC, Royal Dutch Shell PLC, Panolin AG, Fuchs Petrolub AG, Albemarle Corporation, ExxonMobil Corporation, RoWe Mineralolwerk GmbH, Chevron Corporation, Klüber Lubrication München SE & Co. Kg, Emery Oleochemicals, and Polnox Corporation, among others. Escalating R&D initiatives by key players along with technological innovations is expected to initiate new avenues for biolubricants applications.