Global Vegetable Oil Market Size
The report offers assessment and analysis of the Vegetable Oil Market on a global and regional level. The study offers a comprehensive assessment of the market competition, constraints, sales estimates, opportunities, evolving trends, and industry-validated data. The report offers historical data from 2015 to 2018 along with a forecast from 2019 to 2025 based on revenue (USD Billion).
Introduction
Vegetable oil is extracted from seed or other parts of fruits. Vegetable oils also referred as vegetable fat is the blend of triglycerides, grape seed oil, soybean oil, and cocoa butter. Apart from this, rice bran oil, olive oil, and palm oil are few of the examples of vegetable oils. Additionally, the product is used in cosmetic & make-up products as well as food & household items. Apparently, the fatty acids are extracted from vegetable oil and utilized in cosmetics, pharmaceuticals, and bactericides.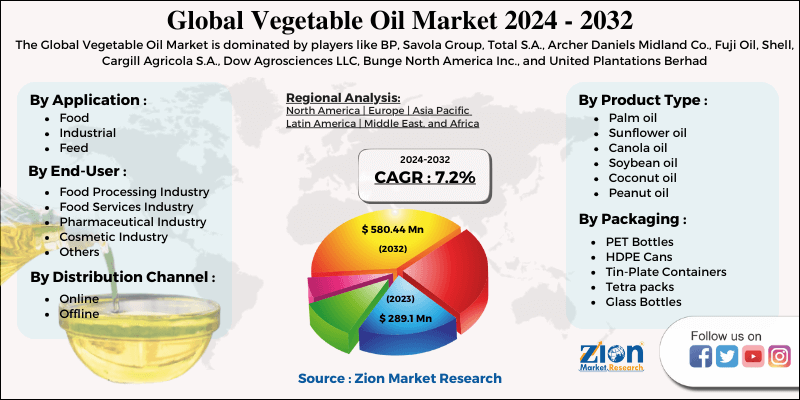 Request Free Sample
Market Growth Dynamics
Large-scale use of vegetable oil in industrial and transport sectors will propel the expansion of vegetable oil market in the ensuing years. Major benefits offered by the product are biodegradability and resource renewability. Few of the major usage of these products are open gears, two stroke engines, farming, forestry device, mining, open gears, hydraulics, chain saws, and mold releases. Large-scale use of vegetable oil in producing detergents and soaps as well as in manufacturing greases, candles, and lubricants will prompt the expansion of vegetable oil market over the years ahead. Nonetheless, omega-6 vegetable oil can cause heart ailment and this can hinder the use of the vegetable oil in the ensuing years.
Furthermore, vegetable oil is also used as a key substitute for mineral oil in power station as they possess better lubricity, reduced volatility, high pressure performance, lower smoke features, and high viscosity as compared to mineral oil. This will further drive the expansion of the vegetable oil industry. Apparently, thriving biofuel industry will further add towards the growth of the vegetable oil market in the years ahead. The main reason being the use of vegetable oil as a source to produce bioethanol which is further utilized in production of biofuel. Additionally, rapidly expanding biodiesel sector will make huge contributions towards vegetable oil market size as vegetable oil is used as raw material for biodiesel production. Apart from this, escalating demand for biodiesel in the automotive, aerospace, and aviation industries is expected to have a positive impact on the global vegetable oil market growth.
The product is majorly used in FMCG and this will further drive the vegetable oil market trends. Thriving processed food sector and massive use of the product in culinary and perfume production will propel the business landscape. Large-scale use of vegetable oil as animal feed additive will enlarge the scope of both the animal feed additives sector as well as vegetable oil market in the forthcoming years. With vegetable oil finding major applications in automotive sector and strict laws regulating the fuel emission norms, the vegetable oil industry is anticipated to gain traction over the years ahead.
Asia Pacific To Dominate Overall Market Growth By 2025
The expansion of vegetable oil industry in Asia Pacific during the forecast timeline is the result of massive demand for substitutes for fast depleting fossil fuel along with huge requirement of biofuel with an objective of reducing carbon emissions. In addition to this, immense growth witnessed in food processing and bio-plastics sectors in the region will further contribute towards regional market size over the upcoming years. Easy availability of raw materials used for producing vegetable oil will prompt the vegetable oil market value in Asia Pacific in the years to come. Countries such as India and China of the Asia Pacific zone are slated to be the major drivers of the vegetable oil market in the region.
Key players profiled in the study are BP, Savola Group, Total S.A., Archer Daniels Midland Co., Fuji Oil, Shell, Cargill Agricola S.A., Dow Agrosciences LLC, Bunge North America Inc., and United Plantations Berhad.
The global vegetable oil market is segmented as follows:
By Product Type
Palm oil
Sunflower oil
Canola oil
Soybean oil
Coconut oil
Peanut oil
Olive oil
Others (cottonseed oil, etc.)
By Packaging
PET Bottles
HDPE Cans
Tin-Plate Containers
Tetra packs
Flexible Plastic Pouches
Glass Bottles
By Application
By End-User
Food Processing Industry
Food Services Industry
Pharmaceutical Industry
Cosmetic Industry
Others (Fuels, etc.)
By Distribution Channel
By Region
North America
Europe

France
The UK
Spain
Germany
Italy
Rest of Europe

Asia Pacific

China
Japan
India
South Korea
Southeast Asia
Rest of Asia Pacific

Latin America

Brazil
Mexico
Rest of Latin America

Middle East & Africa

GCC
South Africa
Rest of Middle East & Africa