Analysis
Wearable sensors are vital components of wearable technology that are embedded in smart wearable devices to monitor numerous parameters such as blood pressure, speed, temperature, and muscle activity. Wearable sensors make sure that the data is monitored and stored for the better understanding of physical health and fitness. Recently, these sensors became increasingly accepted attributed to the growing demand for smart wearable technology based devices across the globe. They are used in different applications areas such as access control, fitness wearable and medical based wearable among others.
The growth of global wearable sensor market is mainly driven by advancements in microelectronics, sensor manufacturing, and telecommunication. Increased penetration of wireless connectivity, growing interest of tier 1 players in the wearable ecosystem and mounting benefits of wearable devices in the healthcare sector contributes substantial growth of wearable sensor market. In addition, miniaturization, decreasing cost, integration with consumer electronic devices and accessories is predicted to surge the demand for wearable sensors in the analysis period. Furthermore, the introduction of platforms such as IoT, AR, and M2M paired with increased demand for wrist wear, body wear, and eyewear which includes accelerometers is also expected to fuel the market growth. Consumer awareness regarding the benefits and usage of wearable sensors may pose a challenge to the wearable sensor market growth. Even so, impending applications of wearable technology is expected to open up new growth opportunities for wearable sensor market in near future.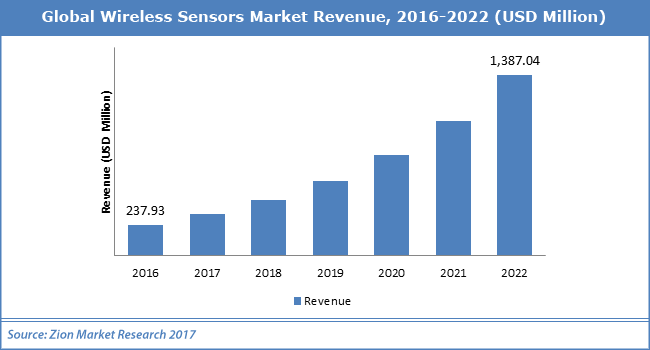 Based on product type, global wearable sensor market is bifurcated into accelerometers, magnetometers, inertial sensors, motion sensors, pressure sensors, temperature sensors, medical- based sensors, image sensors, touch sensors and others. The accelerometer is predicted to be most lucrative product type for wearable sensor market. On the basis of application, wearable sensor market categorized into wrist wear, eyewear, neckwear, footwear, bodywear and others.
North America emerged as dominating the regional market for the wearable sensor in 2016. Heavy investments and legislative initiatives on wireless technology in countries such as the U.S. and Canada are expected to drive the growth of North American market in near future. Ongoing technological advancement is predicted to drive the wearable sensor market in Europe region during coming years. Asia Pacific ranks as the fastest emerging market for wearable sensor market in near future.
Key players in this wearable sensor market are STMicroelectronics. Infineon Technologies AG, mCube, Inc., Knowles Electronics, LLC., Panasonic Corporation, TE Connectivity Ltd., Asahi Kasei Corporation, Robert Bosch GmbH, Broadcom Limited (Avago), NXP Semiconductors, Invensense, Inc., Texas Instruments Inc and ARM Holdings PLC amongst others.