Industry Prospective
The global remote patient monitoring devices market size was worth around USD 1192 million in 2021 and is predicted to grow to around USD 2114 million by 2028 with a compound annual growth rate (CAGR) of roughly 7.45% between 2022 and 2028. The report analyzes the global remote patient monitoring devices market's drivers, restraints/challenges, and the effect they have on the demands during the projection period. In addition, the report explores emerging opportunities in the remote patient monitoring devices market.
Remote Patient Monitoring Devices Market: Overview
Remote patient monitoring (RPM) devices deploy technology that aids in monitoring a patient's health condition remotely without having the patient visit hospital or clinic facilities. With RPM devices excellent medical care can be provided even if the patient is at home or in a different remote location. A physician or assigned medical personnel is responsible for constantly tracking healthcare updates like any symptoms, post-hospital rehabilitation, or chronic conditions by monitoring the data generated from the device. RPM devices are known to have increased the quality of care while simultaneously reducing medical delivery costs.
The technology-driven devices allow patients to improve their quality of life owing to the excellent features that help patients gain more control over their medical condition, and independence, along with timely alerts in case of any unwanted symptoms thus preventing the symptoms from reaching an advanced stage.
Telecommunications plays an important role in this segment since medical information is quickly transferred between devices and acts as a life-saving device, especially in the case of complex self-care medical conditions like home dialysis. In critical cases like remote monitoring and analysis of physiological parameters, RPM devices can help early detection of signs resulting in a reduced number of emergency unit visits and shorter hospital stays.
Some of the key features of RPM devices include reliable data which is generated with the help of artificial intelligence (AI). These systems include an upgraded level of technology combining AI and machine learning to analyze big data. Since RPM devices record extremely personal and confidential data, generally the providers have an exceptional cyber security system deployed to prevent any unethical digital attacks.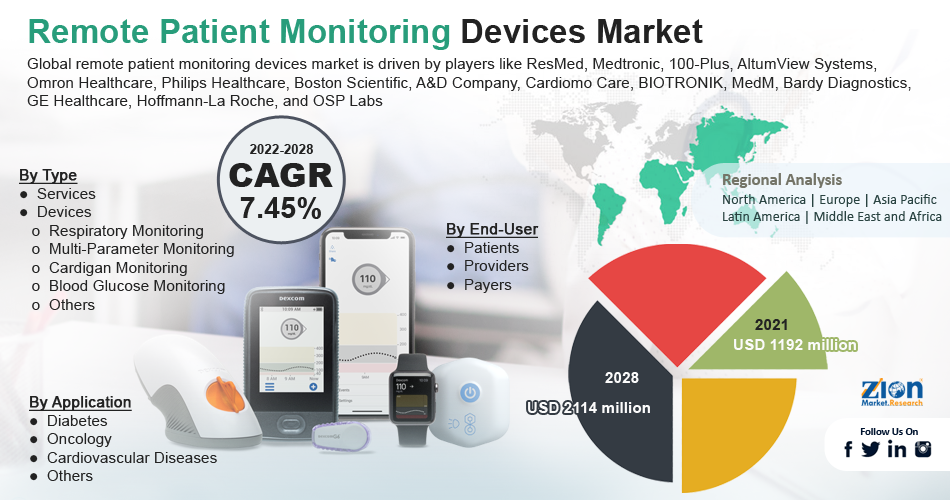 Request Free Sample
Key Insights
As per the analysis shared by our research analyst, the global remote patient monitoring devices market is estimated to grow annually at a CAGR of around 7.45% over the forecast period (2022-2028).
In terms of revenue, the global remote patient monitoring devices size was valued at around USD 1192 million in 2021 and is projected to reach USD 2114 million, by 2028. Due to a variety of driving factors, the market is predicted to rise at a significant rate.
Based on type segmentation, services were predicted to show maximum market share in the year 2021
Based on the end-users segmentation, providers were the leading revenue-generating payment modes in 2021.
On the basis of region, North America was the leading revenue generator in 2021
Covid-19 Impact
The global market cap was positively influenced by the onset of Covid-19, which was more concentrated on patients with a history of heart diseases and in the field of psychology. Since hospital visits were limited and only critical patients apart from Covid-19 infected patients were admitted to medical facilities, many patients and healthcare providers showed an inclination toward adopting remote patient monitoring devices to ensure access to medical care even while sitting in remote locations.
Remote Patient Monitoring Devices Market: Growth Drivers
Increasing the need for patient independence to propel market growth
The global remote patient monitoring devices market is projected to grow owing to the rising need and demand for patient independence when it comes to monitoring health signs. This could be driven by the rising number of patients requiring healthcare including the geriatric population, patients suffering from chronic diseases, and others which has subsequently resulted in healthcare being overwhelmed with the growth in patient hospital admission. As per Statista, more than 1.5 million people were admitted to National Health Service hospitals between July and September of 2019.
To improve patient care and make healthcare accessible to all patients, the medical sector is now pushing for more people to adopt remote patient monitoring systems by incorporating advanced technology into the healthcare sector. These devices are also beneficial to the patients as the cost of medical care reduces, and patients have higher control over the medical data aided by the promptness of the devices in relaying information related to undesired medical symptoms, which is why the patient-acceptance rate of RPM devices is also gaining momentum.
The global market may gain higher returns owing to the increased efforts undertaken by product manufacturers and service providers to adopt higher technology in the devices for RPM systems to track and monitor even the most complex medical conditions and convert them into easier formats to help patients and medical personnel to analyze the data better.
Remote Patient Monitoring Devices Market: Restraints
Higher cyber security threats restrict the market growth
Since remote patient monitoring systems are Hubspot of confidential data pertaining to patients and their medical history, they are also more prone to cyber-attacks. As per a report submitted by Healthcare Information & Management Systems, the medical industry reported an average of 107 cyberattacks per week in 2021 and the patients who are being monitored at home have become a new target for cybercriminals owing to fewer security systems at home. Even though service providers are constantly working towards upgrading security systems against cybercrime, they are not foolproof yet which may result in restricted global market growth.
Remote Patient Monitoring Devices Market: Opportunities
Rise in affordable remote patient monitoring devices to provide growth opportunities
As per a survey by ThroughCare, care coordination software may start from USD 0.99 per month going up to USD 8 per month. While there are other factors that decide the final cost a patient or a health provider spends on RPM devices and systems, the global remote patient monitoring devices market has witnessed a rise in more affordable systems constraining the same features as the high-end models. For instance, affordable smartphones that track oxygen, heartbeat, blood pressure, etc., and send signals in case of detection of abnormal changes in body systems. Since more people can access RPM devices, the global market is projected to witness higher growth opportunities
Remote Patient Monitoring Devices Market: Challenges
Limitations pertaining to the shift of liability and patient's motivation to manage health may challenge the market expansion
Remote patient monitoring devices primarily run on the motivation level of the patients to manage their health. Since no one else but the patients themselves are accountable for making sure that the devices are properly installed and used regularly, in case the patient loses the willingness to do so may result in RPM devices become void. There are also concerns related to liability issues owing to the lack of concrete guidelines on when should the healthcare professional intervene. For instance, a professional may deem fit to intervene when the alert shows extreme diversion from the normal rate or should they intervene for every small change. Such factors are projected to create challenges for global market growth.
Remote Patient Monitoring Devices Market: Segmentation
The global remote patient monitoring devices market is segmented based on application, type, end-user, and region.
Based on application, the global market segments are diabetes, oncology, cardiovascular diseases, and others. The global market was dominated by cardiovascular diseases (CVDs) in 2020 and 2021 owing to increased medical cases. As per the World Health Organization, more than 17.9 million people died because of CVDs in 2019. Diabetes may also grow at a high CAGR owing to the rising number of diabetic patients and the facilities offered by RPM devices to monitor blood glucose levels.
Based on type, the global market is divided into services and devices. Respiratory monitoring, multi-parameter monitoring, cardigan monitoring, and blood glucose monitoring are the sub-segments of the devices market. The services segment generated the highest return in the previous years resulting in higher demand for assistance during and post Covid-19. The demand was highest for blood glucose monitoring services. Roche, a leading provider of glucometers sold over 8 to 9 million of the device in the Indian market in 2020
Based on end-user, the global market is segmented into patients, providers, and payers. The global market witnessed the highest share in the provider segment owing to higher adoption of RPM devices by healthcare providers to provide excellent medical care along with reducing the extra pressure on healthcare facilities arising out of increased hospital admissions. It also helps in curing the amount spent on maintenance of medical facilities which is generally between USD 9 to USD 13 per gross square foot on average.
Recent Developments
In August 2021, Rx. Health announced that the company has entered a partnership with Livecare, intending to bring remote patient monitoring systems to payers, pharma, and the healthcare system. Rx. Health will not be able to include device-based RPM in its otherwise device-less patient care.
In April 2020, 100Plus, one of the leading and fastest growing RPM platforms designed for doctors and patients, announced the launch of its platform with three brand new remote patient monitoring devices called blood glucose monitor, 100Plus blood pressure cuff, and digital weight scale. The devices will cater to the medical needs of senior citizens in the comfort of their homes.
Remote Patient Monitoring Devices Market Report Scope:
Report Attributes
Report Details
Report Name
Remote Patient Monitoring Devices Market Research Report
Number of Pages
155
Key Companies Covered
ResMed, Medtronic, 100-Plus, AltumView Systems, Omron Healthcare, Philips Healthcare, Boston Scientific, A&D Company, Cardiomo Care, BIOTRONIK, MedM, Bardy Diagnostics, GE Healthcare, Hoffmann-La Roche, and OSP Labs
Segments Covered
By Product Type, By Application, and By End Use
Forecast Units
Value (USD Billion), and Volume (Units)
Regions Covered
North America, Europe, Asia Pacific (APAC), Latin America, Middle East and Africa (MEA)
Countries Covered
North America: U.S and Canada
Europe: Germany, Italy, Russia, U.K, Spain, France, Rest of Europe
APAC: China, Australia, Japan, India, South Korea, South East Asia, Rest of Asia Pacific
Latin America: Brazil, Argentina, Chile
The Middle East And Africa: South Africa, GCC, Rest of MEA
Base Year
2021
Historical Year
2016 to 2020
Forecast Year
2022 - 2028
Customization Scope
Avail customized purchase options to meet your exact research needs. Request For Customization
Remote Patient Monitoring Devices Market: Regional Analysis
North America to lead market growth during the projection period.
The global remote patient monitoring devices market is projected to grow owing to the high adoption rate of RPM devices amongst patients as well as more insistence of healthcare providers to deploy RPD devices in their medical units. The regional growth may also be driven by the rising investments in upgrading the technologies associated with RPM devices to cater to multiple medical conditions, along with faster information relays between devices.
There is a significant surge in service providers who are developing software and programs to help patients get comfortable with the technology and use it to its full potential. For instance, in 2021. George Roberts, Henry Kravis, and other investors have announced a series of investments of USD 25 million in 100Plus for upgrading remote patient monitoring systems.
Europe may also register high growth resulting from higher efforts undertaken by government and private companies to educate the masses about the benefits of RPM devices along with other favorable regulatory processes. Companies in the EU are entering strategic partnerships to help them strengthen their global footprint by increasing consumer databases along with enhanced services.
Remote Patient Monitoring Devices Market: Competitive Analysis
The global remote patient monitoring devices market is driven by players like ResMed, Medtronic, 100-Plus, AltumView Systems, Omron Healthcare, Philips Healthcare, Boston Scientific, A&D Company, Cardiomo Care, BIOTRONIK, MedM, Bardy Diagnostics, GE Healthcare, Hoffmann-La Roche, and OSP Labs
The global remote patient monitoring devices market is segmented as follows:
By Application
Diabetes
Oncology
Cardiovascular Diseases
Others
By Type
Services
Devices

Respiratory Monitoring
Multi-Parameter Monitoring
Cardigan Monitoring
Blood Glucose Monitoring
Others
By End-User
Patients
Providers
Payers
By Region
North America
Europe

France
The UK
Spain
Germany
Italy
Rest of Europe

Asia Pacific

China
Japan
India
South Korea
Southeast Asia
Rest of Asia Pacific

Latin America

Brazil
Mexico
Rest of Latin America

Middle East & Africa

GCC
South Africa
Rest of Middle East & Africa