Description
The global LTE and 5G Broadcast market, which was estimated at about 576 (USD Million) in 2019 and is predicted to accrue earnings worth 1,064 (USD Million) by 2026, is set to record a CAGR of nearly over 10.4% during 2020-2026. The report offers valuation and analysis of LTE and 5G Broadcast market on a global as well as regional level. The study offers a comprehensive assessment of the industry competition, limitations, sales estimates, avenues, current & emerging trends, and industry-validated market data. The report offers historical data from 2016 to 2019 along with a forecast from 2020 to 2026 based on value (USD Million).
Report Scope :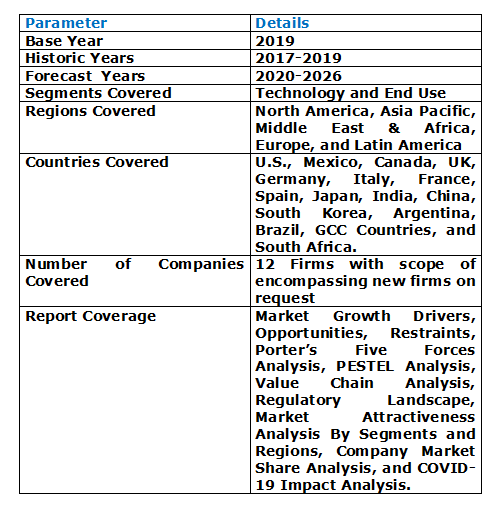 ???????
LTE and 5G Broadcast Market: Outlook
LTE is a key standard that is utilized for high-speed wireless communications through data terminals as well as smartphone equipment, telephone, tablet, and kindle devices. In addition to this, LTE provides web services based on principles of universal mobile telecom systems, global system for high speed packet access systems, mobile communications, and enhanced rates for CSM evolution. Apparently, LTE enhances speed as well as capacity of core network.
Moreover, 5G technology is in the nascent phase and is anticipated to open slew of opportunities for the players in telecom industry. Additionally, 5G network refers to new technology having the ability of providing seamless experience to smartphone & iPhone users. Onset of third generation partnership project has enhanced the services of 5G network.
LTE and 5G Broadcast Market: Growth Dynamics
Surge in the proportion of LTE & 5G subscribers owing to large-scale use of smartphones & iPhones will prompt LTE and 5G Broadcast market surge over the assessment timespan. Furthermore, escalating customer demand for high density content like live sports events will embellish the expansion of LTE and 5G broadcast market over the projected period. Necessity of connecting to large number of devices with onset of IoT technology will steer the growth of LTE and 5G broadcast industry during 2020-2026. Apparently, massive popularity of OTT services including mobile TV, digital radio, and video-on-demand along with broadcasting of plethora of live events will drive LTE and 5G Broadcast market trends.
Furthermore, humungous utility of Narrow-band Internet of Things technology is slated to provide new growth opportunities for LTE and 5G broadcast industry over forecast period. In addition to this, 5G broadcast enables seamless streaming of events on digital TV on smartphones and this will add to market profitability. A large number of persons are launching YouTube & Gaming Channels online and this has resulted in swift increase in YouTube subscribers, video traffic, and online gaming activities. This, in turn, will craft a profitable roadmap for LTE and 5G Broadcast Market in the foreseeable future. Moreover, surging requirement for reducing network traffic congestion will contribute majorly towards LTE and 5F Broadcast market size in the upcoming years.
Asia Pacific To Contribute Largest Market Share Over 2020-2026
The regional market growth over the forecast period is due to massive technological breakthroughs in telecom sector along with countries like India and China investing large amount of funds for developing 5G network. Prominently, firms like Reliance Telecom in India are likely to launch 5G services in second half of 2021. Additionally, Huawei Technologies in China rolled out world's largest 5G network in first quarter of 2021. All these aforementioned aspects will steer the growth of LTE and 5G Broadcast industry in Asia Pacific over estimated timeline. Growing preference among end-users towards adoption of advanced technologies will carve an elevated growth trajectory for LTE and 5G Broadcast industry in Asia Pacific over the anticipated timeframe.
Key participants profiled in the study include Qualcomm Corporation, Cisco Systems, Nokia, Huawei Technologies, Enensys Technologies, Telstra Corporation Limited, Ericsson, Reliance Jio, Samsung Electronics, ZTE Corporation, China Unicom Group Co., Ltd., and NTT Docomo Inc.
The global LTE and 5G Broadcast Market is segmented as follows:
By End Use:
Video on Demand
Emergency Alerts
Radio
Mobile TV
Connected Cars
Stadiums
Data Feeds & Notifications
By Technology:
By Region
North America
Europe

France
The UK
Spain
Germany
Italy
Rest of Europe

Asia Pacific

China
Japan
India
South Korea
Southeast Asia
Rest of Asia Pacific

Latin America

Brazil
Mexico
Rest of Latin America

Middle East & Africa

GCC
South Africa
Rest of Middle East & Africa