Analysis
Cells are building blocks of living organisms. The technique by which the performance of cells can be studied independently of the whole entity is known as cell culture. The culture cells from an animal or plant are taken and grown under favorable and artificially controlled conditions. Majorly, there are three types of cell culture procedures—primary cell culture, secondary cell culture, and cell line. Primary cells are extracted from tissues and treated under culture conditions for growth. Sub-culture of primary cells results into the secondary culture. The cell line is defined as a cell culture established from a single cell that has a constant genetic composition.
Cancer is one of the leading causes of death worldwide. In 2018, an estimated 9.6 million deaths occurred due to cancer. Globally, around 70% of deaths from cancer occur in lower- and middle-income countries. Additionally, advantages of primary human cells over cell lines, the demand for monoclonal antibodies, increased pharmaceutical outsourcing, partnerships, collaborations, and acquisitions, and rapid expansion witnessed across biotechnology and biopharmaceutical industries are anticipated to drive the primary cells market expansion globally in the upcoming years. However, the high cost of advanced primary cells and concerns pertaining to contamination related to primary cell culture might limit the primary cells market in the future. Nevertheless, the progressive biomedical research using primary cells in 3D culture is likely to open new growth avenues in this global market in the future.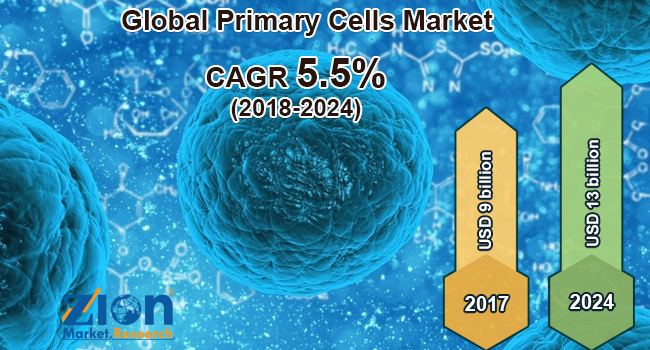 The primary cells market is classified market based on origin, type, and end-user. By origin, the primary cells market includes hematopoietic cells, skin cells, gastrointestinal cells, liver cells, lung cells, renal cells, heart, skeletal and muscle cells, and other primary cells. The demand for liver cells is likely to grow in the upcoming years, due to their use in a wide range of applications across various pharmacological and toxicological studies. By type, this market includes human primary cells and animal primary cells. Based on end-user, this global market includes life science research companies and research institutes.
By region, North America is projected to lead the primary cells market globally. The rising occurrences of cancer and the expansion of pharmaceutical and biotechnology industries in the region are the major factors driving the growth of the primary cells market in North America. The Asia Pacific primary cells market is expected to register the highest CAGR in the forecast timeframe, due to a large number of cancer patients and the introduction of awareness programs, conferences, and funding activities.
Few of the key players in primary cells market include Thermo Fisher Scientific, Merck KGaA, Lonza, Cell Biologics, PromoCell, ZenBio, STEMCELL Technologies, AllCells, American Type Culture Collection, and Axol Biosciences, among others.