Market Overview
The global Biotechnology Reagents market accounted for USD 77.4 Billion in 2020 and is expected to reach USD 159.2 Billion by 2028, growing at a CAGR of around 9.4% between 2021 and 2028.
Biotechnology reagents are compounds or substances used to synthesize, analyse, or detect the presence of another material to enable test reading in the fields of diagnosis, genetics, analysis, molecular biology, education, immunology, and bioscience. Fluorescence microscopy, DNA analysis, immuno phenotyping, and cell cycle analysis are some of the applications of biotechnology reagents. In the time of increasing research, exploration, and publishing in industry and academic research, biotechnological reagents play an important role. Several advanced research are being performed in healthcare-related labs, where a lot of study focuses around genes, proteins, peptides, antibodies, and cell lines, resulting in a high demand for biotechnological reagents.
Biotech industries' comprehensive R&D activities would fuel demand for biotechnology reagents even more. Biotechnology reagents industry growth is expected to be boosted in the coming years by consistent product advancement in the food & beverage, agro-biotech, and pharmaceuticals industries.
COVID-19 Impact Analysis
The global biotechnology reagents market has witnessed a slight decline in the growth for short term to the lockdown enforcement placed by governments in order to contain COVID spreading. But, to avoid contamination, the lockdown compliance procedures advised R&D staff as well as clinical trial researchers to stay home. This impacted on the use of biotechnology reagents and hence its production and supply.
The restrictions imposed by various nations to contain COVID had stopped the production resulting in a disruption across the whole supply chain. However, the global markets are slowly opening to their full potential and theirs a surge in demand of auto parts of the vehicles. The market would remain bullish in upcoming year. The significant decrease in the global biotechnology reagents market size in 2020 is estimated on the basis of the COVID-19 outbreak and its negative impact on the economies and industries across the globe. Various scenarios have been analyzed on the basis of inputs from various secondary sources and the current data available about the situation.
Request Free Sample
Growth Factors
Biotechnology reagents are being used in a wide range of areas, including basic science, biomedical research, and therapeutics. Furthermore, biotech companies' significant R&D budgets would fuel demand for biotechnology reagents. Various sectors, such as pharmaceutical/biopharmaceutical, agri-biotech, and food and beverages, are constantly developing new products, which is expected to help the market expand. However, that biopharmaceutical product costs, as well as significant R&D spending, are expected to obstruct the growth of the biotechnology reagents industry in the coming years.
Report Scope:
Report Attributes
Report Details
Report Name
Biotechnology Reagents Market
Market Size in 2020
USD 77.4 Billion
Market Forecast in 2028
USD 159.2 Billion
Growth Rate
CAGR of 9.4%
Number of Pages
120
Key Companies Covered
Abbott, Beckman Coulter, Agilent Technologies Inc., Water Corporation, Bio-Rad, Roche, Sigma-Aldrich, Life Technologies, Betcon Dickinson and Thermo Fisher Scientific and amongst Gene expression
Segments Covered
By Technology, By Application, By Region
Regions Covered
North America, Europe, Asia Pacific (APAC), Latin America, Middle East, and Africa (MEA)
Base Year
2020
Historical Year
2016 to 2020
Forecast Year
2020 – 2028
Customization Scope
Avail customized purchase options to meet your exact research needs. Request For Customization
Technology Segment Analysis Preview
Chromatography is a separation technique that is primarily used in drug development to verify drug precision, sensitivity, and purity. Chromatography is expected to witness a strong market share of around 30 % share of the total market share because for drugs and biologics, it's often used to validate analytical techniques and processes. Since chromatography methods are widely used around the world, demand for their reagents is still strong for a variety of pathological and academic applications. Additionally, expanded support for biotechnology research is helping to drive segment expansion.
Application Segment Analysis Preview
Protein synthesis is the development of new proteins by biological cells. The measures that involve an active gene product may be a target of regulatory bodies in most gene sequencing. For nucleic acid detection and biotech applications, DNA and RNA chromatography is widely used. Drug testing is one of the most popular uses for biotech reagents. The biotechnology reagents demand is expected to be driven by all of these applications, drug testing holding the largest market share.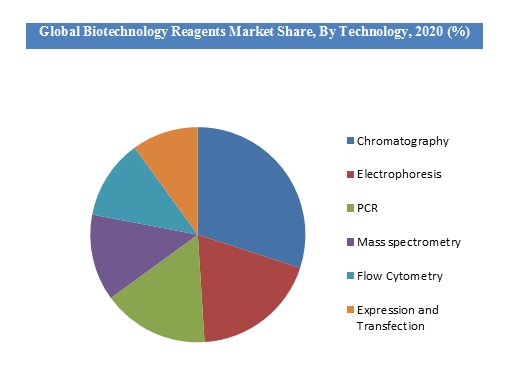 Request Free Sample
Key Market Players & Competitive Landscape
Some of the major players of global Biotechnology Reagents market includes Abbott, Beckman Coulter, Agilent Technologies Inc., Water Corporation, Bio-Rad, Roche, Sigma-Aldrich, Life Technologies, Betcon Dickinson and Thermo Fisher Scientific and amongst Gene expression.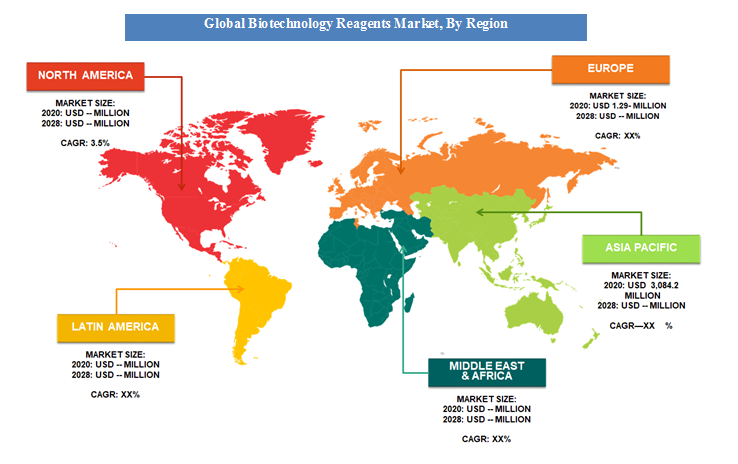 Request Free Sample
The global biotechnology reagents market is segmented as follows:
By Technology
Electrophoresis
PCR
Mass spectrometry
Flow cytometry
Expression and Transfection
By Application
DNA & RNA analysis
Drug testing
Gene expression
By Region
North America
Europe

France
The UK
Spain
Germany
Italy
Rest of Europe

Asia Pacific

China
Japan
India
South Korea
Southeast Asia
Rest of Asia Pacific

Latin America

Brazil
Mexico
Rest of Latin America

Middle East & Africa

GCC
South Africa
Rest of Middle East & Africa