Analysis
DNA sequencing is defined as a process that is used to determine the order or sequence of nucleotides within DNA particles. Prenatal DNA sequencing is a DNA sequencing method extracted from an expectant women's blood to disclose the full genetic code of a fetus. It is used to structure the whole genome of an unborn baby, which helps in effectively detecting the diseases cystic fibrosis, down syndrome, cancer, etc. The prenatal DNA sequencing technology has huge acceptance across the globe, due to its various applications. This technology has a huge impact on the public healthcare sector. Various companies and laboratories have introduced diagnostic tests based on sequencing technology. The demand for Prenatal DNA sequencing technology is increasing worldwide, due to its wide and effective use. Despite its wide application and usage, the DNA sequencing instruments are facing challenges in terms of high cost as many small laboratories can't afford the prenatal DNA sequencing instruments.
There are various factors driving the prenatal DNA sequencing market globally. The demand for prenatal DNA sequencing technology is increasing rapidly in the global market, due to the introduction of new technologies of DNA sequencing process and increasing incidences of chronic diseases like cancer and AIDS, among others. In addition, increasing R&D investments for preventing chronic diseases also contribute to the prenatal DNA sequencing market globally. However, the high cost of DNA sequencing may be a major restraining factor affecting the prenatal DNA sequencing market development in the years ahead. Nevertheless, the increasing number of laboratories and various diagnostic firms provide ample opportunity for the prenatal DNA sequencing market growth.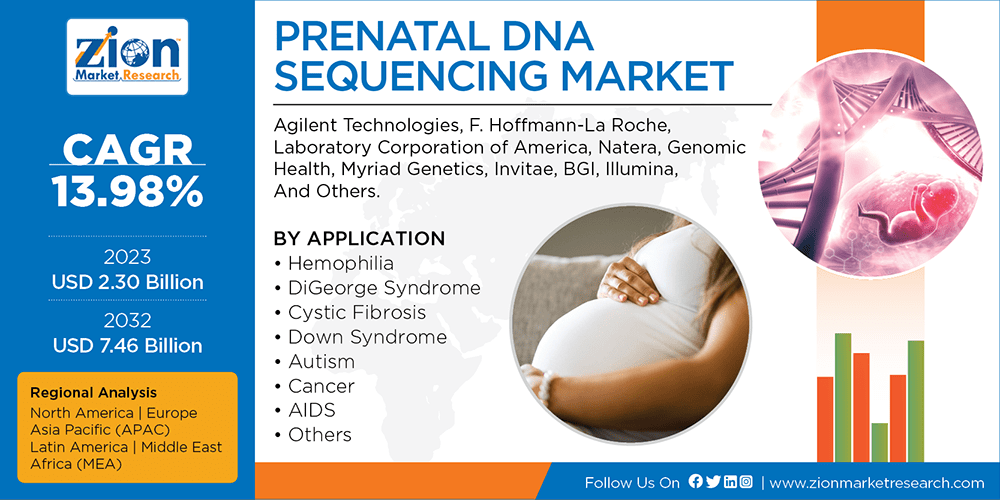 The prenatal DNA sequencing market is segmented on the basis of application and region. The application segment is divided into down syndrome, hemophilia, cystic fibrosis, AIDS, DiGeorge syndrome, autism, cancer, and others. Genetic diseases, such as AIDS, hemophilia, and down syndrome, holds the largest market share and are expected to dominate the prenatal DNA sequencing market in terms of revenue in the years ahead, owing to the increasing cases of AIDS, cancer, and other chronic diseases.
North America dominates the market due to the rising number of genetic diseases that require an increased number of hospitals for treatment. The U.S is the main market players, due to the availability of advanced healthcare infrastructure, technological improvements in DNA sequencing, and growing R&D investment in prenatal DNA sequencing technology. Europe held the second spot of the prenatal DNA sequencing market share in 2018. The Asia Pacific prenatal DNA sequencing market is the fastest-growing region that shall register the highest CAGR over the forecast time period. The key factors driving this regional market are growing population base, rising number of patients suffering from cancer, AIDS, etc., and increasing healthcare expenditure. The Middle East and Africa prenatal DNA sequencing market will show sluggish growth in the future, owing to the lack of funding required for the implementation of prenatal DNA sequencing technique due to the high installation costs.
Some major players in the prenatal DNA sequencing market are Agilent Technologies, F. Hoffmann-La Roche, Laboratory Corporation of America, Natera, Genomic Health, Myriad Genetics, Invitae, BGI, and Illumina