Analysis
The most common furniture found in hospitals, patient's test area, therapy centers, and physician offices is recliners. Patient recliners play a vital role in various treatments procedures that the doctors perform for their patients. These recliners provide comfort and consume less space due to their compact design. Nowadays, patients seek comfort. Thus, keeping this in mind, there are different types of recliners available in the market with different features and functionalities, such as Steelcase's Empath recliner that is particularly designed to reduce stress and potential injuries both for patients and clinicians. Earlier patient recliners were used to be bulky and bad looking, but now their designs have improved, which is increasing the demand for these products globally. There are many advantages of patient recliners, such as improved blood circulation, user-friendly, etc. Additionally, the latest developments in patient recliners designs enable patients to use them as wheelchairs, beds, and even patient carrying devices as well. These are some factors fuelling the patient recliner market globally. The growing competition among the key players operating in the global patient recliner market for the development of innovative products is also anticipated to propel this market in the future.
The global patient recliner market is categorized based on type, weighing capacity, and end-user. On the basis of type, the global patient recliner market is fragmented into patient room recliners, long-term care recliners, trendelenburg recliners, treatment recliners, pediatric recliners, bariatric recliners, and cardiac care recliners. Based on weighing capacity, the global market includes less than 250 Lbs, 250–500 Lbs, and more than 500 Lbs. By end-user, the patient recliner market is classified into hospitals, clinics, patient examination areas, nursing homes, dialysis centers, physician's office, home care settings, and therapy centers.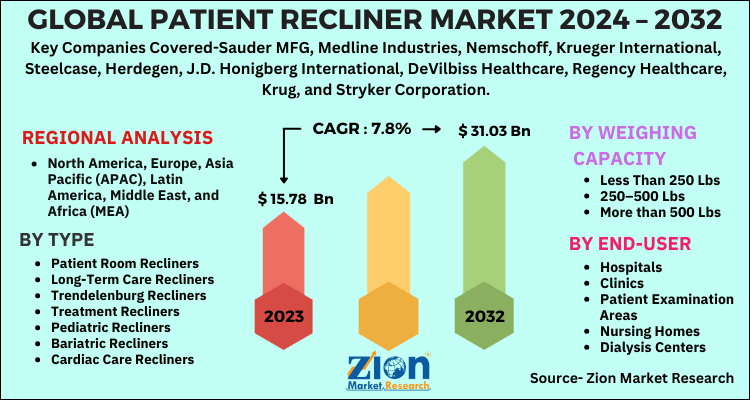 By region, the North American region dominated the global patient recliner market in 2018 and is expected to remain dominant over the forecast time period as well. This can be attributed to the advanced healthcare infrastructure in the U.S. and a large base of geriatric population. Followed by North America, Europe accounted held the second spot in the global patient recliner market in 2018. The Asia Pacific region is expected to register the highest growth in the global patient recliner market over the forecast timeframe.
Some major players of the global patient recliner market include are Sauder MFG, Medline Industries, Nemschoff, Krueger International, Steelcase, Herdegen, J.D. Honigberg International, DeVilbiss Healthcare, Regency Healthcare, Krug, and Stryker Corporation.