Analysis
Microcellular plastics are thermoplastic polymers which contain large number of tiny bubbles. These bubbles are approximately less than 50µm in diameter. Based on a number of bubbles, microcellular plastics densities can vary from 3% to 95%. Microcellular plastic was innovated in the early 1980s by Massachusetts Institute of Technology (MIT). MIT innovated microcellular plastics in response to a challenge by food and film packaging companies to reduce the amount of polymer used in their industries. Microcellular plastics exhibit superior impact strength, toughness, fatigue life, thermal stability, dielectric strength, thermal and acoustical insulation performance, and optical properties, which makes it different from normal plastics. Another advantage of microcellular plastic is higher productivity due to its faster processing time. The cost for production of microcellular plastics is low as compared to that required for the production of conventional plastics. This is the reason why the microcellular plastic is preferred over the conventional plastics.
The growing demand of plastic in the field of healthcare and food packaging, acts as driver for increase in demand of microcellular plastics. Some of the other prominent factors that positively influence the growth of microcellular plastics market are improved standard of living and rising urbanization. Use of microcellular plastics in mobile industry, construction industry and in production of sports and other equipments has also lead to the increase in this market. As the potential of microcellular plastic is not yet properly known it can affect the growth of the market. The industries producing microcellular plastics are facing problems to scale up the production, hence the production of microcellular plastic is limited. This affects the market of microcellular plastic as it can't be used in large scale industry.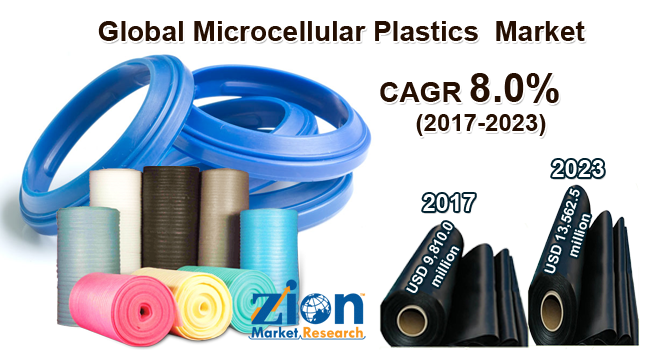 Based on applications the market is segmented into construction, healthcare, food packaging, transportation, electronics and others. Healthcare and food packaging segments are expected to grow at a higher rate as compared to other segments.
North America is expected to lead the market of microcellular plastic in the forecast period. Growing research and development in microcellular plastics has lead to the increase in its market strength in North America. Europe is expected to be the second largest market, after North America. Applications of microcellular plastics in food packaging, construction and automotive industry are expected to drive the growth of market in Europe. Asia Pacific is expected to show a significant growth in demand for microcellular plastics. Latin America as well as Middle East and Africa are expected to show growth in microcellular market in the forecast period.
Some of the key players in the microcellular plastics market are MicroGREEN Polymers, Inc., Horizon Plastics International Inc., Sealed Air, Lavergne Performance Compounds, Ingenia Polymers Corp., BASF SE, Mearthane Products Corporation, and Inoac Corporation. There are many other regional players involved in the production of microcellular plastics.