Abstract
The report analyzes and forecast PVC market on a global and regional level. The study provides historic data of 2015 along with a forecast from 2016 to 2021 based on revenue (USD Billion). Assessment of market dynamics gives a brief thought about the drivers and restraints for the PVC market along with their impact they have on the demand over the forecast period. Additionally, the report includes the study of opportunities available in the PVC market on a global level.
The report gives a transparent view on the PVC market, we have included a detailed competitive scenario and portfolio of leading vendors operative in PVC market. To understand the competitive landscape in the market, an analysis of Porter's Five Forces model for the PVC market has also been included. The study encompasses a market attractiveness analysis, wherein type, application and end users segments are benchmarked based on their market size, growth rate, and general attractiveness.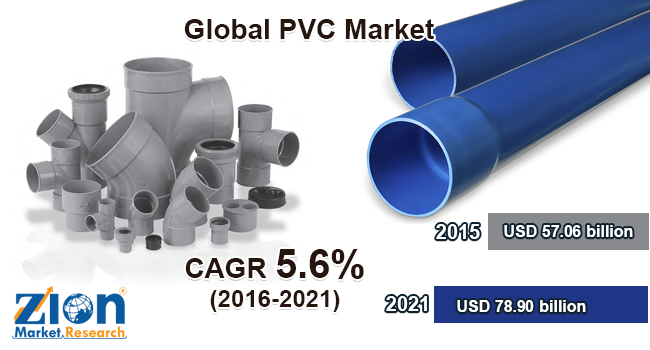 The study provides a crucial view on the PVC by segmenting the market based on type, application and end users. All the type, application, end users segments of PVC market have been analyzed based on present and future trends and the market is estimated from 2015 to 2021. Key application segments covered under this study includes pipes & fittings, wires & cables, films & sheets, bottles and others product. Rigid PVC & flexible PVC are the Key type segments of PVC market. End users segments categorized into automotive, electrical & electronics, construction, packaging and others end users. The regional segmentation comprises the current and forecast demand for North America, Europe, Asia-Pacific, Latin America and the Middle East & Africa for PVC.
The competitive profiling of key players of this market includes company and financial overview, business strategies adopted by them, their recent developments and product offered by them which can help in assessing competition in the market. Key players included in the report are Occidental Petroleum Corporation , Shin-Etsu Chemical Co. Ltd , Xinjiang Zhongtai Chemical Co. Ltd., Formosa Plastics Group, INEOS , Solvay S.A., Mexichem S.A.B., Kem One , Vinnolit GmbH & Co. KG and AXIALL Corporation amongst others.
This report segments of the global of PVC market as follows:
Global Polyvinyl Chloride (PVC) Market: Application Segment Analysis
Pipes & fittings
Wires and cables
Film & sheets
Bottles
Others
Global Polyvinyl Chloride (PVC) Market: Type Segment Analysis
Rigid PVC (polyvinyl chloride)
Flexible PVC (polyvinyl chloride)
Global Polyvinyl Chloride (PVC) Market: End User Segment Analysis
Automotive
Electrical & electronics
Construction
Packaging
Others
Global Polyvinyl Chloride (PVC) Market: Regional Segment Analysis
North America
Europe
Asia Pacific
Latin America
The Middle East and Africa