Analysis
Gene therapy is the process where a DNA is inserted into a patient to treat a specific disease. The DNA is carefully selected to correct the effect of a mutated gene. Gene therapy is suitable for treating cancer by destroying a certain group of cells. Gene therapy has the potential to eventually eliminate genetic defects, kill cancerous cells, and prevent cardiovascular diseases. A fundamental requirement for gene therapy is the correct identification of genes coding for diseases.
As per the World Health Organization, there were 14 million new cancer cases in 2012 and 8.8 million cancer-related deaths in 2015 globally. The increasing prevalence of genetic disorders in newborns and life-threatening diseases, such as cardiovascular diseases and cancer, across the globe is expected to be the major driver of the global gene therapy market in the upcoming years. In addition, the growing need for targeted treatment and increasing awareness and acceptance of personalized medicines among patients are likely to further trigger the global gene therapy industry in the future. However, the requirement of an individual case-by-case approach and high treatment cost might hamper the gene therapy market on a global scale in the estimated timeframe.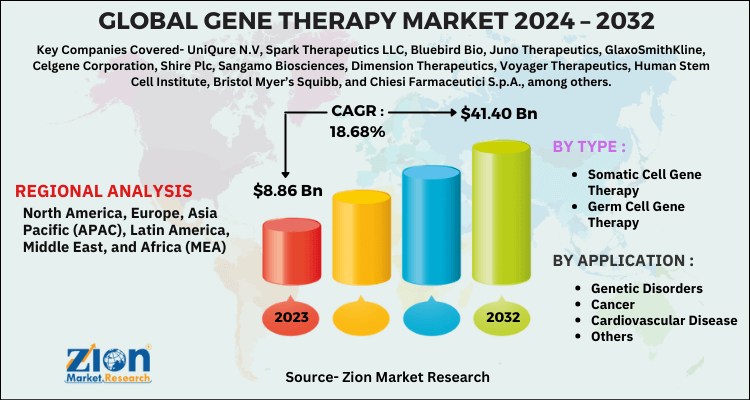 Based on the type, the gene therapy market is bifurcated into somatic cell gene therapy and germ cell gene therapy. The somatic cell segment holds the maximum share of the global gene therapy market. Based on application, the gene therapy market is classified into genetic disorders, cancer, cardiovascular diseases, and others. Genetic disorders are likely to hold a significant market share over the forecast time period.
By region, North America dominated the global gene therapy in 2017 market and is expected to remain the dominant region over the forecast time period as well. This can be attributed to the developed healthcare infrastructure, favorable government policies, and research activities across the region. The Asia Pacific is likely to register the fastest rate of growth in the gene therapy market in the upcoming years, owing to the low cost of clinical trials and large regional population, especially in India, China, and Japan. The Latin American gene therapy market is projected to grow moderately over the estimated time period. The Middle Eastern and African market is projected to experience noticeable growth in the years ahead.
Some key players of the gene therapy market include UniQure N.V, Spark Therapeutics LLC, Bluebird Bio, Juno Therapeutics, GlaxoSmithKline, Celgene Corporation, Shire Plc, Sangamo Biosciences, Dimension Therapeutics, Voyager Therapeutics, Human Stem Cell Institute, Bristol Myer's Squibb, and Chiesi Farmaceutici S.p.A., among others.