Analysis
Hydrocolloids are a heterogeneous group of long-chain polymers, i.e., proteins and polysaccharide. It has commercial significance in food and beverages industry due to its organoleptic and rheological properties. It acts as a binding agent, emulsifier, stabilizer, thickener, and gelling agent. Hydrocolloids easily get diffused in water. Depending on the water quantity; these hydrocolloids stay in the form of gels or as sols. Food hydrocolloids have a wide range of applications and functionality. The demand for processed food products is increasing among the consumers. This results in the tremendous growth of the global food hydrocolloids market in the coming years.
The global food hydrocolloids market is expected to witness vigorous growth in the near future. Food hydrocolloids market is categorized on the basis of type and application. Based on the type, food hydrocolloids market is classified into gelatin, xanthan, carrageenan, alginate, agar, pectin, guar, locust bean, gum arabic, and carboxymethyl cellulose. However, volatile raw material prices on the account of seasonal production may hamper the market growth.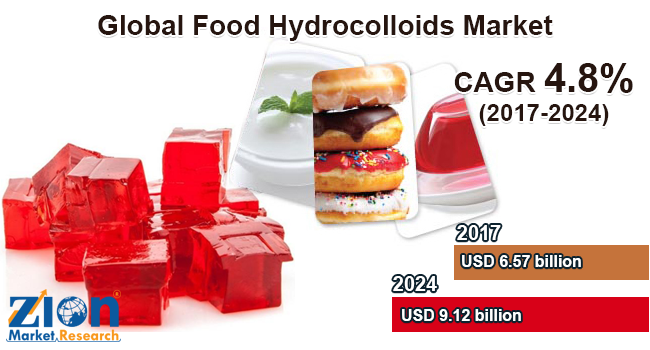 By application, food hydrocolloids market is categorized into bakery & confectionery, sauces & dressings, meat & poultry, beverages, and dairy products. The increasing interest in ready-to-eat food is a key factor driving the market growth.
By geography, food hydrocolloids find its market scope in North America, Europe, Asia Pacific, Latin America, and the Middle East & Africa. In the years to come, North America and Europe are expected to dominate the market. The Asia Pacific is expected to be the most promising region in the terms of incremental opportunities to generate high revenue. Rising disposable income, increase in population, and growth in demand for ready-to-eat food drives the food hydrocolloids market. The market is projected to grow at a higher rate in countries such as India, China, and ASEAN countries during the forecast period
The report also includes detailed profiles of key players such as E. I. du Pont de Nemours and Company, Cargill, Inc., Lubrizol Corporation, CP Kelco, Rousselot S.A.S., Ashland Inc., and others.