Analysis
Folding boxboard, also called FBB by the DIN Standard 19303 codes of UCor GC, is a paperboard grade prepared by numerous layers of mechanical and chemical pulps. The folding boxboard has major applications in the packaging industry, owing to its low density and high firmness. These boxboards are used in various applications, such as luxury goods, food packaging, cosmetics packaging, and pharmaceutical packaging, among others. Folding boxboards have gained popularity over the past decades due to their cost-effectiveness, solid form, reliability, lightweightness, etc. Folding boxboard products provide supreme consistency in quality, product performance, and efficacy in packaging production and packing process.
The European standards have permitted the use of optical brightening agents that include fluorescent dyes used in the paperboard coatings for food grade paperboard packaging. These are extensively used in most of the retail products and are available in various range of thickness, depending on product size. The folding boxboards are used in cosmetics, food and beverages, medical, photographic, pharmaceutical, and frozen food industries. Moreover, the print quality of folding boxboards is better than corrugated printed boxes and their lightweight make them appropriate for packing small products. Folding boxboards can be treated as per a product's specific requirement, such as foiling, laminating, and polishing to matt or gloss. The rising demand from various industries, such as food and beverages, pharmaceutical, cosmetics, etc., are expected to propel the growth of the global folding boxboard market in the future.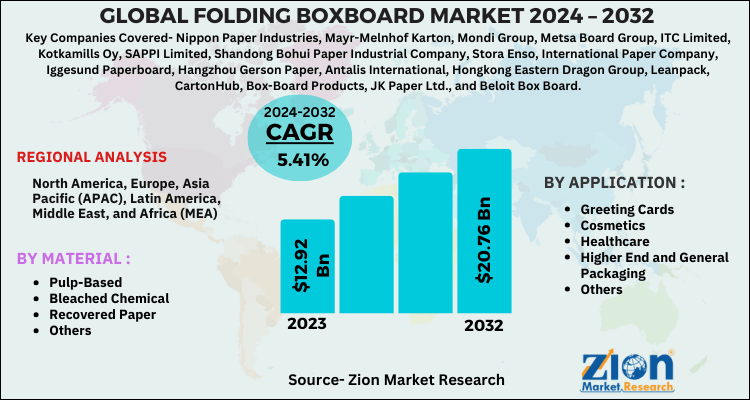 Based on material, the folding boxboard market is segmented into pulp-based, bleached chemical, recovered paper, and others. Based on application, the market is segmented into greeting cards, cosmetics, healthcare, higher end and general packaging, and others.
By region, the North American folding boxboard market is expected to grow at a significant CAGR over the forecast time period, owing to the increasing consumer preference for eco-friendly packaging solutions to protect the environment. The Asia Pacific folding boxboard market is predicted to show substantial growth in the future, owing to emerging countries, such as India and China, rapidly growing population, and increasing disposable income of people.
Some key industry participants of the global folding boxboard market are Nippon Paper Industries, Mayr-Melnhof Karton, Mondi Group, Metsa Board Group, ITC Limited, Kotkamills Oy, SAPPI Limited, Shandong Bohui Paper Industrial Company, Stora Enso, International Paper Company, Iggesund Paperboard, Hangzhou Gerson Paper, Antalis International, Hongkong Eastern Dragon Group, Leanpack, CartonHub, Box-Board Products, JK Paper Ltd., and Beloit Box Board.