Cosmetic Packaging Market Size Overview
The global cosmetic packaging market size was USD 28,345 Million in 2020 and its expected to reach USD 38,743 Million by 2028, growing at a CAGR of 3.9% from 2021 to 2028.
Cosmetic packaging is referred to containers used for primary as well as secondary packaging of various types of cosmetic products such as skin care, hair care, grooming, and make up. Cosmetic packaging plays a key role in protecting cosmetic products while products are being processed, stored, and transported. These also help in preserving the product quality and extending product shelf life. Cosmetic packaging also help in displaying basic product information such as product ingredients, packaged and manufacturing dates, and shelf life of the product.
Request Free Sample
Cosmetic packaging also has an important role in building brand awareness among consumers as lucrative packaging of the product can help in shaping consumer perceptions about cosmetics. Further, innovative packaging designs used by cosmetic companies can also be helpful in stimulating consumer emotions to attract new customers. Packaging also helps companies in providing accurate product information, in turn, avoiding misleading information about consumer products.
COVID-19 Impact Analysis
The global cosmetic packaging market has witnessed a decrease in the sales of cosmetic products for short term owing to the lockdown enforcement placed by governments in order to contain COVID spreading. Majority of beauty and cosmetic products are marketed in retail stores, supermarkets, and hypermarkets. Owing to COVID-19 crisis around the world, there has been significant decrease in the number of in-store sales of beauty and cosmetic products. However, ease of restrictions on travel and trade has boosted the sales of cosmetic products in many parts of the world. Also, owing to closure of in-store sales of products there has been significant increase in the cosmetic product sales through online sales channels, which is likely to trigger the cosmetic industry, This trend is likely to stimulate the cosmetic packaging market.
Growth Factors
Changing demographics and evolving consumer taste and buying preferences have accelerated the demand for cosmetic products worldwide. This trend is anticipated to trigger the cosmetic packaging market growth. Also, rising consumer spending on overall wellbeing and appearance should bolster the demand for cosmetic products which enhance consumer experience. These trends may drive the use of customized as well as specialized packaging, which may augment market growth.
Rising demand for premium quality products among millennials and urban population owing to improving economic condition and improving lifestyle has increased utilization of high-quality packaging in cosmetic industry for preserving products quality and shelf life. Such trend in the cosmetic industry is likely to create new opportunities. Also, increasing government regulations and ban on use of single use packaging materials has influenced companies to adopt new environmentally friendly packaging materials for preventing harm of environment. Cosmetic companies are also emphasizing on sustainability and reducing product carbon footprint should also boost the demand for biodegradable cosmetic packaging, which may proliferate the market growth.
Report Scope:
Material Type Segment Analysis
Plastic material segment accounted for the largest market share in the global cosmetic packaging market owing to easy availability and low cost of variety of plastics. Low cost plastic has increased the adoption of plastic as packaging material among cosmetic companies as plastic aids in easy manufacturing of containers and producing low weight containers. This major benefit of plastic over other packaging materials has triggered the plastic cosmetic packaging market.
Paper material segment is expected to gain significant market growth owing to increasing demand for biodegradable and organic packaging materials. Decreasing popularity of plastics among manufacturing companies pertaining to increasing restraints on use of single use plastic is likely to increase use of paper based cosmetic packaging worldwide.
Container Type Segment Analysis
Bottle container segment dominated the global cosmetic packaging market in 2020 owing to soaring use of plastic bottle packaging perfumes, liquid soaps, shampoos, lotions, and moisturizer. Growing demand for liquid soap, shampoos, and lotions due to rising consumer spending on skin care and hair care products should accelerate the use of bottles for packaging various cosmetics, boosting market growth.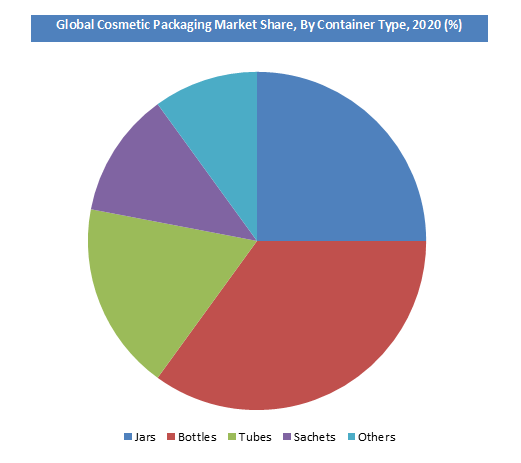 Request Free Sample
Application Segment Analysis
Skin care segment held a major share in the global cosmetic packaging market in 2020. Skin care has become a key part of consumers daily routine as consumer are increasing focusing on maintain healthy skin and overall appearance. Increasing sales of beauty and skin care products has augmented use of cosmetic packaging for skin care products, which should propel skin care cosmetic packaging market growth.
Regional Analysis
The Asia Pacific region accounted for a market share of about 40% in 2020 and is expected to grow at the fastest rate over the projected time period. Increasing population and improving disposable income has accelerated the demand for cosmetics in developing nations of Asia Pacific. This growth in the cosmetic industry in Asia Pacific is attributable to growth in the Asia Pacific cosmetic packaging market.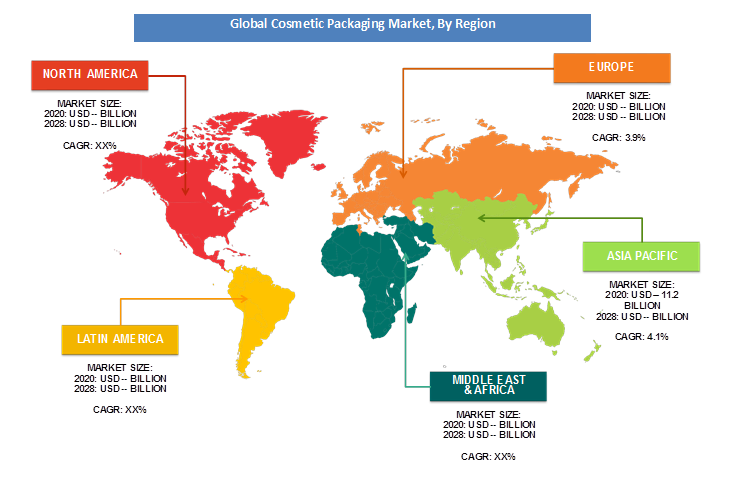 Request Free Sample
The North American region is estimated to grow at a CAGR of 3.8% over the projected period. The growth in the North American cosmetic packaging market is likely to be attributable to rising demand for premium quality packaging for preserving product quality and shelf life. Further, growing demand for recyclable packaging in United States and Canada is likely to contribute to the growth of the cosmetic packaging market growth.
Key Market Players & Competitive Landscape
Some of key players in cosmetic packaging market are Jiangyin Bonus Cosmetics Packaging Co., Ltd., IMS NINGBO LIMITED, QUEENSPACK Co. Ltd, Guangzhou Taimei Cosmetic Packaging Co., Ltd., Alovey Cosmetic Packaging, Rise Cosmetic Packaging, JUMBO, BI-packaging, Auber Packaging, Fine Cosmetic Packaging Co. Ltd., Rayuen Packaging Co., Ltd., and HCP Packaging.
The global Cosmetic Packaging market is segmented as follows:
By Material Type
Plastic
Glass
Paper
Others
By Container Type
Jars
Bottles
Tubes
Sachets
Others
By Application Type
Hair Care
Nail Care
Skin Care
Makeup
Others
By Region
North America
Europe

France
The UK
Spain
Germany
Italy
Rest of Europe

Asia Pacific

China
Japan
India
South Korea
Southeast Asia
Rest of Asia Pacific

Latin America

Brazil
Mexico
Rest of Latin America

Middle East & Africa

GCC
South Africa
Rest of Middle East & Africa