Industry Prospective:
The global paper bags packaging market size was worth around USD 3.47 Billion in 2022 and is predicted to grow to around USD 5 Billion by 2030 with a compound annual growth rate (CAGR) of roughly 4.61% between 2023 and 2030. The report analyzes the global paper bags packaging market drivers, restraints/challenges, and the effect they have on the demands during the projection period. In addition, the report explores emerging opportunities in the paper bags packaging industry.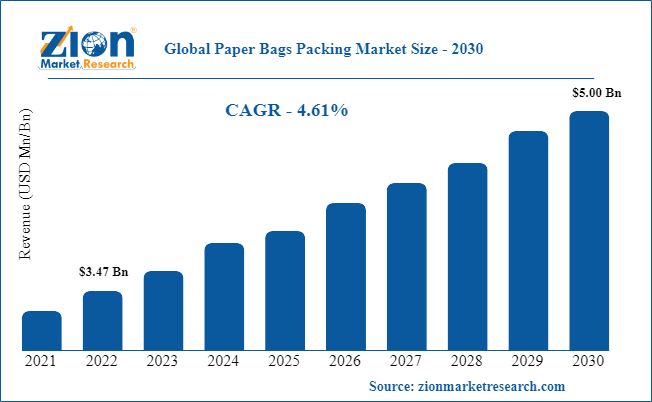 Request Free Sample
Paper Bags Packing Market: Overview
A paper bag is a carrier made of paper which is generally in the form of kraft paper. It is also known as paperboard and is produced from chemical pulp that is manufactured in a krafting process. The main source of paper bags can either be recycled fibers or virgin fibers depending on the requirement of the customer. They are most commonly used as shopping bags and in certain cases, have found applications for the packaging of consumer items. The paper bag packaging is produced in a way that allows them to carry all kinds of consumer goods including electronics, glass bottles, groceries, and clothing items.
Paper bag packaging has several benefits that are applicable not only to the consumer and the seller but to the environment as well thus encouraging sustainable and eco-friendly growth which is a major reason why these products continue to stay in demand and as per market trends, paper bag packaging may gain higher momentum during the growth period. Several end-user verticals including cosmetics, stationery products, food & beverages along with other sectors are focusing on utilizing the benefits provided by paper packaging.
Key Insights
As per the analysis shared by our research analyst, the global paper bags packaging market is estimated to grow annually at a CAGR of around 4.61% over the forecast period (2023-2030)
In terms of revenue, the global paper bags packaging testing market size was valued at around USD 3.47 billion in 2022 and is projected to reach USD 5 billion, by 2030.
The paper bags packaging industry is projected to grow at a significant rate due to the growing awareness of sustainable growth
Based on material type segmentation, white kraft was predicted to show maximum market share in the year 2022
Based on product type segmentation, multiwall bags was the leading type in 2022
On the basis of region, North America was the leading revenue generator in 2022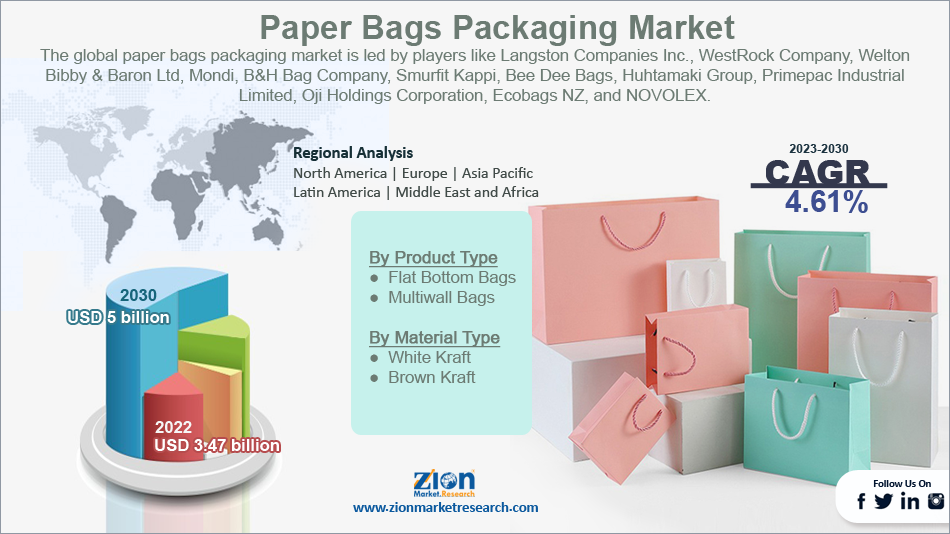 Request Free Sample
Paper Bags Packing Market: Growth Drivers
Increasing awareness about sustainable growth to propel market demand
The global paper bags packaging market is projected to grow owing to the increased awareness amongst the population and world leaders about the importance of environmental sustainability and growth. This has led to more consumers becoming smart in their choices and preferring ways to reduce or eliminate the use of materials that can be harmful to the environment.
The packaging industry has long been one of the largest environmental polluters and has recently come onto the radar of environment regulatory bodies which have started holding them responsible for the irreparable damage that occurs in the environment due to irresponsible packaging measures. Almost 85.1% of plastic packaging is unregulated and ends up in landfills, polluting the environment. Paper bags are excellent substitutes for plastic packaging which is currently witnessing a decline in its popularity.
On the contrary, paper bags can help the packaging industry change its image since these bags are made from renewable sources of energy along with being recyclable and biodegradable.
Paper Bags Packing Market: Restraints
Presence of substitute material to restrict market expansion
While the paper bags packaging industry continues to grow and has true potential for expansion, it could register certain hindrances in terms of the large-scale presence and adoption of the substitute materials available for consumption.
The greatest competitor for paper bag packaging is plastic packaging, which is the most common type of packaging. For instance, as per data from the US Environmental Protection Agency (EPA), more than 14.5 million tons of plastic packaging and containers were used in the commercial market in 2018. Since they offer higher performance, product acceptance, versatility, and better flexibility, plastic packaging continues to dominate a large part of the packaging industry.
Paper Bags Packing Market: Opportunities
Increasing innovation to open higher growth opportunities
The global sales volume is expected to reach new heights owing to the increasing investments in the innovation of new and better-performing paper bag packaging. Businesses and consumers understand the potential that paper packaging holds but at the same time, are aware of the drawbacks held by the packaging material. There are consistent activities and programs undertaken by various product providers to ensure that the disadvantages or areas of improvement around paper bags are well taken care of. For instance, paper bags come in different ranges of strength, sizes, and shapes that provide them with better durability.
Paper Bags Packing Market: Challenges
Raw material supply to pose a major challenge
The paper bags packaging industry players face challenges in terms of a consistent and balanced supply of raw materials. The price of the basic resources is extremely sensitive to various issues including the political and economical state of the exporting or importing countries. This leads to changing prices and availability of the products making it difficult for businesses to carry out their operations smoothly. This causes consumers to question the cost-effectiveness of the product in comparison to other easily available substitutes.
Paper Bags Packing Market: Segmentation
The global paper bags packaging market is segmented based on product type, material type, and region
Based on product type, the global market is divided into flat bottom bags and multiwall bags.
In 2022, the largest revenue was generated from the multiwall bags section owing to wider end-user applications
These bags have several layers of paper helping in constructing the final structure of the bag and improving the stability, firmness, and durability of the product
Some bags have a layer of polyethylene-coated paper or polyethylene foil in between barriers that act as grease repellant
In 2019, Amazon used more than 115 million pounds of plastic for packaging purposes
Based on material type, the global paper bags packaging market is divided into white kraft and brown kraft
The year 2022 registered the highest growth in the white kraft segment since they offer a clearer surface for printing purposes which is an important marketing tool
Furthermore, these kraft papers are more versatile as compared to brown kraft which is more significantly used as paper carrier bags
The global kraft paper market may grow at a CAGR of 2.21% during the forecast period
Recent Developments:
In October 2022, Reckitt and Mondi announced the launch of a new packaging made of paper which is made of 75% less plastic and will be used for packaging Finish dishwater tablets. The move is expected to eliminate the use of almost 2,000 tonnes of plastic annually once it is completely in action
In September 2022, Seal Packaging, a Luton-based packaging solutions provider, announced the acquisition and launch of a new range of paper bags called Itsnotpaper. The company aims to help consumers in achieving net zero by ascertaining that the product's usage, raw material, and end-life are sustainable
In January 2023, Adeera Packaging, an India-based producer of recycled paper bags for the food industry, stated that they are working on generating innovative solutions that will allow paper bags to manage the spillage caused due to liquid food items
Paper Bags Packing Market: Report Scope
Report Attributes
Report Details
Report Name
Paper Bags Packing Market Research Report
Market Size in 2022
USD 3.47 Billion
Market Forecast in 2030
USD 5 Billion
Growth Rate
CAGR of 4.61%
Number of Pages
210
Key Companies Covered
Langston Companies Inc., WestRock Company, Welton Bibby & Baron Ltd, Mondi, B&H Bag Company, Smurfit Kappi, Bee Dee Bags, Huhtamaki Group, Primepac Industrial Limited, Oji Holdings Corporation, Ecobags NZ, and NOVOLEX.
Segments Covered
By Product Type, By Material Type, And By Region
Regions Covered
North America, Europe, Asia Pacific (APAC), Latin America, Middle East, and Africa (MEA)
Base Year
2022
Historical Year
2017 to 2021
Forecast Year
2023 - 2030
Customization Scope
Avail customized purchase options to meet your exact research needs. Request For Customization
Paper Bags Packing Market: Regional Analysis
Europe to lead with the highest growth
The global paper bags packaging market is projected to register the highest growth in Europe due to the higher rate of product adoption, Countries like France, Germany, and Italy are the largest contributors to the regional growth. The high revenue is a result of greater consumer awareness about environmental sustainability and the willingness to undertake proactive measures to reduce pollution-related stress on ecological systems. Furthermore, the greater availability of a wide range of paper bags for packaging is another reason why multiple end-user verticals feel at ease while opting for paper bags as compared to plastic bags. The growing rate at which the regional governments have undertaken initiatives to encourage paper bag adoption by running awareness programs is equally important for Europe's CAGR during the projection period.
Paper Bags Packing Market: Competitive Analysis
The global paper bags packaging market is led by players like:
Langston Companies Inc.
WestRock Company
Welton Bibby & Baron Ltd
Mondi
B&H Bag Company
Smurfit Kappi
Bee Dee Bags
Huhtamaki Group
Primepac Industrial Limited
Oji Holdings Corporation
Ecobags NZ
NOVOLEX.
The global paper bags packaging market is segmented as follows:
By Product Type
Flat Bottom Bags
Multiwall Bags
By Material Type
By Region
North America
Europe

France
The UK
Spain
Germany
Italy
Rest of Europe

Asia Pacific

China
Japan
India
South Korea
Southeast Asia
Rest of Asia Pacific

Latin America

Brazil
Mexico
Rest of Latin America

Middle East & Africa

GCC
South Africa
Rest of Middle East & Africa