Analysis
FMCG or fast moving consumer goods are produced in high volumes and are low priced; they are quickest to leave the general store racks. They include durable and nondurable product items, for example, beauty care products, toiletries, cleansers, batteries, plastic merchandise, paper items, and others. Packaging is basic to the FMCG items since it is a principal segment for positioning an FMCG item. Packaging permits efficient and effective communication among customers and manufacturers or brand owners through designs, hues, pictures, item data, and logos. This goes about as a critical medium for correspondence, a device for organizations as they use to recognize item appearance from that of their rivals. In the FMCG merchandise and items, bundling assumes a significant part in affecting purchaser choice. Lately, limited time methods of various organizations have ended up being forceful in nature. Packaging, branding, and other aspects at a broad scale, when contrasted with the basic promotional tools and techniques play an important role in marketing the products. Rising income level of the middle class followed by their purchasing power expenditure and also the increasing population among the developing nations are a few elements boosting the market. Thus, the rising consumption of products will increase the demand for the FMCG packaging market. A critical change in customer lifestyle and the accessibility of an extensive variety of FMCG products are likewise driving the market development. Consistent development and innovation in packaging models in compliance with food safety and security measures and controls augment the market development. The customer focus on premium packaging is growing owing to eco-friendliness, sustainability, and numerous different parameters. Effective usage of packaging of FMCG product for promotion and branding by the producers among the buyers can be accounted for the growth of the FMCG packaging.
On the basis of raw material, the FMCG packaging market is segmented into uncoated paperboard, polyethylene terephthalate (PET), aluminum, LDPE coated and high-density polyethylene (HDPE). Based on end-products, the FMCG packaging market is categorized into zipper pouch, stand pouch, laminate pouch, cling film, printing bags, BOPP bags, and extrusion laminates. On the basis of end-user application, the market is segmented as OTC products, personal care, anti-aging food, healthcare and beauty products, and others.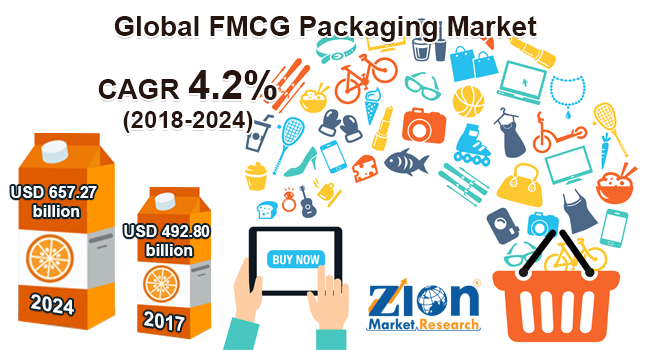 The Asia Pacific is expected to rule the market due to demographics, rising standard of people, and stable financial states of the countries. The GDP of developing nations is growing. Various organizations in the region lean toward item development by propelling or tweaking their current product portfolios with the goal that they can cater to new buyer fragments or client base. The developing markets and the increased population base in the region play an important role in the market development. In India, more than 33% of the Indian customer base is present in provincial territories, as a result, the country market is going to be key development driver for FMCG organizations as they intend to grow their residential business.
Some of the industry players operating in the FMCG packaging market include Ball Corporation, Amcor Ltd., Reynolds Group Holdings, Graham Packaging, and Toyo Seikan Kaisha Ltd. Some other participants include Crown Holdings Inc., MeadWestvaco Corporation, Silgan Holdings, Albea, Ardagh Group, Aptar Group Bemis Company Inc, Berry Plastics Corporation, DS Smith Plc, CCL Industries Inc., Tetra Pak International, and Owens-Illinois Inc.