Description
Market Overview
The global connected home security devices market accounted for USD 12,245 Million in 2020 and is expected to reach USD 44,235 Million by 2028, growing at a CAGR of 17.4% from 2021 to 2028.
Home security devices and systems include smart locks, cameras, smart lights, smart smoke alarms, and smart thermostats, automation devices, etc. Home security devices also include various components such as motion sensors, detectors, door sensors, smoke detectors, etc. Home security systems are deployed in homes and apartments for protecting property and insides from home intrusion, burglary, and different types of environmental disasters.
Connected home security devices integrate various types of security devices with Wi-Fi networks or internet connection. Connected home security devices helps in controlling and managing devices installed in homes through mobile phones or laptops. These devices can utilize internet of thing (IoT) technology for establishing connection between various security devices. Connected home security devices have become a valuable asset of home owners as these help in protecting household valuables, convenience savings, and reducing damage due to fire and smoke.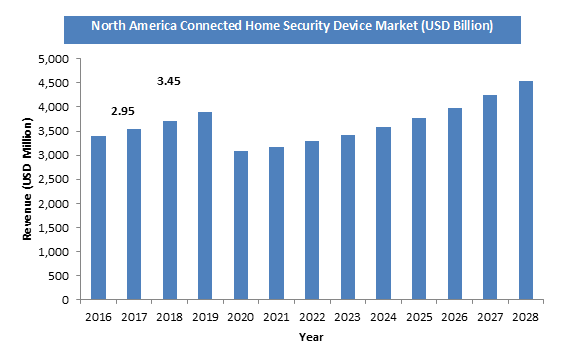 COVID-19 Impact Analysis
The global connected home security device market has slowed during COVID-19 pandemic owing to growing trade and supply chain disruptions, which has affected product and raw material availability worldwide. Restrictions imposed by authorities have decreased number of new home security devices to be integrated as companies faced travel ban and limited products. Further, a short terms reduction in sales of connected home security devices is expected as government is imposing lockdown measures for curbing growing COVID-19 infections. However, ease of restrictions in some premise of the world are expected to increase the number of new connected home security devices deployed, which should trigger market growth.
Growth Factors
Smart phone penetration has soared worldwide in recent years owing to decreasing smartphone prices and increasing consumer spending on consumer Security Camera. This rise in smartphone penetration around the world has paved the way for development of new internet of things (IoT) systems and devices in security systems. Internet of things (IoT) devices are being used for connecting various security devices to cloud, for integration of different security systems for monitoring and controlling of homes. Such development of new technologies has augmented the global connected home security device market growth.
Housing market worldwide has also experienced a steady growth owing to rising urban population and increasing number of individuals looking to buy new homes. This growth in housing sector has proliferated the deployment of home security systems in homes, villas, bungalows, and apartments, which has been bolstering market growth. Further, rising number of consumers are emphasizing on home safety to avoid mishaps owing to burglary and intrusion. Such increase in consciousness among consumers regarding home safety is anticipated to create new avenues for the global connected home security device market.
Report Scope:
Application Segment Analysis Preview
Based on applications, the security camera segment dominated the global connected home security device market in 2020. Home security camera has been a key device for home protection and surveillance. Home surveillance cameras can help in preventing intrusions before happening and can be helpful in gathering material evidence. Owing to these advantages, deployment of home security camera in houses and apartments has soared worldwide. Further, home owners are also emphasizing on gathering and monitoring home surveillance data when they are away from home. Such a trend in the industry has accelerated the demand for connected home security cameras.
The door locks segment is expected to register fastest growth rate over the forecasted period. Smart door locks have gained popularity among home owners owing to advanced features such as voice control, internet-based remove access. Utilization of smart door locks has been proliferated by rising deployment of smart home security systems. There has been rising trend of smart homes in urban parts of the world which has boosted the use of connected smart door locks, in turn, stimulating market growth.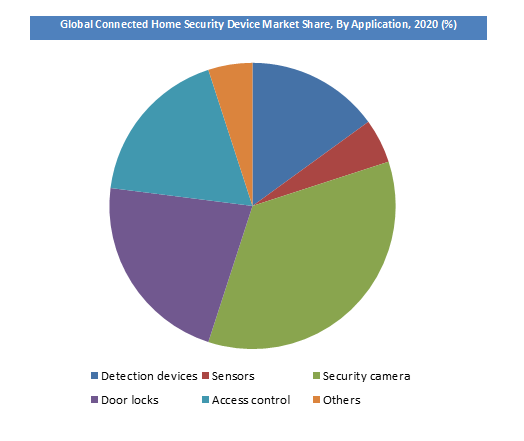 Regional Analysis Preview
North America has dominated the global connected home security device market in 2020, constituting a market share of nearly 40%. Rapid adoption of advanced technologies in the region by home builders, integrators, and home owners has been one of the most crucial factors for North America market growth. Increasing incidents home intrusion, burglary, and theft in United States and Canada has influenced home owners to deploy home security systems for protection. This trend has been proliferating the North America connected home security device market.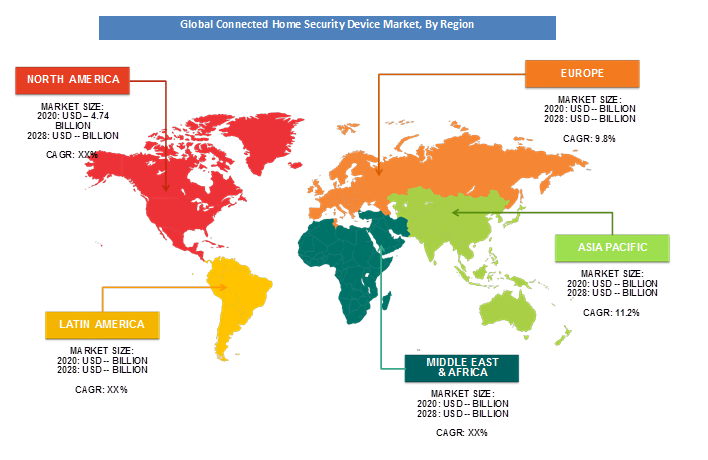 Asia Pacific region is expected to record highest CAGR of over 18% during the projected period. Asia Pacific housing market has been soaring in last few years owing to growing urban population. Rising urban population has boosted the demand for urban houses and apartments among millennials, which has directly attributable to deployment of home security systems in new homes. Further, adoption of new IoT technologies has also accelerated the deployment of connected home security devices, in turn, driving the market growth.
Key Market Players & Competitive Landscape
Some of key players in connected home security device market are Google Nest, Philips Hue, Atral, Essence, Tyco , GE, Honeywell, UTC / Interlogix , RISCO Group, Apple, Samsung, Hager Group, Paradox, Daitem, and E-Nova.
The global connected home security device market is segmented as follows:
By Application Type
Detection Devices
Sensors
Security Camera
Door locks
Access Control
Others
By Region
North America
Europe

France
The UK
Spain
Germany
Italy
Rest of Europe

Asia Pacific

China
Japan
India
South Korea
Southeast Asia
Rest of Asia Pacific

Latin America

Brazil
Mexico
Rest of Latin America

Middle East & Africa

GCC
South Africa
Rest of Middle East & Africa
Free Analysis
A connected home is one in which different devices work interactively and information relevant to the residents/owner is accessed via high-speed broadband network. A connected home creates a local area network (LAN) throughout entire house, cable hookups, bringing multiple telephone jacks and standard outlets to every room in home. Technology has become increasingly sophisticated and growing demand for easy accessibility for connected homes is making market more attractive. Increasing demand of connected home fuel the demand for various security devices for connected home.
Advancement in wireless standards, rapidly increased smartphone penetration and reduced hardware cost are the factors expected to boost the demand of security system for connected home in coming years. In addition, availability of well-positioned apps for operating different systems coupled with constant advent of new product with innovative technology is expected to fuel the growth of security devices for connected home market in forecast period. Furthermore, increase in the demand for home cloud technology is expected to impel the market potential for security device for connected home market. However, lack of awareness is expected to have adverse impact on growth of market in coming years. Nonetheless, technological advancement is expected to attract huge untapped area and likely to open new doors for the connected home security device market.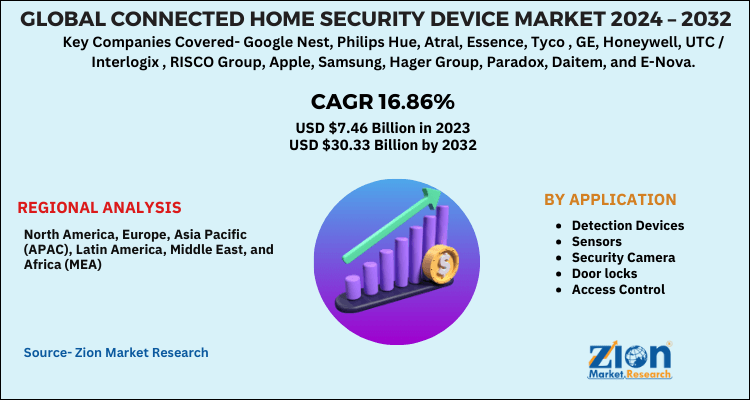 Based on type, the global connected home security device market is bifurcated into detection devices, sensors, security camera, door locks, access control and others. Security camera and door lock were two major leading segment of the global connected home security device market in terms of demand 2015. This segment is expected to continue its dominance for forecast period due to reduced hardware cost.
North America was the largest market for connected home security devices due to the high technology adoption rate paired with better consumer awareness. Rising disposal income in countries like China, Japan and South Korea is projected to witness considerable growth over the forecast period in Asia Pacific region. Europe is expected to be one of the fastest growing regions in coming year. Western Europe is expected to experience significant growth for connected home security device market in coming years. Countries like South Africa, U.A.E., Saudi Arabia will show noteworthy growth in Middle East and Africa region.
The key players operative in the global connected home security device market includes Essence, UTC / Interlogix , Tyco , GE, Honeywell, Hager Group Daitem Atral E-Nova, Google Nest , Apple , RISCO Group , Paradox , Philips Hue and Samsung amongst others.