Market Overview
The Global IoT Integration Market Size accounted for USD 1,327.20 Million in 2020 and is expected to reach USD 5,734.00 Million by 2028, growing at a CAGR of 21.9% from 2021 to 2028. The Internet of Things (IoT) refers to a system which is used to connect computational devices, digital and mechanical machines, objects or people to an interrelated group. IoT is used in the fields such as smart cities which includes smart surveillance, automated transportation, smarter energy management systems, water distribution, urban security and environmental monitoring, agriculture, retail, energy deployment, healthcare, cars, etc.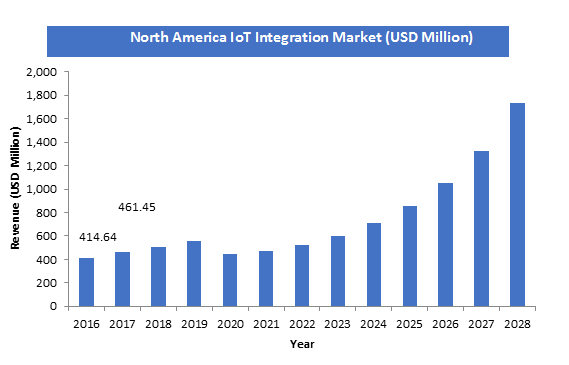 Request Free Sample
COVID-19 Impact Analysis
The outbreak of COVID-19 positively impacted the global IoT market. The advancement in the technology and healthcare sector led to the huge implementation of IoT devices across different sectors which resulted in the overall growth of the IoT sector during COVID -19. The trend will rise over time.
Growth Factors
The application of sensors and data security is the major key driver for the expansion of the market. With the increased use of sensors, the user has the advantage of accessing, storing, analyzing the data wherever and whenever needed. These smart sensors can also transmit information all across the internet. This boosts the adoption of these sensors in applications such as farming, irrigation, security, and many more.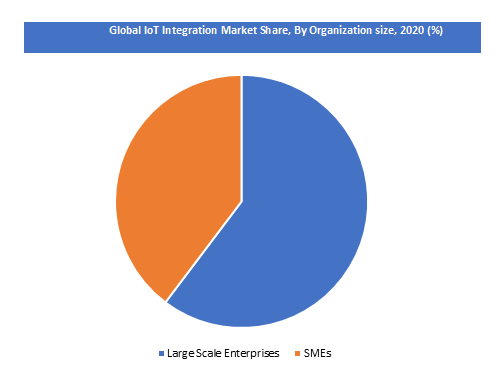 Request Free Sample
Another factor that is proliferating IoT is data security as everyone needs their data to be secured. With the increased use of the internet and data storage comes the data breach problem which dwells every time when we surf the internet. It is really difficult to manipulate IoT devices due to their cumbersome algorithms. The growth in IoT can also be observed due to the automation and enhancement of operational efficiency of retail stores. Amazon recently launched AmazonGO which has automatic vending system and there is no such concept as billing. People buy the product and simply walk out of the store, the money will be deducted from their accounts automatically. Various retail warehouses are also installing drone systems, robots, driverless forklifts which make use of IoT.
Service Segment Analysis Preview
Device and Platform segment is likely to witness remarkable growth during the forecast period. This is mainly due to the implementation of business models where organizations can collate and aggregate the data being generated by the devices and sell it to the end consumers or data aggregators in the market. Device and Platform Management, System Design and Architecture, Network Management, Advisory, and others form the service type segment.
Organization size Segment Analysis Preview
The demand for the IoT services is increasing irrespective of the organization's size. SMEs are using the IoT to automate the business activities such as management, operations and provide a full-proof solution. SMEs have adopted the change and are making revolutions at higher pace.
There are various industries that are doing heavy investments and huge amount of money is spent repair and maintenance activities. To cope up with the evolution the companies are ready to adopt the challenges which the world is observing and are trying to act accordingly. Large scale Enterprises and SMEs form the organization size type segment.
Application Segment Analysis Preview
Home Automation segment will grow at a considerable rate from 2021 to 2028. This is attributable to the development of wireless networking technologies, enhanced technologies such as 5G, Artificial Intelligence is boosting its adoption. Sectors such as home automation, smart buildings, healthcare are providing significant opportunities for the sector. This could help consumer goods manufacturing organizations tailor their product features or target a specific customer segment to increase their revenue. Smart Building and Home Automation, Smart Healthcare, and others form the application type segment.
IoT Integration Market: Report Scope
Report Attributes
Report Details
Report Name
IoT Integration Market Research Report
Market Size in 2020
USD 1,327.20 Million
Market Forecast in 2028
USD 5,734.00 Million
Growth Rate
CAGR of 21.9%
Number of Pages
160
Key Companies Covered
Intel, SAP SE, Cisco Systems, Microsoft Corporation, Oracle Corporation, IBM, Google Inc., Hewlett-Packard Enterprise, Amazon Web Services Inc., Bosch Software Innovation, and General Electric, among others.
Segments Covered
By Service, By Organization Size, By Application, And By Region
Regions Covered
North America, Europe, Asia Pacific (APAC), Latin America, Middle East, and Africa (MEA)
Base Year
2020
Historical Year
2017 to 2020
Forecast Year
2021 - 2028
Customization Scope
Avail customized purchase options to meet your exact research needs. Request For Customization
Regional Analysis Preview
The Asia Pacific region is projected to grow at considerable rate over the forecast period. This is attributable to the factor that China and Japan are the largest consumers of IoT devices in the Asia Pacific.
North American region held a share of 33.32% in 2020. This is accredited to the rising adoption and implementation of new wireless technologies such as Wi-Fi 6, AI, ML, 5G, home automation, connected cars, smart cities, big data, smart energy products have significantly led to the growth of the sector in the region. North America includes US and Canada which is the reason for the growth of IoT market in the North American region. These developed nations have measured the potential of IoT and are heavily investing in the technology. Additionally, rapid digitalization across industry verticals, as well as technological advancements have aided IoT growth in this region.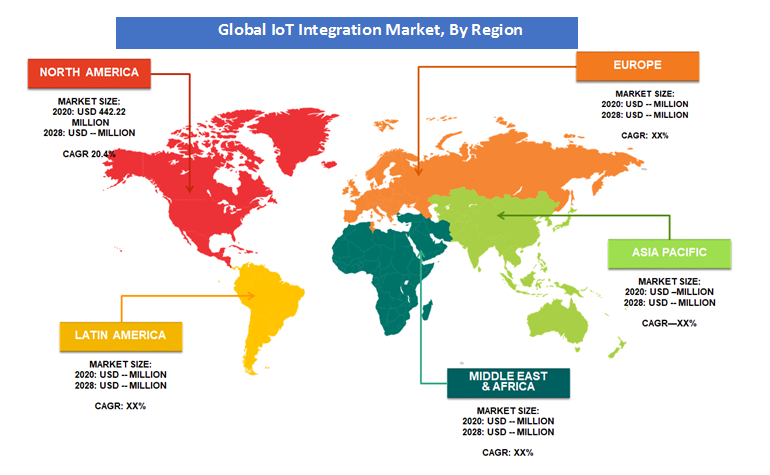 Request Free Sample
Key Market Players & Competitive Landscape
Some of the leading players in the global market inlcude
Intel
SAP SE
Cisco Systems
Microsoft Corporation
Oracle Corporation
IBM
Google Inc.
Hewlett-Packard Enterprise
Amazon Web Services Inc.
Bosch Software Innovation
General Electric
The global IoT Implementation market is segmented as follows:
By Service
Device and Platform Management
System Design and Architecture
Network Management
Advisory
By Organization Size
Large Scale Enterprises
SMEs
By Application
Smart Building and Home Automation
Smart Healthcare
By Region
North America
Europe

France
The UK
Spain
Germany
Italy
Rest of Europe

Asia Pacific

China
Japan
India
South Korea
Southeast Asia
Rest of Asia Pacific

Latin America

Brazil
Mexico
Rest of Latin America

Middle East & Africa

GCC
South Africa
Rest of Middle East & Africa