Industry Prospective:
The global Home Security Drone Market Size was worth around USD 579.68 Million in 2022 and is predicted to grow to around USD 974.85 Million by 2030 with a compound annual growth rate (CAGR) of roughly 9.58% between 2023 and 2030. The report analyzes the global home security drone market's drivers, restraints/challenges, and the effect they have on the demands during the projection period. In addition, the report explores emerging opportunities in the home security drone market.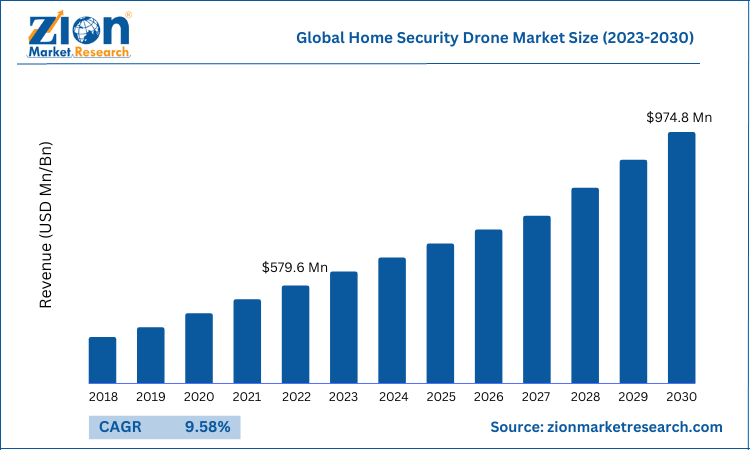 Request Free Sample
Home Security Drone Market: Overview
Drones or officially called unmanned aerial vehicles are compact aircraft without the space or need for humans or any other form of pilot, passengers, or crew onboard. Drones are a part of a larger umbrella called unmanned aircraft systems which functions by the way of adding advanced technological systems to communicate with the drone along with a ground-based controller. Drone flights are generally operated by a human with a remote control or by installing other ways of achieving autonomy such as autopilot mode.
Drones were essentially created keeping human safety in mind and were supposed to be used in missions or processes that were deemed too dangerous or impossible for humans to carry out. However, over time, even though currently the majority of drones are used for military purposes, the drone industry has also undergone tremendous commercialization resulting in the development of drones for personal use as well. One such rising application is the use of drones for managing home and other premises security. The drones used for personal purposes are even more compact with extremely advanced features and function just as efficiently as non-commercial drones.
There has been a debate in the global world if drones pose a threat to privacy at home or act as protection gear on personal premises. Companies are investing in marketing strategies to spread awareness about the benefits of installing home security drones, especially for people with large homes spread across multiple acres.
Home security drones are capable of patrolling one's house and sending pictures back to the user or the controller and are most beneficial when the housing member is not at home and detects a home invasion threat or other unwanted actions in the house. Home security drones are getting popular because they offer higher protection as they can be programmed to send safety alerts along with other benefits.
Key Insights
As per the analysis shared by our research analyst, the global home security drone market is estimated to grow annually at a CAGR of around 9.58% over the forecast period (2023-2030).
In terms of revenue, the global home security drone market size was valued at around USD 579.68 million in 2022 and is projected to reach USD 974.85 million, by 2030.
The home security drone industry is anticipated to grow owing to the rising number of people who are enthusiastic about technological advancements and are constantly investing resources to try better products.
Based on application segmentation, outdoor was predicted to show maximum market share in the year 2022
Based on the drone type segmentation, the fixed-winged drone was the leading revenue-generating drone type in 2022.
On the basis of region, North America was the leading revenue generator in 2022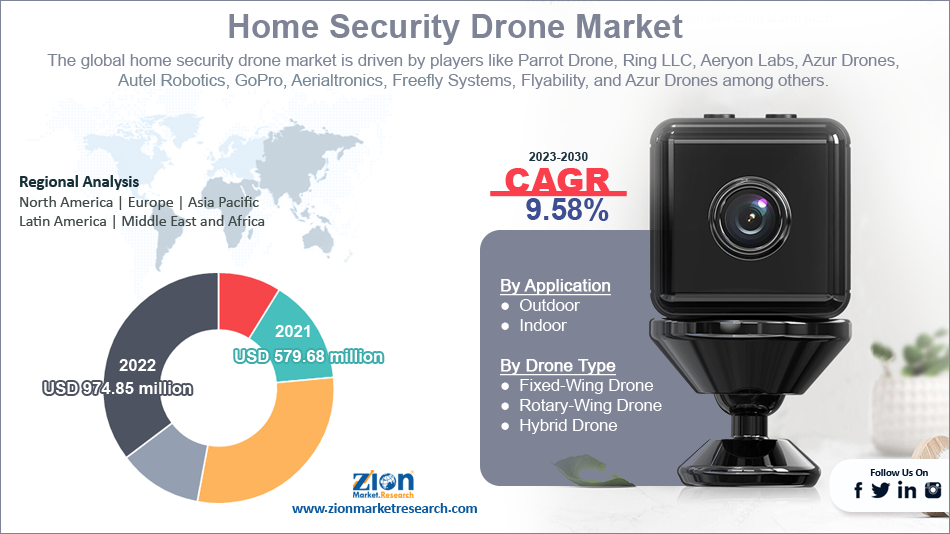 Request Free Sample
To know more about this report, Request a sample copy
Covid-19 Impact:
The global home security drone market is relatively new and is still trying to create a dedicated consumer database. Covid-19 had a major negative impact on the global market cap as many recent launches had to be either canceled or postponed. During 2020 and 2021, the majority of the focus was on containing the virus and many industries had to take a backseat during these two years. Organizations had to re-plan their budgets during this time to continue surviving which resulted in the global market growth halting during this time.
Home Security Drone Market: Growth Drivers
Rise in the number of technophiles to aid market growth
The global home security drone market is anticipated to grow owing to the rising number of people who are enthusiastic about technological advancements and are constantly investing resources to try better products. For instance, as per an article published by The Critic, more than 40% of the world's population is now addicted to video games, and the number in the US is as high as 65%. This is expected to drive the global market forward as the number of people who are willing to try newer technology-driven products regularly.
The trend is also encouraged by product and service providers who are moving toward creating a more affordable line of technical products. Since the companies know that the majority of the market share are buyers with limited spending capacity, the leaders are focused on creating easily accessible tools. For instance, Aerial Armor has created a drone system that can be equipped with Swellpro GC2-S Waterproof Night Vision Camera for an additional USD 700, thus allowing the users to patrol the property even during nighttime.
The constant addition of advanced and better technology in home security drones may attract a wider range of consumers since creators of home security drones are investing in intensive research & development processes to continuously work on aspects they currently lack.
Home Security Drone Market: Restraints
Limited use in growing economies to restrict the market growth
Developing countries, especially the ones that are heavily populated lack the necessary resources to afford such advanced technologies along with concerns related to the usefulness of home security drones. Most of the people in these countries live in compact houses with only a limited number of people occupying houses spread over large areas. For people with homes that do not go beyond a few square feet, the security devices may seem like an unnecessary investment that may restrict home security drone industry growth unless the creators come up with strategies or developments that can help home security drones become more useful in growing economies as well.
Home Security Drone Market: Opportunities
High demand in developed economies to provide market expansion opportunities
The global home security drone market may benefit from the rising demand for home security drones in developed countries like the USA, Europe, and Canada. These regions house relatively lesser numbers of the population while the regional area is spread across millions of square meters, resulting in bigger and larger houses or properties. People in these regions invest heavily in home security systems unlike many countries in Asia-Pacific and South Africa, where deploying security systems for homes is less common. This may provide global market growth opportunities owing to the already existing large group of people looking for better home security devices.
Home Security Drone Market: Challenges
Debate about pros and cons of home security drones to challenge market growth
Many scholars argue that home security drones can have negative implications since it is capable of invading private spaces thus directly raising concerns related to privacy intrusion. These devices pose threats as well because they give access to viewing personal aspects of life. There is an ongoing debate if surveillance via drones in itself is a violation of the fundamental right to privacy which may create challenges for global market growth
Home Security Drone Market: Segmentation
The global home security drone market is segmented based on application, drone type, and region.
Based on application, the global market is segmented into outdoor and indoor. The global market is currently dominated by outdoor applications since more people are using drones to monitor the exterior home premises, especially during nighttime. People who own farms or large areas of land have found extensive use of home security drones since they can easily patrol the entire area without physically moving across the region. For instance, as per the recent survey conducted by the Economic Research Center of the US Department of Agriculture, there were more than 2.01 million farms in the country as of 2021 with the average farm size being 445 acres.
Based on drone type, the global market is divided into fixed-wing drone, rotary-wing drone, and hybrid drone. The global market is dominated by the fixed-wing drone segment owing to various benefits provided by the device. These drones can cover large areas in relatively less time, have longer flight autonomy, and provide better control over flight parameters, while also delivering better-quality images. The lightweight fixed-wing drone created by eBee X can cover up to 500 hectares of land with absolute accuracy going up to 1.5 cm with the available post-processing kinematic or real-time kinematic.
Recent Developments:
In September 2020, Ring, an Amazon smart security subsidiary, launched an independent security camera to be used indoors. The price point of the product is USD 250 and was made available for the general population in 2021. The drone is equipped with technology to fly inside homes at a predetermined path and automatically provide security alerts. Some other features of the product called the Ring Always Home Cam include a security camera on top of the drone.
In April 2022, Artificial Intelligence Technology (AIT), announced that the company's wholly-owned subsidiary Robotic Assistance Devices, Inc., will start offering enhanced and better features for its ground-based security robots in a direct collaboration with Nightingle Security, a completely independent provider of 24*7 physical security aerial drone systems
Home Security Drone Market Report Scope:
Report Attributes
Report Details
Report Name
Home Security Drone Market Research Report
Market Size in 2022
USD $579.68 Million
Market Forecast in 2030
USD $974.85 Million
Compound Annual Growth Rate
CAGR of 9.58%
Number of Pages
214
Forecast Units
Value (USD Million), and Volume (Units)
Key Companies Covered
Parrot Drone, Ring LLC, Aeryon Labs, Azur Drones, Autel Robotics, GoPro, Aerialtronics, Freefly Systems, Flyability, and Azur Drones among others.
Segments Covered
By Application, By Drone Type, And By Region
Regions Covered
North America, Europe, Asia Pacific (APAC), Latin America, Middle East and Africa (MEA)
Countries Covered
North America: U.S and Canada
Europe: Germany, Italy, Russia, U.K, Spain, France, Rest of Europe
APAC: China, Australia, Japan, India, South Korea, South East Asia, Rest of Asia Pacific
Latin America: Brazil, Argentina, Chile
The Middle East And Africa: South Africa, GCC, Rest of MEA
Base Year
2022
Historical Year
2017 to 2021
Forecast Year
2023 - 2030
Customization Scope
Avail customized purchase options to meet your exact research needs. Request For Customization
Home Security Drone Market: Regional Analysis
North America to dominate market growth during the projection period
The global home security drone market is projected to be dominated by North America with the region witnessing the highest as well as fastest CAGR during the projection period. The regional growth is anticipated to be driven by the high adoption rate of these systems which is propelled by the importance given to home security systems in general. In 2011, the US population spent over USD 21 billion on home security. Countries like the USA, and Canada have the largest number of people with high per capita income and disposable income.
It is one of the many reasons why the general population is keen on exploring advanced technologies and constantly adopting them in their day-to-day lives. The regional growth may also be attributed to the presence of key players in the market that have increased funding for research & development of activities associated with home security drones. Europe is anticipated to expand because of the drone-friendly regulation in the European market propelling investors to divulge in related sectors as well as the general population to make the most use of commercially available drones.
Home Security Drone Market: Competitive Analysis
The global home security drone market is driven by players like:
Parrot Drone
Ring LLC
Aeryon Labs
Azur Drones
Autel Robotics
GoPro
Aerialtronics
Freefly Systems
Flyability
Azur Drones
The global home security drone market is segmented as follows:
By Application
By Drone Type
Fixed-Wing Drone
Rotary-Wing Drone
Hybrid Drone
By Region
North America
Europe

France
The UK
Spain
Germany
Italy
Rest of Europe

Asia Pacific

China
Japan
India
South Korea
Southeast Asia
Rest of Asia Pacific

Latin America

Brazil
Mexico
Rest of Latin America

Middle East & Africa

GCC
South Africa
Rest of Middle East & Africa