Description
The global Carpets & Rugs Market, which was estimated at 90 (USD Billion) in 2019 and is predicted to accrue earnings worth 121.1 (USD Billion) by 2026, is set to record a CAGR of nearly 4.75% over 2020-2026. The report offers valuation and analysis of Carpets & Rugs Market on a global as well as regional level. The study offers a comprehensive assessment of the industry competition, limitations, sales estimates, avenues, current & emerging trends, and industry-validated market data. The report offers historical data from 2017 to 2019 along with a forecast from 2020 to 2026 based on value (USD Billion).
Introduction
Carpets & rugs are mainly utilized for covering floors for purpose of decoration. These products are produced through use of many of the raw materials such as nylon, polypropylene, polyester, jute, and cotton. Carpets & rugs are available in myriad designs and colors due to changing lifestyle of the customers.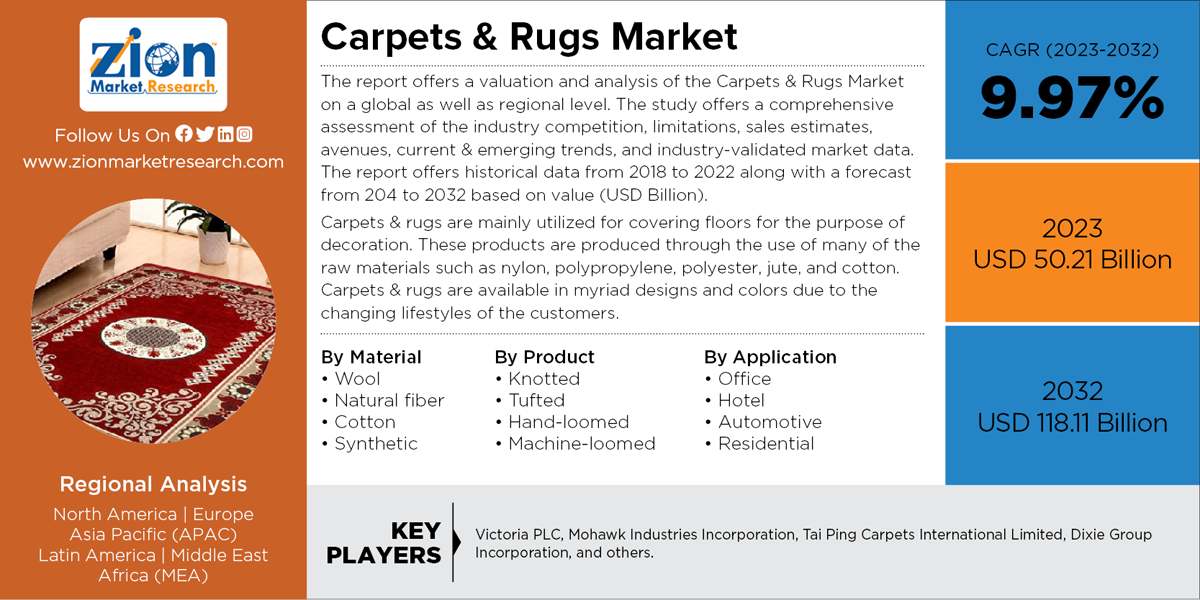 Market Growth Drivers
Increase in the renovation activities along with swift urbanization will steer the market trends. Rising interest among the end-users towards interior decoration activities will proliferate the market size in the years ahead. Apparently, surge in the number of construction activities in the developing countries will embellish the expansion of the carpets and rugs industry over the assessment period. Apart from this, rise in the significance of organized retail activities across the globe is likely to offer new growth opportunities for the industry over the forecast timespan. Nonetheless, high raw material costs will put brakes on the industry expansion over the forecast timeframe.
Moreover, artistic and functional features of products will open new vistas of growth for the carpets and rugs industry over the forecast timeframe. Thriving transport activities and surge in residential construction as well as commercial construction projects will pave a way for the expansion of the carpets and rugs industry over the projected timeframe.
North America To Continue Market Dominance Over Forecast Timeframe
The carpets & rugs market in North America is anticipated to register noteworthy growth with manufacturers focusing on producing low-cost carpets & rugs. A prominent surge in construction activities taking place across the U.S. is anticipated to bolster the expansion of carpets & rugs industry in North America over he forecast timeframe. Apparently, huge customer preference in interior designing is one of the major aspects driving the market size in the region. Apparently, surging renovation activities in real estate industry across the U.S. will produce high product penetration across the region in the foreseeable future.
Key participants profiled in the study include Victoria PLC, Mohawk Industries Incorporation, Tai Ping Carpets International Limited, and Dixie Group Incorporation.
The global carpets & rugs market is segmented as follows:
By Material
Wool
Natural fiber
Cotton
Synthetic

Nylon
Polyester
Polypropylene
By Product
Knotted
Tufted
Hand-loomed
Machine-loomed
By Application
Office
Hotel
Automotive
Residential
By Region
North America
Europe

France
The UK
Spain
Germany
Italy
Rest of Europe

Asia Pacific

China
Japan
India
South Korea
Southeast Asia
Rest of Asia Pacific

Latin America

Brazil
Mexico
Rest of Latin America

Middle East & Africa

GCC
South Africa
Rest of Middle East & Africa
Free Analysis
Carpets and rugs are utilized for their functional and aesthetic properties. Apart from covering the floor, it improves the overall appeal of office or home décor. Carpets and rugs give a protective layer to the floor. At places of cold climate, these are deployed to save the floor from getting too cold. Handmade carpets are functional objects as well as works of art. Numerous oriental carpets have achieved such level of artistic expression, that they are recognized as a luxury that masterpieces painting in the West and objects of exceptional beauty in the East.
A few decades ago, the demand for rugs and carpets was highest in developed nations. But the trend has changed in past few years owing to increased consumer spending on improving aesthetics of their office spaces or homes. Escalating home décor market has given a boost to carpets and rugs adoption in the residential sector. Factors such as enhanced lifestyle, rising urbanization, growing real estate sector, and increasing disposable income has resulted in consumer interest in home décor. Increasing number of homeowners in emerging economies is spurring interest in the sector. These products have gained traction amongst households that are renovating their home exteriors and interiors. Rising urbanization is influencing the interior designing market strongly as urban culture enhances an individual's living standard. Currently, 46% of the global population lives in rural areas and these are anticipated to shift in the urban sector over the forecast period.
The hospitality sector is majorly driven by hotels industry at global level. Surging tourism and travel industry is preliminarily driving the demand in the hotel industry. Additionally, numerous multinational companies are setting up their branches overseas, increasing the fleet of business travelers in hotels. Currently, hotels and restaurants are on their toes for decorative interiors through the use of attractive carpets & rugs. Renowned hotel chains are focusing on delightful customer service experience to increase their number of revisits. Further, craving for a luxurious lifestyle and increasing disposable income is bolstering hotel industry. However, an unstable political condition is restraining the industry growth. Political stability contributes majorly in the success of tourism and travel industry. The political condition of any country affects its leisure travel and business.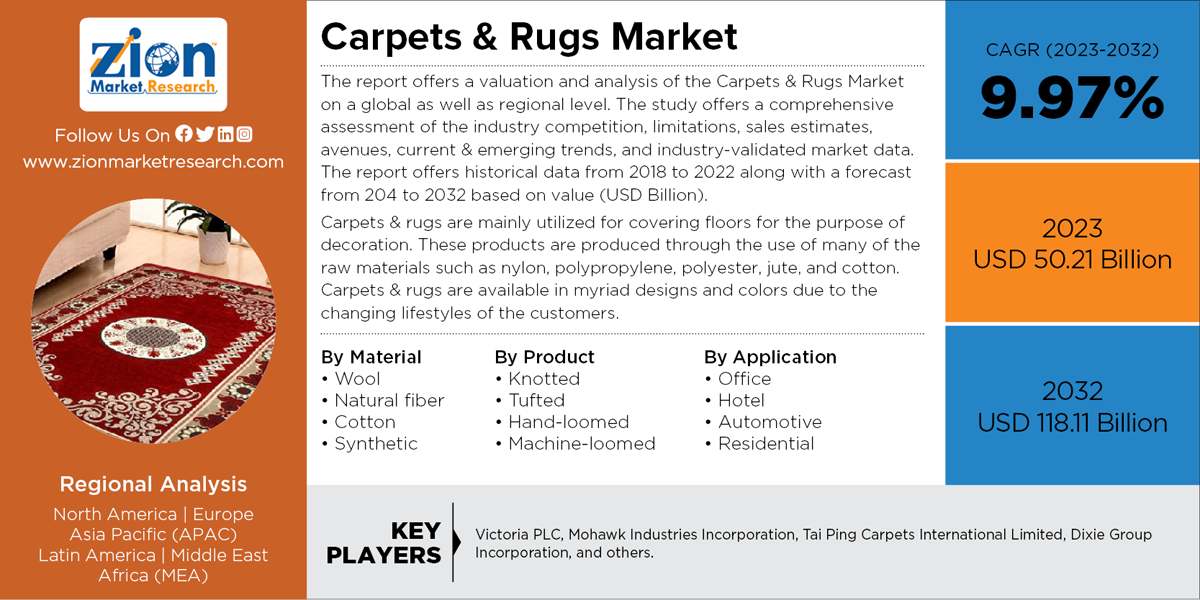 Global carpets & rugs market is bifurcated as per the material into wool, natural fiber, cotton and synthetic. Synthetic is anticipated to dominate in terms of volume share during the forecast period owing to their affordability and flexibility to achieve desired design. Knotted, tufted, hand-loomed and machine-loomed are the products of carpets & rugs market. Tufted segment would account for maximum market share as commercial projects and new residential construction are adopting the product type. Further, tufting process is viable for all type of yarns and fibers and can be produced in a variety of finishes. Various applications pertaining to carpets & rugs are office, hotel, automotive & transportation and residential. Hotel industry would grow at a faster pace in the forecast timeframe owing to rising hospitality sector in emerging economies such as India and Gulf countries.
North America will account for the largest share in global carpets & rugs market during the forecast period. However, the regional growth will be lower than the global average. The U.S. would contribute majorly in the regional share along with highest growth rate owing to surging residential constructions in the country. The Middle East & Africa will register significant gains in the global market till 2023. The growth is attributed to its fueling travel & tourism industry leading to surging number of hotels.
Prominent manufacturers in carpets & rugs market are Victoria PLC, Tai Ping Carpets International Limited, Orientals Weavers Company for Carpets, Dixie Group, Inc, Interface, Inc., Home Depot, Inc., Taekett S.A., Lowe's Companies, Inc., Shaw Industries Group, and Mohawk Industries, Inc. Producers are adopting expansion and acquisition strategies to cater to the increasing demand of the product in emerging markets.