Analysis
Automotive paint plays an essential role in the protection of automobile against corrosion, UV rays, oxidization, and acid rains. These paints have low volatile organic compounds (VOC) and high solid content. Automotive paints are easy to apply and are clean and wear resistance. Over the past few years, the automotive paint technology has established in terms of quality, the durability of products and color choices offered to the buyers.
Growing demand for vehicles worldwide has boosted the growth of the automotive paints market. End users prefer to buy vehicles; featuring durable automotive paint is expected to fuel the market growth in the forecast period. However, high prices of raw material may limit the market growth in near future. Nevertheless, altering government rules and regulations for growing environmental awareness would give many significant opportunities for the growth of the automotive paints market in coming years.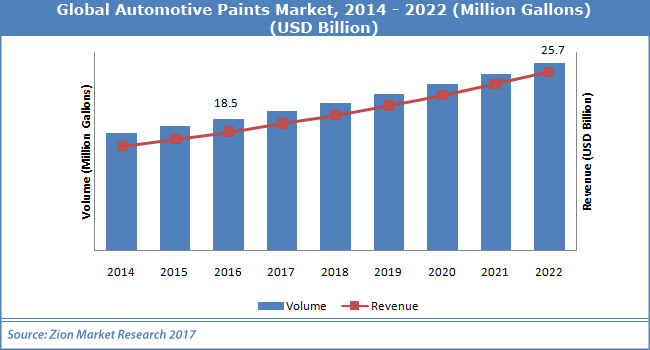 Automotive paint market is segmented on the basis of vehicle type, coat type, texture type, technology and region. On the basis of vehicle type segment market is classified into light commercial vehicles, heavy commercial vehicles, and passenger cars. The coat type comprises of electro coat, base coat, primer coat, and clear coat. Clear coat was the major coat type segment of automotive paint market in 2016 followed by primer, electro coat, and basecoat. The texture type segment is categorized into solid texture and metallic texture. The metallic paints market is expected to grow at fast pace in the forecast period owing to growing demand for attractive glossy finish offered by these paints. In developed countries metallic paints are utilized extensively even for heavy commercial vehicles along with passenger cars and light commercial vehicles; whereas, in the developing countries, solid paints are preferred as heavy commercial paints. On the basis of technology the automotive paint market is segmented into solvent, waterborne, and powder coating.
In 2016, Asia Pacific was the largest market for automotive paint attributed to recent growth in automotive OEM market in developing countries in the region. Furthermore, favorable macro factors such as largest vehicle production, cheaper labor cost, and government support for manufacturing industry along with the big local market is expected to further boost the market growth in the forecast period. Europe was one of the leading markets for automotive paint in 2016 owing to the presence of leading vehicle producing countries in Europe. Europe was followed by North America, where the U.S. accounts for the largest market in 2016.
The automotive paints market is huge and tremendously fragmented. Key players profiled in the report include BASF SE, Akzonobel N.V., PPG Industries Inc., Kansai Paint Co., Ltd., Paint Holdings Co., Ltd, Nippon, Valspar Corporation, and Arkema SA among others. In 2016, PPG Industries Inc. was one of the market leaders and has a strong presence globally in the market. PPG's strong research and development and product expansion maintain its position in the automotive paints market. PPG recently launched a new Ultrapax coating system, which is a packaged system of pretreatment products and powder coating to meet the stringent standards to protect metals.