According to the report published by Zion Market Research, The global Complex Inorganic Color Pigments Market was valued at $364.12 Million in 2022, and is projected to reach $478.39 Million by 2030, growing at a CAGR of 3.98% from 2023 to 2030.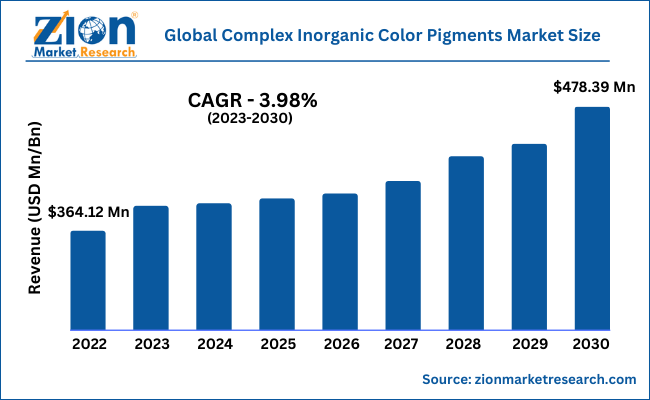 Request Free Sample
Global Complex Inorganic Color Pigments Market: Overview
Complex inorganic color pigments are based on oxide, sulfide, and silicate. The pigments are of utmost importance to formulators for stable, innovative and economical coatings in various colors. Complex inorganic color pigments are crystallized colors of spinel whose molecular structure offer stability and thus offer improved performance in UV opacity, hiding power and infrared reflectivity. These pigments are made via means of blending steel oxides with the usage of easy chemical reactions inclusive of oxidation and excessive-temperature calcination. Due to its composition, inorganic shadeation pigments have excessive tinting strength, extremely good mild resistance & climate resistance, exceptionally good solvent resistance & antioxidant resistance, and warmth resistance & consistency.
Global Complex Inorganic Color Pigments Market: Growth Factors
Development of industries, demand for heat stability, chemical resistance, climate resistance, etc., has increased and thus requirement of inorganic pigments among industrial sector is having a lucrative growth. Also, the environmentally stable nature of CICP's, the demand and usage among industrial sector, construction sector for environment stability is growing which in turn is propelling the growth of the global complex inorganic color pigments market. There is growing demand for surface treatments as it improve the look and aesthetics of the material by modifying physical and chemical properties in various industries, for instance, automotive, cosmetics, medical, construction sector. In automotive interiors, exterior paints, fireplace paints, high-heat powder coatings, the heat resistance becomes an issue and therefore, CICPs are well used in such areas.
Properties of CICPs such as absorption, low oil absorption, non-toxicity, UV stability, offering outside durability, no shrinkage, thermal stability, etc. also lead to it increased demand. All such factors are equally contributing to the global complex inorganic color pigments market growth. Furthermore, construction activities, infrastructure development is accelerating in developed as well as developing countries due to urbanization and growing population, thus the requirement for paints and coatings rise eventually. In light of this, strong progress in FMCG, IT, and telecom sector owing to urbanization and large working population are likely to offer beneficial opportunities for the global complex inorganic color pigments market during the forecast period. Besides all of this, because of COVID-19 pandemic, for some moment of time, stopped the industrial activities causing a major hinderance in the market.
The COVID-19 pandemic has had a moderate influence on the automobile and construction industries, resulting in a major decrease in market revenue. It is primarily due to a global drop in building and vehicle sales. The COVID-19 outbreak in China, India, and the United States has had a significant influence on paint and coatings use in a variety of industries, including construction. As everything was closed down for couple of months, it resulted in losses among major industries, and the market is working hard to get back on track.
Global Complex Inorganic Color Pigments Market: Segmentation
The global complex inorganic color pigments market can be categorized into various segments such as products, application and region. Complex inorganic color pigments market, based on products, includes cobalt based, titanate based, iron based, nickel manganese based, chromium based, among others. Based on application, the market is segmented into paints, coatings, glass, concrete, plastics, and others.
Global Complex Inorganic Color Pigments Market: Regional Analysis
North America is expected to dominate the global complex inorganic color pigments market during the forecast period with a significant year-on-year revenue. As the automobile industry in North America is accelerating with the rising demand, its application for paints and coatings is anticipated to drive the market. Complex inorganic color pigments are sustainable and therefore, innovations by manufacturers for promoting its usage raise the certainty of market growth.
On the other hand, Asia Pacific is also booming in the race and is expected to have fastest growth with cheap and easily available labor. Furthermore, the laws regarding VOC emissions in countries of Asia, i.e., China, India, Japan, etc., are not very strict, thus offering opportunities for using paints and coatings in construction, automotive, marine, and manufacturing sectors. Major companies are considering expanding their production plants in China, India and other Asian countries because of cheap labor and therefore, increasing construction activities and requirement of inorganic color pigments. The Middle East Africa and Latin America are also projected to have a steady growth owing to construction, automobile production and accelerating use of applications such as concrete, paints and coatings.
Global Complex Inorganic Color Pigments Market: Competitive Players
Growing complex inorganic color pigment demand across the world is boosting the production and expansion over different geographies. Companies are continuously in focus for launching and developing innovative products to meet the large-scale demands. On the other hand, with the help of collaborations, partnerships and mergers, the large-scale companies are certain to increase their market growth.
The prominent market players in the global complex inorganic color pigments market include:
Venator
Lanxess
Heubach GmbH
TOMATEC
Tata Pigments Limited
Mason Colors
Cathay Industries
BASF SE
Shepherd Color
Ferro Corporation
Sun Chemical Limited
Clariant AG
Dayglo Color Corporation
Asahi Kasei Kogyo Co. Ltd.
DCL Corporation
Cabot Corporation
HANIL HOLDINGS
DyStar Singapore Pte Ltd.
The Shephard Color Company
Carl Schlenk AG
Ami Chemical Corporation
LANSCO Colors.
The Global Complex Inorganic Color Pigments Market is segmented as:
By Products
Cobalt Based
Titanate Based
Iron Based
Nickel Manganese Based
Chromium Based
Among Others
By Application
Paints
Coatings
Glass
Concrete
Plastics
Among Others
By Region
North America
Europe

France
The UK
Spain
Germany
Italy
Rest of Europe

Asia Pacific

China
Japan
India
South Korea
Southeast Asia
Rest of Asia Pacific

Latin America

Brazil
Mexico
Rest of Latin America

Middle East & Africa

GCC
South Africa
Rest of Middle East & Africa
What Reports Provides
Full in-depth analysis of the parent market
Important changes in market dynamics
Segmentation details of the market
Former, on-going, and projected market analysis in terms of volume and value
Assessment of niche industry developments
Market share analysis
Key strategies of major players
Emerging segments and regional markets
Testimonials to companies in order to fortify their foothold in the market.