Industry Prospective:
The global veterinary procedure lights market size was worth around USD 300 Million in 2022 and is predicted to grow to around USD 540 Million by 2030 with a compound annual growth rate (CAGR) of roughly 4.1% between 2023 and 2030. The report analyzes the global veterinary procedure lights market drivers, restraints/challenges, and the effect they have on the demands during the projection period. In addition, the report explores emerging opportunities in the veterinary procedure lights industry.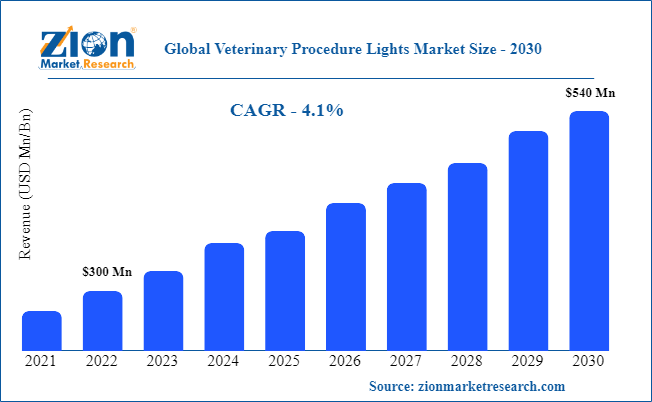 Request Free Sample
Veterinary Procedure Lights Market: Overview
The lights used during various veterinary procedures are lighting systems used by veterinarians to smoothly execute their tasks. These lights are essential during surgical processes or diagnostic activities and ensure that veterinarians can clearly see the surroundings and execute their tasks flawlessly. The fraternity includes various products including wall-mounted lights, ceiling-mounted lights, and ceiling-mounted lights. They can be dynamic in terms of color, brightness, adjustability, and temperature letting veterinarians customize the lighting to suit their needs.
The growing number of pet owners across the world is a primary reason for the growth in the industry along with several other crucial reasons. However, it also faces certain growth restrictions and is expected to come across specific challenges during the forecast period. The industry is highly competitive due to the presence of several dominant and new smaller players offering a wide range of products and services.
Key Insights:
As per the analysis shared by our research analyst, the global veterinary procedure lights market is estimated to grow annually at a CAGR of around 4.1% over the forecast period (2023-2030)
In terms of revenue, the global veterinary procedure lights market size was valued at around USD 300 billion in 2022 and is projected to reach USD 540 billion, by 2030.
The market is projected to grow at a significant rate due to the growing rate of pet ownership
Based on modality segmentation, wall mounted was predicted to show maximum market share in the year 2022
Based on end-user segmentation, veterinary hospitals were the leading users in 2022
On the basis of region, North America was the leading revenue generator in 2022
Veterinary Procedure Lights Market: Growth Drivers
Rising rate of pet ownership to propel market demand
The global veterinary procedure lights market is expected to register a steady CAGR due to the consistently growing rate of pet ownership across the globe. There are several people who are now opting to adopt different types of animals. Some of these adoption activities are out of personal choices whereas some are medically induced especially in terms of patients that require the assistance of companion pets. Furthermore, many people are investing in building large farming lands that can act as homes for animals of all types, especially cattle, and poultry.
This has caused a high demand for efficient veterinarians which directly translates to more requirements for supporting products like lights. In addition to this, the rising emphasis on the quality of veterinary services worldwide is expected to drive the demand for efficient lights since they are crucial during surgical and non-surgical processes. Growing awareness of animal health and the rising willingness amongst pet owners to spend money for pets' health is expected to work in the favor of the industry.
Veterinary Procedure Lights Market: Restraints
Limited adoption trend in developing nations to restrict the market growth
Several underdeveloped or developing nations lack the necessary veterinarian infrastructure causing a significant gap in the demand and supply of the associated products. These countries generally lack the necessary resources to build advanced set-ups that utilize ultra-modern lighting systems. Even in countries where such set-up exists, the number of such units is relatively lesser as compared to developed nations. Moreover, advanced lighting systems are expensive, and along with the high cost of repair and maintenance, it acts as a crucial global veterinary procedure lights market growth restriction.
Veterinary Procedure Lights Market: Opportunities
Growing demand for LED lighting to provide growth opportunities
The veterinary procedure lights industry size may benefit from the rising demand for light-emitting diode (LED)-based lights and solutions. This light-imparting technology is getting increasingly popular amongst well-sourced veterinary clinics due to the advantages associated with its use. For instance, LED lights are more cost-effective as compared to other lighting systems. They also have lower maintenance costs and requirements while the lifespan for LED lights is higher than their counterparts. A growing focus on animal welfare and medical care could prompt higher infrastructure development activities in terms of veterinary segments.
Veterinary Procedure Lights Market: Challenges
Presence of low-cost alternatives to challenge market growth
There is a growing segment of veterinary clinics that may opt for low-cost substitutes to the otherwise expensive veterinary procedure lights. Some examples of such low-cost alternatives are headlamps or penlights. They are more affordable and offer higher portability making them ideal options in certain situations, especially in areas that have limited resources.
Veterinary Procedure Lights Market: Segmentation
The global veterinary procedure lights market is segmented based on end-user, product type, modality, and region.
Based on end-user, the global market segments are veterinary clinics, veterinary hospitals, veterinary diagnostic centers, and others. In 2022, the highest growth was observed in the veterinary clinics and hospitals segment since the units falling under these categories are the primary source of medical care for all types and species of animals. These units are highly equipped to take care of every aspect of animal health and carry out complex or simple surgical procedures with higher efficiency. Veterinary diagnostic centers may act as a significant contributor especially where specific diagnostic procedures are carried out. A basic LED-based exam light costs between USD 200 to USD 500.
Based on product type, the veterinary procedure lights industry segments are frontal binoculars, microscope & headlights, examination lights, and surgery lights,
Based on modality, the global market is divided into wall mount, floor stand, double head ceiling mount, and single head ceiling mount. Although the demand for lights with different modalities depends on the end requirement, the industry witnessed the highest growth in the wall mount and ceiling mount segments in 2022. Wall mount lights act as a fixed source of lighting or illumination and are mostly used in surgical rooms or smaller clinics. Ceiling lights are mounted on the ceiling and provide a wider range of illumination, and motion, and offer better flexibility. On average, the cost of setting up a basic veterinary clinic may start from USD 50000 and onwards.
Recent Developments:
In February 2023, the Union government of India announced that it will spend INR 63 crore on a project to build a cow sanctuary in the Uttar Pradesh (UP) state of the country. The institute setup is the responsibility of the national dairy development board and the state is regarded as the leading region for stray cattle. The UP government has already provided 52-hectare land for this cause
In April 2022, Dispomed announced its acquisition of ARVS. The teams from both companies will now focus on providing the veterinary sector with the best medical equipment and devices to improve animal care in Western Canada. The acquisition is strengthened Dispomed's hold over the industry
In September 2019, DARAY Medical, a UK-based manufacturer, announced the extension of its existing range of surgical lights. The new addition is regarded as the most versatile form of light ever created by the company
Veterinary Procedure Lights Market: Report Scope
Report Attributes
Report Details
Report Name
Veterinary Procedure Lights Market Research Report
Market Size in 2022
USD 300 Million
Market Forecast in 2030
USD 540 Million
Growth Rate
CAGR of 4.1%
Number of Pages
203
Key Companies Covered
Midmark Corporation, Daray Medical, Shor-Line, Burton Medical Products, Dr. Mach, SIMEON Medical, Steris Corporation, Superlumin, DRE Medical, Luxtel, Technik, Eickemeyer Veterinary Equipment Inc., Coopet, Vetlux, MDS Medical, VSSI Veterinary Surgical Solutions, Inc., Dispomed, US Vet, Sunnex MedicaLights, and Coolview Medical.
Segments Covered
By End-User, By Product Type, By Modality, And By Region
Regions Covered
North America, Europe, Asia Pacific (APAC), Latin America, Middle East, and Africa (MEA)
Base Year
2022
Historical Year
2017 to 2021
Forecast Year
2023 - 2030
Customization Scope
Avail customized purchase options to meet your exact research needs. Request For Customization
Veterinary Procedure Lights Market: Regional Analysis
North America to continue its dominance over global market
The global veterinary procedure lights market is expected to register the highest CAGR in North America due to the rising adoption rate of animals as well as growing investments toward the development of advanced veterinary technologies and systems. Furthermore, the presence of several major players in the region strengthened by the availability of a high level of veterinary expertise works in the favor of the regional market. Rising investments in animal welfare and medical care in Europe are major growth propellers for the region.
In addition to this, rising disposable income, growing expenditure toward setting up animal care centers, and providing veterinarians with necessary advanced tools to conduct operational activities smoothly is important for Europe to grow in the coming years. The growing veterinarian infrastructure in Singapore, China, Japan, South Korea, and India is projected to act as a driving force for growth in Asia-Pacific.
Veterinary Procedure Lights Market: Competition Analysis
The global veterinary procedure lights market is led by players like:
Midmark Corporation
Daray Medical
Shor-Line
Burton Medical Products
Dr. Mach
SIMEON Medical
Steris Corporation
Superlumin
DRE Medical
Luxtel
Technik
Eickemeyer Veterinary Equipment Inc.
Coopet
Vetlux
MDS Medical
VSSI Veterinary Surgical Solutions Inc.
Dispomed
US Vet
Sunnex MedicaLights
Coolview Medical.
The global veterinary procedure lights market is segmented as follows:
By End-User
Veterinary Clinics
Veterinary Hospitals
Veterinary Diagnostic Centers
Others
By Product Type
Frontal Binocular Microscope & Headlights
Examination Lights
Surgery Lights
By Modality
Wall Mount
Floor Stand
Double Head Ceiling Mount
Single Head Ceiling Mount
By Region
North America
Europe

France
The UK
Spain
Germany
Italy
Rest of Europe

Asia Pacific

China
Japan
India
South Korea
Southeast Asia
Rest of Asia Pacific

Latin America

Brazil
Mexico
Rest of Latin America

Middle East & Africa

GCC
South Africa
Rest of Middle East & Africa