Industry Prospective:
The global veterinary consumables market size was worth around USD 1.72 billion in 2021 and is predicted to grow to around USD 2.84 billion by 2028 with a compound annual growth rate (CAGR) of roughly 7.45% between 2022 and 2028. The report analyzes the global veterinary consumables market's drivers, restraints/challenges, and the effect they have on the demands during the projection period. In addition, the report explores emerging opportunities in the veterinary consumables market.
Veterinary Consumables Market: Overview
Veterinary is the brand of medicine dealing with management, diagnosis, prevention, treatment, and other aspects of medical conditions related to animals. It also deals with animal breeding, husbandry, rearing, research, and product and treatment development. Veterinary medicine has an extremely broad application covering all aspects of all animal species, wild or domesticated.
The medicine field may or may not be practiced with the help of a veterinary physician. They are mostly needed in the case of professional animal care along with other personnel like veterinary nurses and technicians. Veterinary science is important not only because of its implications on the animal ecosystem but on human lives as well since it encompasses research, study, and control of animal-based infectious diseases also called zoonotic diseases.
Consumables are goods that are meant for consumption. They can be either soft goods or non-durable goods, and they are products that are used recurrently. Veterinary consumables are products that are supposed to be used in the veterinary setup for the treatment, research, and other activities related to animals.
Since the consumables may be in direct contact with the animals, the products have been contamination-free just like in the case of medical consumables used for humans. Veterinary consumption products are specially designed keeping in mind the physical and biological composition of animals like syringe width, gloves, etc.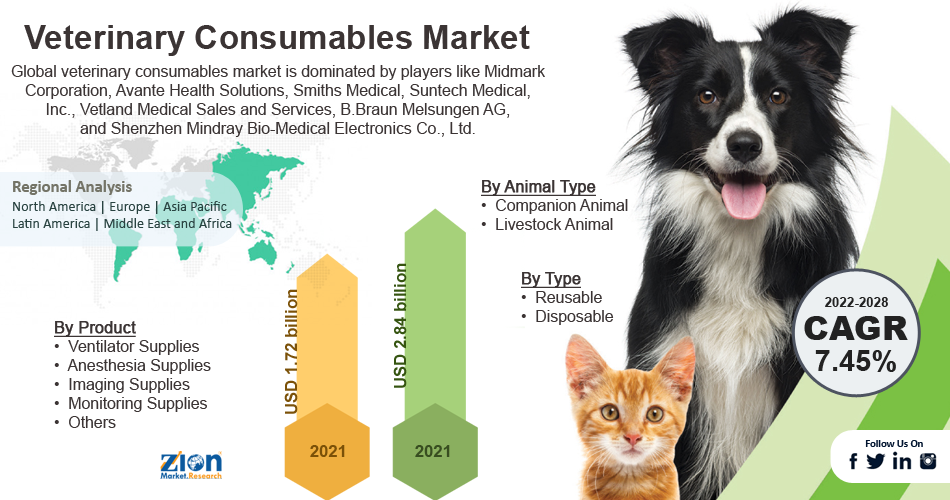 Request Free Sample
Key Insights
As per the analysis shared by our research analyst, the global veterinary consumables market is estimated to grow annually at a CAGR of around 7.45% over the forecast period (2022-2028).
In terms of revenue, the global veterinary consumables market size was valued at around USD 1.72 billion in 2021 and is projected to reach USD 2.84 billion, by 2028. Due to a variety of driving factors, the market is predicted to rise at a significant rate.
Based on animal type segmentation, companion animals were predicted to show maximum market share in the year 2021
Based on product segmentation, anesthesia supplies were the leading revenue-generating products in 2021.
On the basis of region, North America was the leading revenue generator in 2021
Covid-19 Impact:
The global market cap witnessed a downfall due to the onset of Covid-19 which was majorly driven by the closure of veterinary treatment and research facilities. Due to extreme transport restrictions for at least 4-5 months at the beginning of 2020, physical appointments decreased to a drastic level. However, there were options like telephonic assistance in case of issues that could be dealt with over a phone call. The global market has picked up pace since then after the units became 100% functions.
Veterinary Consumables Market: Growth Drivers
Rising awareness for animal welfare to propel market growth
The global veterinary consumables market is anticipated to register high growth owing to the increased awareness of animal welfare. In recent times, the world has witnessed the emergence of many non-profit, government, and non-government agencies that solely focus on animal welfare, and spreading awareness about the same.
The agencies have become aggressive with their programs to highlight the conditions of animals and why it is important to safeguard them. People for the Ethical Treatment of Animals (PETA) founded in 1980 is a non-profit organization that has managed to gain global attention with a presence across regions and a membership of over 9 million people leading the protection of animal rights front the front.
The global market size is increasing owing to the growing research on various animal diseases since they may have direct implications on human lives as well. This has resulted in higher knowledge about animal conditions like rabies, foot mouth diseases, bovine mastitis, etc. thus aiding the growing number of treatments and subsequent demand for veterinary consumables.
Animal breeding is one of the exponentially rising markets. Some of these facilities lack the necessary sanitation standard or breed animals in unethical ways resulting in the loss of animal lives, and nutritional, morphological, and physiological negative impacts on them because of the poor living and hygiene conditions. Such factors have propelled the number of animal diseases and the resulting efforts to save them are expected to help the global market growth trend.
Veterinary Consumables Market: Restraints
Absence of sufficient skilled professionals to restrict the market growth
Handling advanced equipment related to animal diseases requires a different set of skills and expertise. The same is applied in the case of veterinary physicians. However, there is a significant gap between the demand for such skilled personnel and their actual availability.
This can be easily witnessed in emerging economies where the healthcare sector is not sufficiently developed. For instance, as per official standards, there have to be 200 to 400 veterinarians per million of the animal population, but in South Africa, the number lies between 60 to 70 vet physicians. The regions also lack veterinary education facilities resulting in only a few people getting the necessary education leading to a higher gap between the demand and availability.
Veterinary Consumables Market: Opportunities
Growing number of facilities to provide growth opportunities for market
There is a growing trend in the adoption of companion animals. In the USA, over 38.4% of households have adopted dogs as pets. The rise is driven not just by personal choices but because of the various benefits associated with them like reduced stress, companionship, and support that these animals bring along.
These are benefits that have scientific credibility. People spend a lot of money on their companion animals' health and consider them as their children. As per estimates, over USD 109.65 billion were spent by American citizens on their pets in the year 2021. These numbers are indicative of the growing opportunities for global market expansion.
Veterinary Consumables Market: Challenges
Poor animal-healthcare infrastructure in emerging economies to challenge market growth
Emerging or developing nations lack the necessary support needed for the development of a health infrastructure that is equipped with highly advanced devices or treatment methods. The government is unable to support the high cost associated with such facilities. Even though there has been considerable growth over the years, the economies still lack the required growth rate which may create challenges for global market expansion.
Veterinary Consumables Market: Segmentation
The global veterinary consumables market is segmented based on animal type, product, type, and region.
Based on animal type, the global market segments are companion animals and livestock animals. The largest share in the global market was held by companion animals in 2021 resulting due to higher adoption trends of companion animals or pets. In the USA, in 2020, expenditure on companion animals grew by USD 6 billion over the previous year. The livestock animals segment is also anticipated to grow significantly due to the increased efforts of private and public institutes toward animal welfare.
Based on product, the global market segments are ventilator supplies, anesthesia supplies, imaging supplies, monitoring supplies, and others. Anesthesia supplies dominated the global market in 2021 owing to the wide application of these supplies ranging from medication, surgical procedures, or neutering. In 2019, the UK witnessed over 80% of domesticated dogs being neutered including both males and females.
By type, the global market is divided into reusable and disposable. Owing to the cost-effectiveness and efficiency of reusable products, the largest global market share is held by products with higher reusability with global market domination of over 80%.
Recent Developments:
In April 2021, DRE Veterinary partnered with Avante Health Solution to create Avante Animal Health, a new name for DRE Veterinary with access to highly advanced equipment and a further reach in the global market. Avante Animal Health is now the new vet division of Avante Health Solution with huge addition of newer products and services.
In August 2021, Ethos Veterinary Health was acquired by National Veterinary Associates, an international community of over 1200 veterinary hospitals. With the new change, Ethos can now provide scientifically-driven services to its clients.
In May 2021, Rarebreed Veterinary Partners, a digital and technology-rich veterinary services platform, announced that it has successfully closed another round of funding that was led by the current vendors Trilantic North America and Halle Capital Management, both of which are private quality firms. This will aid Rarebreed plants for further acquisitions.
Report Scope:
Veterinary Consumables Market: Regional Analysis
North America to dominate market growth during the projection period
The global veterinary consumables market is projected to be dominated by North America. In 2020, the region generated a revenue of around 0.75 billion owing to a higher pet adoption rate in the USA and Canada. These regions have an exceptionally well-developed animal healthcare infrastructure, and the population takes animal welfare extremely seriously. The growth is aided by the inputs of government and private companies to aid growth in animal quality care like provisions for medical reimbursement and insurance covers for animals.
Europe is projected to register a significant CAGR because of the prevalence of livestock diseases and the presence of advanced treatment facilities. Countries like Germany, the UK, and others are known for their pet-friendly systems encouraging the adoption of animals. Latin America may witness low growth since the region lacks the necessary architecture and the less availability of skilled personnel resulting in restricted regional growth.
Veterinary Consumables Market: Competitive Analysis
The global veterinary consumables market is dominated by players like Midmark Corporation, Avante Health Solutions, Smiths Medical, Suntech Medical Inc., Vetland Medical Sales and Services, B.Braun Melsungen AG, and Shenzhen Mindray Bio-Medical Electronics Co., Ltd.
The global veterinary consumables market is segmented as follows:
By Animal Type
Companion Animal
Livestock Animal
By Product
Ventilator Supplies
Anesthesia Supplies
Imaging Supplies
Monitoring Supplies
Others
By Type
By Region
North America
Europe

France
The UK
Spain
Germany
Italy
Rest of Europe

Asia Pacific

China
Japan
India
South Korea
Southeast Asia
Rest of Asia Pacific

Latin America

Brazil
Mexico
Rest of Latin America

Middle East & Africa

GCC
South Africa
Rest of Middle East & Africa