The report covers forecast and analysis for the ventilators market on a global and regional level. The study provides historic data from 2016 to 2019 along with a forecast from 2020 to 2026 based on revenue (USD Million). The study includes drivers and restraints for the ventilators market along with the impact they have on the demand over the forecast period. Additionally, the report includes the study of opportunities available in the ventilators market on a global as well as regional level.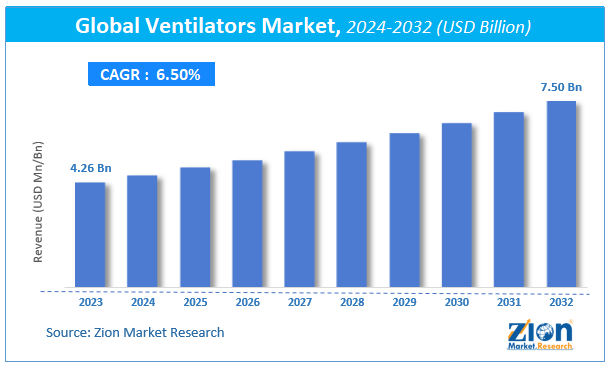 Request Free Sample
In order to give the users of this report a comprehensive view on the ventilators market we have included competitive landscape and analysis of Porter's Five Forces model for the market. The study encompasses a market attractiveness analysis, wherein usage and end-use segment are benchmarked based on their market size, growth rate and general attractiveness.
The report provides company market share analysis in order to give a broader overview of the key players in the ventilators market. In addition, the report also covers key strategic developments of the market including acquisitions & mergers, new product launch, agreements, partnerships, collaborations & joint ventures, research & development, regional expansion of major participants involved in the ventilators market on global and regional basis.
Advances in performance, construction and health have resulted in major advantages, such as improved weaning, better gas exchange, oxygenation and less damage to the lungs. Rapid growth in geriatric population that are more vulnerable to respiratory disorders and high prevalence of chronic respiratory diseases contributes mainly to the growth of the ventilator market. Increasing government spending on healthcare internationally also encourages the growth of companies. In addition, factors such as the harmful effects of certain devices on neonates, the maintenance of supply chains for components, and the complications associated with the use of ventilators are likely to hinder market growth during the forecast period.
The global market for the ventilators is segmented into mobility, interface, type, end user, and region. Based on the mobility, the global market for ventilators is segmented into portable/ transportable ventilators, and intensive care ventilators. The segment for intensive care ventilators is further divided into mid-end, high end and basic ICU ventilators. On the basis of type, the market is categorized into neonatal/ infant ventilators, pediatric ventilators, and adult ventilators. On the basis of end user, the market is categorized into ambulatory care centers, emergency medical services (EMS), hospitals, home care setting, and others. On the basis of interface, the market is categorized into invasive ventilation, and non-invasive ventilation.
The report also includes detailed profiles of key players such as Drager, Medtronic, Fisher & Paykel, Becton, Dickinson and Company, Air Liquide, Airon Mindray, Zoll Medical, Allied Healthcare Products, Getinge, and Schiller among others.
This report segments the ventilators market as follows:
Global Ventilators Market: By Mobility
Portable/ Transportable Ventilators
Intensive Care Ventilators

High-End ICU Ventilators
Mid-End ICU Ventilators
Basic ICU Ventilators
Global Ventilators Market: By Type
Neonatal/ Infant Ventilators
Pediatric Ventilators
Adult Ventilators
Global Ventilators Market: By Interface
Invasive Ventilation
Non-Invasive Ventilation
Global Ventilators Market: By End User
Neonatal/ Infant Ventilators
Ambulatory Care Centers
Home Care Setting
Emergency Medical Services (EMS)
Others
Global Ventilators Market: By Region
North America
Europe

France
The UK
Spain
Germany
Italy
Rest of Europe

Asia Pacific

China
Japan
India
South Korea
Southeast Asia
Rest of Asia Pacific

Latin America

Brazil
Mexico
Rest of Latin America

Middle East & Africa

GCC
South Africa
Rest of Middle East & Africa