Industry Prospective:
The global trail camera market size was worth around USD 101.71 Billion in 2022 and is predicted to grow to around USD 175.12 Billion by 2030 with a compound annual growth rate (CAGR) of roughly 7.11% between 2023 and 2030.
The report analyzes the global trail camera market drivers, restraints/challenges, and the effect they have on the demands during the projection period. In addition, the report explores emerging opportunities in the trail camera industry.
Request Free Sample
Trail Camera Market: Overview
A trail camera is different from a traditional one since the former is designed to be left out in outdoor settings for an extended period of time.
The most common applications of this type of camera are for security purposes or monitoring wildlife for further research. The industry refers to the players in the market that work toward designing, producing, and distributing trail cameras to end-users. In recent years, the fraternity demand has increased by surging values due to the rise in interest in wildlife observation and hunting along with several other factors. Some of the highly reputed brands operating in the segment include companies such as Browning, Bushnell, Moultrie, Primos, and Stealth Cam. During the forecast period, the market is expected to witness a high growth rate.
Key Insights:
As per the analysis shared by our research analyst, the global trail camera market is estimated to grow annually at a CAGR of around 7.1% over the forecast period (2023-2030)
In terms of revenue, the global trail camera market size was valued at around USD 101.71 billion in 2022 and is projected to reach USD 172.12 billion, by 2030.
The trail camera market is projected to grow at a significant rate due to the growing interest in wildlife research
Based on pixel size segmentation, 8 to 12 MP was predicted to show maximum market share in the year 2022
Based on application segmentation, wildlife monitoring & research was the leading application in 2022
On the basis of region, North America was the leading revenue generator in 2022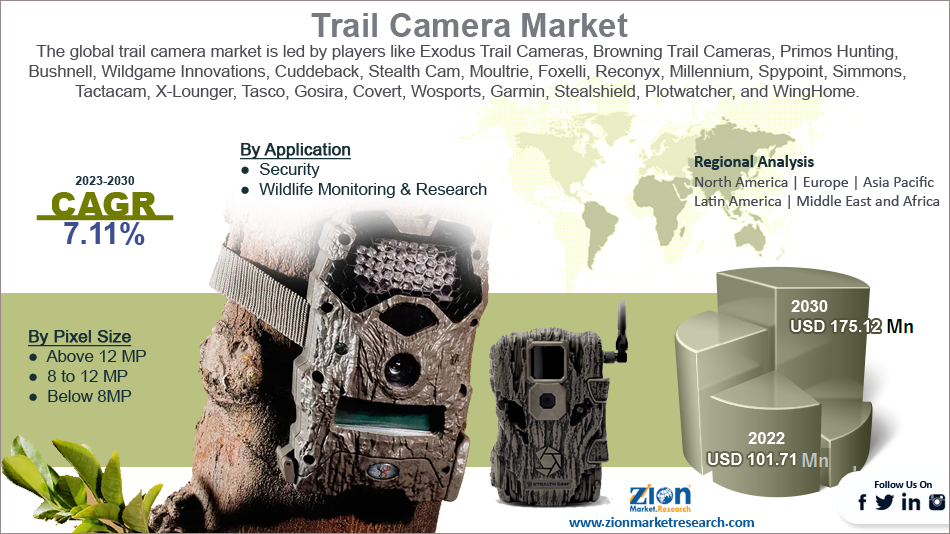 Request Free Sample
Trail Camera Market: Growth Drivers
Increasing interest in wildlife research to propel market growth
The global trail camera market is expected to witness a high growth rate owing to the increasing interest of several research and non-research institutes in wildlife research. There are several associated reasons why governments across the world are funding or supporting wildlife exploration activities but the primary reason is the rising awareness of the extreme importance of biodiversity. This has led to a large number of resources being directed toward observing, conserving, and protecting different indigenous species of animals and birds.
Wildlife researchers use trail cameras to study the impact of severe climate change, habitat loss, and pollution on wildlife. The research findings thus produced are used to develop strategies to prevent further damage to the animals. There is a growing population of people who enjoy observing animals and learning about different species. This segment of the common man is also crucial to the trail camera industry growth and may lead to higher revenue during the forecast period.
Trail Camera Market: Restraints
Limited battery life to restrict the market growth
Trail cameras operate on batteries and their capacity is highly limited. Trail cameras run on a certain amount of power for operational purposes and the most features on the camera result in higher power consumption. This can cause the battery to drain faster and lead to shorter battery life. Hence, when the cameras are used in remote locations, the maintenance cost of these devices may increase. Furthermore, if a camera is used more frequently to capture photos or videos, it consumes more power causing the camera to drain faster.
Trail Camera Market: Opportunities
Growing expansion in smart home segment to provide growth opportunities
The increasing integration of trail cameras in one of the most promising segments of urban life, which is the development of smart homes, presents an excellent opportunity for brands operating in the sector for higher growth. For instance, trail cameras can be used to improve home security measures by using them as a part of the system. They can either be used as standalone units or as part of a larger camera network. Moreover, this equipment can be integrated into a larger set of home automation techniques.
Trail Camera Market: Challenges
Limited distribution channel to challenge market expansion
Primary distributors of trail cameras are specialty units that greatly limit product awareness and purchase rates. It is a major challenge for the trail camera industry players if they intend to tap into a larger group of consumers. In addition to this, the public awareness surrounding trail cameras is highly restricted as currently only the set of consumers with a keen interest in wildlife are major consumers of the device which restricts the demand for the product in the commercial market.
Trail Camera Market: Segmentation
The global trail camera market is segmented based on application, pixel size, and region.
Based on application, the global market segments are security and wildlife monitoring & research. In 2022, the industry witnessed the highest growth in the wildlife monitoring & research segment. It dominated more than 61% of the segmental share.
The growth rate is mainly driven by the higher use of trail cameras to observe wildlife by either government entities or common people who have more interest in observing and researching several species of animals and birds present in the wild. Furthermore, the rising emphasis by various environmental agencies on maintaining or improving biodiversity has led to regional governments undertaking programs supporting this cause. Trail cameras have been essential in understanding how rampant urbanization and globalization are impacting wildlife since the growing concerns over climate change impact their life as well.
Based on pixel size, the global trail camera market divisions are above 12 MP, 8 to 12 MP, and below 8 MP. In 2022, the 8 to 12 MP segment witnessed dominance over 50% of the segmental share. This set of cameras provides an accurate balance of file size and image quality, which is essential for researchers to analyze the images. For instance, if a camera with higher pixels is used, although it may provide images with higher resolution, in turn, it also means that the file size would be larger. This can drain the battery of the camera resulting in a lesser number of pictures or videos.
On the other hand, lower-pixel cameras provide more images but with compromised quality. Hence is crucial to maintain the right balance between both aspects of the camera which is covered in the 8 to 12 MP segment.
Recent Developments:
In September 2022, Field Data Technologies, an Essex-based technology startup, invested resources in developing a reimagined trail camera capable of capturing small wildlife creatures that will be expected to boost scientific research. The technology used in the new set of cameras is unlike any other device available since it can be triggered by the movement of smaller creatures. The company has already received a total fund of USD 344,200
In October 2021, Wildgame Innovations launched Encounter which is a cellular trail camera that works on all networks present in the US and Canadian region. The camera also comes with an updated HuntSmart app thus providing a better user experience
Trail Camera Market: Report Scope
Report Attributes
Report Details
Report Name
Trail Camera Market Research Report
Market Size in 2022
USD 101.71 Billion
Market Forecast in 2030
USD 175.12 Billion
Growth Rate
CAGR of 7.11%
Number of Pages
216
Key Companies Covered
Exodus Trail Cameras, Browning Trail Cameras, Primos Hunting, Bushnell, Wildgame Innovations, Cuddeback, Stealth Cam, Moultrie, Foxelli, Reconyx, Millennium, Spypoint, Simmons, Tactacam, X-Lounger, Tasco, Gosira, Covert, Ltl Acorn, DLC Covert, Wosports, Garmin, Stealshield, Plotwatcher, and WingHome.
Segments Covered
By Application, By Pixel Size, And By Region
Regions Covered
North America, Europe, Asia Pacific (APAC), Latin America, Middle East, and Africa (MEA)
Base Year
2022
Historical Year
2017 to 2021
Forecast Year
2023 - 2030
Customization Scope
Avail customized purchase options to meet your exact research needs. Request For Customization
Trail Camera Market: Regional Analysis
North America to register the highest growth
The global trail camera market is projected to witness the highest growth in North America with the US and Canada acting as the largest revenue generator. In 2022, North America dominated more than 31% of the global market share. The regional growth is mainly due to the presence of key industry players and an existing dedicated consumer database.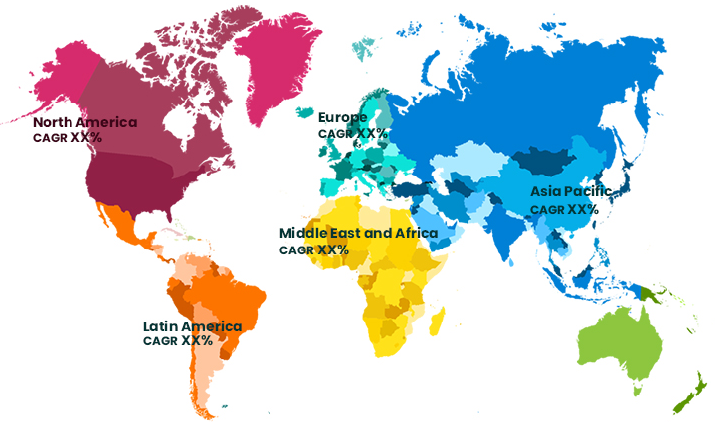 Request Free Sample
The increasing initiatives including exhaustive marketing and advertising techniques adopted by the industry players to generate public awareness are expected to create more revenue during the forecast period. A significant contributor to the regional market is the legalization of hunting in certain Canadian provinces where hunters have legal licenses to operate. As of 2022, Canada was home to more than 2.2 million licensed hunters. These groups of consumers regularly spend on advanced trail cameras for a better hunting experience.
Trail Camera Market: Competitive Analysis
The global trail camera market is led by players like:
Exodus Trail Cameras
Browning Trail Cameras
Primos Hunting
Bushnell
Wildgame Innovations
Cuddeback
Stealth Cam
Moultrie
Foxelli
Reconyx
Millennium
Spypoint
Simmons
Tactacam
X-Lounger
Tasco
Gosira
Covert
Ltl Acorn
DLC Covert
Wosports
Garmin
Stealshield
Plotwatcher
WingHome.
The global trail camera market is segmented as follows:
By Application
Security
Wildlife Monitoring & Research
By Pixel Size
Above 12 MP
8 to 12 MP
Below 8MP
By Region
North America
Europe

France
The UK
Spain
Germany
Italy
Rest of Europe

Asia Pacific

China
Japan
India
South Korea
Southeast Asia
Rest of Asia Pacific

Latin America

Brazil
Mexico
Rest of Latin America

Middle East & Africa

GCC
South Africa
Rest of Middle East & Africa